The information comes from The Wohlers Report. Now in its 17th year, it has become the authoritative guide to additive manufacturing and related technologies.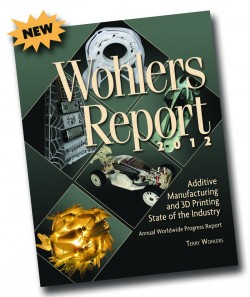 The 3D printing products for manufacturing market grew at a 29.4% rate in 2011, says the new edition of The Wohlers Report, an annual guide to the 3D printing and additive fabrication industry.
The compound annual growth rate (CAGR) of additive manufacturing was 29.4% in 2011, according to the new report. The CAGR for the industry's 24-year history is 26.4%. The AM industry is expected to continue strong double-digit growth over the next several years. By 2015, Wohlers Associates believes that the sale of AM products and services will reach $3.7 billion worldwide, and by 2019, surpass the $6.5 billion mark.
Wohlers Report 2012 covers all aspects of additive manufacturing, including its history, applications, processes, manufacturers, and materials. It documents pertinent developments in the past year, covers R&D and collaboration activities in government, academia, and industry, and summarizes the state of the industry in countries around the world. It also tracks the extraordinary growth of personal 3D printers—machines priced under $5,000, with the majority in the $1,000 to $2,000 range.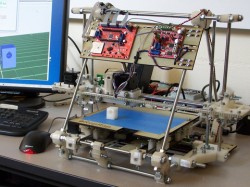 Additive manufacturing is the process of joining materials to make objects from 3D model data, usually layer upon layer, as opposed to subtractive manufacturing methodologies. Additive manufacturing is used to build physical models, prototypes, patterns, tooling components, and production parts in plastic, metal, and composite materials. AM systems use thin, horizontal cross sections from computer-aided design (CAD) models, 3D-scanning systems, medical scanners, and video games to produce parts that can be difficult or impossible to produce any other way.
The annual study, now in its 17th year, was created with support from 71 service providers, 27 system manufacturers, and the contributions of 57 co-authors from 21 countries, including the GraphicSpeak team from Jon Peddie Research. Its 287 pages include 30 charts and graphs, 55 tables, and 219 photographs and illustrations.
For more information, visit wohlersassociates.com.