Chuck Hull is a co-founder of 3D Systems and the inventor of stereolithography. In a rare public presentation at the 2008 3D Systems World Conference, Hull talked about his years as a "serial inventor" and his observation of the High Tech Cycle.  (Originally published in CADCAMNet December 11, 2008)
By Randall S. Newton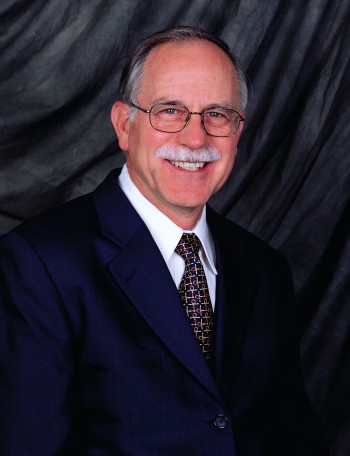 December 11, 2008—As the tall and thin Chuck Hull took to the stage at the recent 3D Systems World Conference in Charlotte, North Carolina in October, he was a bit apologetic. "I didn't name this session 'Confessions of a Serial Inventor,'" he groused. "Marketing did." But one he got past the introductions and into the story of his life's work, Hull gave the assembled crowd of engineers an overview that was at once modest and fascinating, sharing the lessons of hindsight as the father of rapid manufacturing.
Symbols of Innovation
Hull started by explaining why two contemporary products are excellent symbols of innovation. The Apple iPhone has multi-touch and gesture input, uses physics (it understands and responses to movement and communicates with movement), displays 3D, and successfully achieves icon miniaturization. None of these things by themselves were new ideas. What Apple did was to advance the state of the art for each concept. In the process it filed more than 200 patents. The Toyota Prius, both a symbol of green transportation and a status symbol, is another excellent model of innovation. It has a novel drive train suited to its dual energy use. More than 650 patents were filed as Toyota designed the first generation Prius.
These symbols of innovation are important because they highlight what Hull sees as the difference between invention and innovation. Invention is creating something new; innovation is the creative application of what is known. "Innovation happens when you figure out how to make money from an invention," Hull said, paraphrasing a comment he attributed to AT&T. The cell phone was already invented, as was the automobile. What Apple and Toyota did is to rethink these products in ways that allowed new functions and new technologies to be applied.
The High Tech Cycle
Hull sees the development and selling of high tech products as three elements of a continuous cycle which he calls The High Tech Cycle. The first step is invention, the second is innovation, the third is entrepreneurship. To complete the cycle, entrepreneurship cycles back to invention. All three are required to bring new products to market, and each must be free to pursue excellence.
"If there is a path to money there must be an enterprise to take invention to innovation," said Hull. "The first spark of invention is not enough to bring a product to market." Hull learned this the hard way more than once in his career. As a young engineer he worked at Bell & Howell on the 21-492 Mass Spectrometer. The team had to invent several things to bring it about, and filed many patents. When it was completed Bell & Howell sold it to DuPont, making Hull and his associates DuPont employees.
He quickly learned that a large organization is not necessarily a good place for innovation. He had an idea for what he called an "image intensifier" and was allowed to do some work on it. But it didn't take long for management to decide no product would be coming out of it, so they stopped the work. Hull later found out that image intensification was an area in which the US Military disallowed patents to be filed. Today other research in that area has given us satellite mapping and other optics-related breakthroughs.
Moving on to a company called UVP, Hull invented a new concept for a high-resolution scanning microscope with resolution beyond diffraction limits. Again his employer saw no market in the invention so the project was killed. "The high-tech cycle was stopped again," Hull notes. UVP was smaller than DuPont, and Hull though it would be more likely to think in entrepreneurial ways. But what he discovered is that smaller often means risk-adverse. He also learned a second important lesson: do your homework. It turns out that others had previously invented the concept, but Hull didn't know about it.
'Inventnovation' and Paradigm Shifts
After "two strikes" as an inventor Hull joined the Cal Tech Enterprise Forum. He found it to be an exciting organization to see innovation and entrepreneurship in practice. He gained a variety of important contacts and learned much about turing ideas into products. He learned the importance of patents in high-tech ventures, and how important it is to do a world search of existing patents, players and ideas. At the same time, he was observing the use of ultra-violet curable coating resins at his employer, UVP. The company saw UV curable resins as coatings but one day Hull experienced a paradigm shift in his thinking when he saw those same UV curable coatings as thin sections of plastic.
Hull credits the 1962 book "The Structure of Scientific Revolutions," by Thomas Kuhn as helping him understand the flip that took place in his thinking regarding UV curable resins and their possibilities. He set up a small lab, began to work with polymers, imaging, and controllers. There were a few false starts but eventually he got to stereolithography. The president of UVP liked the idea but couldn't fund it. "Nay sayers abounded," Hull recalled.
At this point, Hull explains, the high tech cycle has completed invention, and required innovation. But not just engineering innovation. There was no market, no specific defined feature set or requirements. Innovation had to occur in:
Marketing strategy
Product development strategy
Product feature set definition
Manufacturing strategy
Customer service strategy
Business plan creation
Once those steps of innovation were set in place, Hull now realizes, they needed to move to the third stage in the high tech cycle, entrepreneurship. Hull and business partner Ray Freed:
Started a new company
Licensed the new STL technology from UVP
Filed patents
Raised Venture Capital
Did the "legal stuff" including business contracts and patent defense
Found a new facility
Hired staff
Promoted their invention
Sought key customers
Set up business operations
The High Tech Cycle Comes Full Circle
"People started attacking our patents early on," Hull notes. There was no time to rest on their achievements. This is when Hull realized the high tech cycle is a closed circle, and that entrepreneurship must be followed by new invention, starting the high tech cycle over again.
In the next few months and years after the launch of 3D Systems, invention was in high gear. Hull and his team:
Created the STL software format for CAD
Invented dozens of new functions
Worked on more accurate and faster imaging
Designed optimum build processors
Invented UV coatings with new properties
Wrote "a lot" of system and user interface software
"Half of our development was software," Hull noted. "And that is true of everything today. User interface was the biggest issue for us, everything else goes from there."
Today Hull sees the high tech cycle guiding the work at 3D Systems, especially in the development of film transfer technology (and the VFlash product line) as the company's next "breakthrough technology."
"High technology companies must constantly invent and innovate," Hull notes. "It is expected by customers and required by competitors."