Opening the doors of 3D creation through consumer-class VR displays.
As virtual reality (VR) technologies continue seeping into the mainstream, a team of independent developers have created what they call "the first cross-platform mixed reality 3D creation application" in the form of Gravity Sketch VR.
Created by a team of engineers and designers, the London startup's goals are to create a space where artists and engineers can create and model complex 3D objects in a fully immersive VR environment. Supporting both the HTC Vive and Oculus Rift VR headsets and launching through Steam, the software allows designers to quickly create 3D models that can then be integrated into more complex CAD software.
As the name implies, Gravity Sketch is based on the act of sketching. It features the so-called "what you see is what you get" interface that simulates 3D objects in real time, allowing artists to draw new designs in full VR. This allows designers to gain a new spatial perspective of their creations, able to rotate them in mid-air and scale the size up or down, allowing for the creation of anything from a flower vase to a commuter bus through non-destructive solid modeling.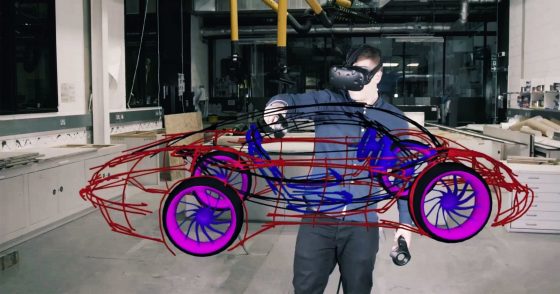 One of the team's main goals was to work around the steep learning curves and high costs associated with many CAD offerings, allowing students, the general public, and of course professionals to immersively and intuitively design and model 3D objects using consumer grade VR technologies.
Based on Howard Gardner's theory of spatial intelligence, the tool allows anyone to enter the realms of 3D design, or as the company states it, "opens the door of 3D creation to the other 99%." Everything you create in Gravity Sketch is saved in .obj or .stl file formats, allowing for the transfer to other CAD software (such as SolidWorks) as well as the ability to directly 3D print your work.
Gravity Sketch VR claims it allows the creation of crisp, clean and rigid geometry, with features such as allowing designers to project strokes onto surfaces, import existing 3D models to edit in VR, and customize the tool to suit their needs.
The company has launched a limited public beta of an early-access version of the software, with additional features and releases planned for later this year.
Gravity Sketch – Vehicle Designer Work Flow from GravitySketch on Vimeo.