When Autodesk Inventor was initially launched, Autodesk said it would keep Mechanical Desktop alive for three more releases. When it finally announced an end-of-life for the venerable product based on AutoCAD, three more releases had turned to 12. From the archives of CADCAMNET, acquired in 2010 by Jon Peddie Research.
By Randall S. Newton
CADCAMNET, October 9, 2008—Autodesk announced this week that it has ceased development of Autodesk Mechanical Desktop. The 2009 version will be the last one to be sold, bundled with Autodesk Inventor as it has since 2002.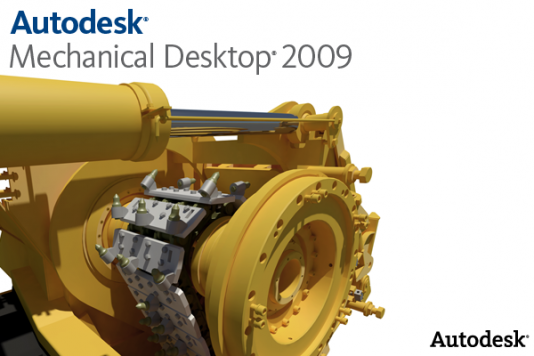 According to a statement from the company, the change will allow the company to better focus on the Autodesk Inventor and AutoCAD Mechanical product lines. The last release offers support for Microsoft Vista and comes in both 32-bit and 64-bit versions.
To protect data created in Autodesk Mechanical Desktop (MDT) over the years, Autodesk says it will:
Provide product support for Subscription customers for a period of no less than three years after the removal of Mechanical Desktop from the Inventor product line.
Make Mechanical Desktop 2009 available for download with future releases of Inventor.
Support the DWG Import wizard for Mechanical Desktop part, assembly and drawing files.
Subscription customers also can download from Autodesk Consulting a new took kit for migrating MDT drawing files to Inventor. "We want to give our MDT uses a long runway," says Simon Bosley, a Autodesk manager for outbound CAD/CAE product management.
What took so long?
Bosley says that while the move was inevitable, it came later than most people expected. "When we launched Inventor, we said we would keep MDT available for three releases. Now 12 releases have come and gone."
Bosley was keen to point out that there is a difference between not producing a new version and taking away the right to use a product. "We are going to considerable lengths to make sure our customers can still use MDT." Subscription customers will get support "for several years," he said, and non-subscription customers have the right to support for three years.
Most active MDT users already have a copy of Autodesk Inventor; the two have been bundled together for several years. MDT version 6.0 (circa 2001) was the last one to be sold stand-alone. Bosley says most MDT users made the transition to Inventor "years ago" to varying degrees. Some keep MDT active to modify legacy files or to edit files from subcontractors. Some use the two products side-by-side. "Even when you have moved to Inventor you keep old stuff around," says Bosley. "We are making sure our customer know they can continue to access their data." He notes that Inventor can import MDT files "associatively" including full import of the feature tree data, and not just boundary representation data.
A bit of history
David E. Weisberg wrote about the origins of Autodesk Mechanical Desktop in his book "The Engineering Design Revolution," excerpted here by permission:
In the fall of 1995 Autodesk announced a new mechanical design and drafting product called Mechanical Desktop. It combined AutoCAD Designer 2.0, AutoSurf 3.0, AutoCAD Release 13, IGES and software that tied it all together in a single integrated solution. Previously, users had to translate data to move between these applications. The intent for Mechanical Desktop was to move away from just mechanical drafting to true product design with tools incorporated to facilitate assembly modeling.
While not competitive with products such as Pro/Engineer or Unigraphics, it was a distinct step forward. Autodesk also had to compete with new products such as SolidWorks and Intergraph's Solid Edge, both of which were introduced around the same time. The major shortcoming was that users had to work interactively in a wireframe mode while competitive products allowed them to work with hidden lines removed or with shaded images. The suggested list price was $6,250.35
Shipment of a production release of Mechanical Desktop was delayed until early 1996. At that time, Dominic Gallello clarified the company's mechanical market position as still being drafting-centric rather than competing directly with heavyweight competitors such as PTC or the new mid-range vendors. Basically, the company was planning on playing to its strengths, at least for the time being.
Mechanical Desktop Version 1.1 was released in September 1996 with the major enhancement being the ability to work with shaded or hidden line models. The company also released Web versions of PartSpec and WorkCenter.
A substantially new version of Mechanical Desktop had to wait for AutoCAD Release 14. A few months after Release 14 began shipping the company began delivering Mechanical Desktop Release 2.0 that incorporated Spatial Technology's ACIS Version 3.0. Compared to the prior version Mechanical Desktop Release 2.0 had improved geometry definition capabilities, improved performance, better assembly modeling and an improved user interface. The company also launched an enhancement to AutoCAD Release 14 that facilitated mechanical drafting. It was simply called AutoCAD Mechanical.
In May 1998, Autodesk acquired Amberg, Germany-based Genius CAD-Software GmbH for $68 million. This company was a leading vendor of mechanical design automation software in Europe. The company's primary product was Genius Desktop, a plug-in for Autodesk Mechanical Desktop that provided a more vertically focused set of features for electromechanical and industrial machinery design. The downside to the acquisition was that third party software partners began to see Autodesk as one of their primary competitors.