Better monitoring of a 272 kilometer section also saved $170,000 per month in energy costs.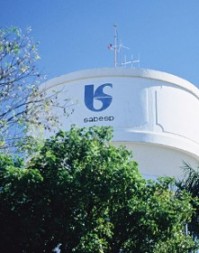 A water utility serving the São Paulo, Brazil region has decreased water loss by 57% through its 272 kilometer distribution system by using WaterCAD from Bentley Systems.
Sabesp (known in Portuguese as Companhia de Saneamento Básico do Estado de São Paulo – East Business Unit) is located on the east side of the São Paulo Metropolitan Area. The Passagem Funda system (Cidade Tiradentes & Santa Etelvina Sectors) distributes water to 240,000 residents. High pressures, with topographic differences of up to 100 meters, and illegal service connections had been contributing to water losses of 880 liters per service connection per day. Sabesp's use of Bentley's software helped to decrease these losses to 376 liters per service connection per day.
The reduction in water use helped Sabesp reduce its monthly production of potable water by 440,000 cubic meters, saving the utility $170,000 per month. Other changes in the water system due to the better monitoring eliminated the need for two booster stations, reducing the utility's energy consumption by about 8,000 kilowatt hours per month.
Sabesp is a mixed-capital company that provides water and sewage services to the 364 municipalities in the state of São Paulo. It is considered one of the largest water and sewage service providers worldwide, serving 27.2 million people.
During the planning of this water system optimization project, Sabesp used WaterCAD to:
identify high pressure areas in the system;
simulate the impact of the implementation of pressure reducing valves in neighboring areas;
analyze segments affected by ongoing construction;
set optimal operational parameters;
identify areas for water loss prospecting, with a view to detecting non-visible underground leaks.
Nivaldo Rodrigues, Sabesp East Business Unit Department Manager, said, "The enormous success of this project led to our decision to deploy these robust software applications throughout our East Business Unit. By next year, we expect to have a hydraulic model for 100% of the water system, encompassing the entire 6,000-kilometer distribution network. With the use of Bentley's software tools, we were able to optimize our systems and achieve great results."
Sabesp is responsible for supplying potable water to 27.2 million people and sanitation to 19.5 million people in the São Paulo Metropolitan Area. Today, the utility's engineering, planning, and operations teams in the East Business Unit are using not only WaterCAD, but also Bentley's WaterGEMS product for distribution modeling and management, HAMMER product for transient analysis, and SewerCAD product for sanitary sewer analysis and design.
Said Rodrigues, "Overall, Bentley's water software applications have helped the Sabesp East Business Unit reduce both energy costs and water loss in the metropolitan region of São Paulo, saving energy and conserving water, thus preserving the local natural water resources."
Randall S. Newton is the former Managing Editor of GraphicSpeak. He has been writing about engineering and design technologies for more than 25 years.