Volvo has employed the latest tech to give max choices.
At the PTC LiveWorx19 conference the other week, CEO and visionary Jim Heppelmann showed off Volvo trucks—actually had two of them on stage with him during his keynote. Volvo and PTC have been working together for years. Volvo uses just about every bit of software PTC makes including PTC's AR stuff—and they need to. Last year, Volvo made 260,000 trucks—that's one truck for every 38 Swedes. Volvo Trucks is one of the largest truck brands in the world. They make vehicles that are sold and serviced in more than 140 countries. Of the 260,000 they made in 2018, none of them, NONE, were the same—all different. Volvo has over a billion combinations of configurations.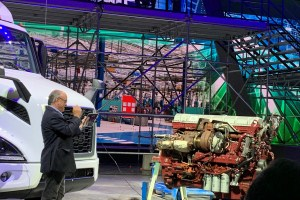 Heppelmann was able to show how a tablet could be used (using PTC's computer vision software Vuforia) to recognize the truck engine and then give him instructions on how to find the oil filter and other parts—even though there were so many configuration possibilities. The engine had a bar code on it, and once that was recognized the information about the engine, from Volvo's PTC-based PLM system provided the engine's configuration.
PTC's Vuforia is only one of the many software tools of PTC that Volvo uses. The company also uses PTC's Creo Simulation software. One of the simulation projects that Volvo is working on is the truck of the future, an electric, autonomous truck.
Enclosed areas like ports, factories, and corporate campuses are where the autonomous trucks will be put to work first. Volvo has recently announced a new electric vehicle concept built to tow loads around these kinds of environments all on their lonesome, so much so it doesn't even have a cabin.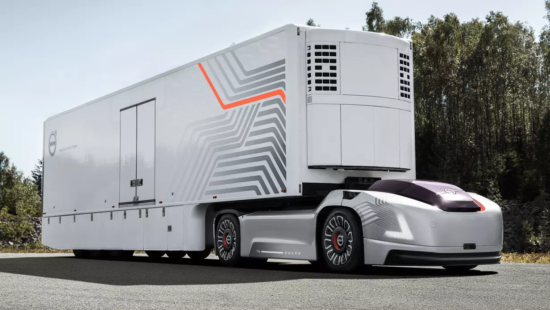 As part of the development of this new autonomous truck, the Volvo Group has signed an agreement with Nvidia to jointly develop a decision-making system of autonomous commercial vehicles and machines. Utilizing Nvidia's end-to-end artificial intelligence platform for training, simulation and in-vehicle computing, the resulting system is designed to safely handle fully autonomous driving on public roads and highways.
The partnership with Nvidia will focus on the development of a flexible, scalable Autonomous Driving System, which is planned to be used first in commercial pilots and later in commercial offerings from the Volvo Group.
Another part of PTC's software suite is IoT. An autonomous has a zillion sensors which are at the heart of IoT. As Heppelmann said at LiveWorx19, "PLM built it, IoT monitors it, AR and VR visualize it." And Nvidia's GPU train and drive it.
What do we think?
Volvo is a conspicuous leader in employing advanced technology to build complex, and seemingly mundane and commodity products such as a truck. With some fearsome large competitors, the company has had to be agile and a tech leader. It's certainly picked the best partners to help it.
Headquartered in Gothenburg, Sweden, Volvos has 105,000 employs and in 2018 its sales amounted to about SEK 391 billion (EUR 38.1 billion).