Other new ad formats are being tested.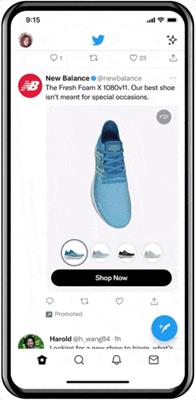 Twitter is testing new types of advertisements, including Product Explorer ads, which contain 3D objects that can be rotated and viewed from different angles.
While Facebook, Pinterest, Instagram, and Snapchat have similar features, this is a first for this capability on Twitter.
In addition, Twitter is also testing two other formats: Interactive Text and Collection Ads. With Interactive Text, advertisers can choose to highlight three words, which will appear in one of 10 colors, and will be in larger and bold type compared to the usual font that Twitter uses. These words will connect to landing pages chosen by the brand or business. Collection Ads, meanwhile, enable the advertiser to display up to five thumbnail images that can be scrolled horizontally and direct the user to designated landing pages; these thumbnails are in addition to a large, main image, which is static.
The pilot tests will be available first to Twitter users in the US. The formats will be visible to those on iOS, Android, and the Web.
Twitter stated that its goal is to provide more options for advertisers on its platform. "As we kick off early experiments, we'll aim to understand how the new formats resonate with consumers and drive results for advertisers," Twitter stated on its business page. "We'll test, learn, and iterate based on performance and customer feedback.