The company closes out 2018 with new products and running room for growth.
The AEC market is busting out in 2018 for many reasons, but probably the driving force is the digitalization of the industry. Trimble has been quietly building on its strengths in GPS, civil engineering, automation, and transportation to enable automation in the field. Unlike many companies in the AEC space, which started in CAD and started adding on data management, Trimble's founding expertise is in sensors, GIS, remote navigation, surveying—powerful tools for the automation of AEC and other operations that take place in the field rather than in factories. Trimble has been adding on new software and services to give the company a broader reach.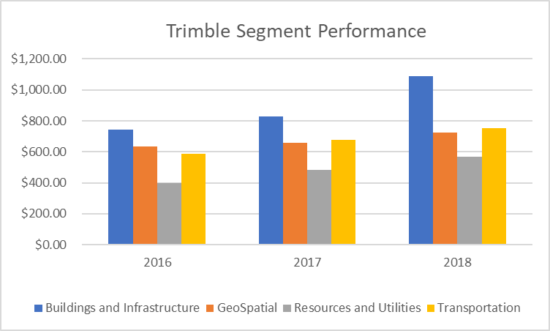 For the quarter, Trimble reported revenues of $758.5 million, an 11% increase year over year. The company reported net income of $86.8 million for the quarter, a significant (349%) increase over the same period last year when the company was in the red with a loss of $39.9. And for the year, Trimble raised its revenues to $3.1 billion, an increase of 17% compared to 2017.
Trimble saw increased revenues across all segments and increased its operating income by 43%.
In 2018, Trimble added to its building and construction software portfolio with the acquisition of e-Builder and Viewpoint gives depth in data management. That has panned out very well. The Buildings and Infrastructure segment reported a 31% increase for the year.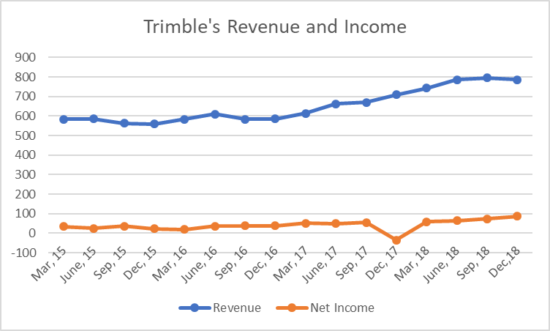 In addition, Trimble raised revenues in every product segment. Geospatial was up 10%; resources and utilities, up 18%; and transportation was up 11%. (Trimble's segment revenue statements are calculated through Trimble's management reporting system and are therefore non-GAAP.)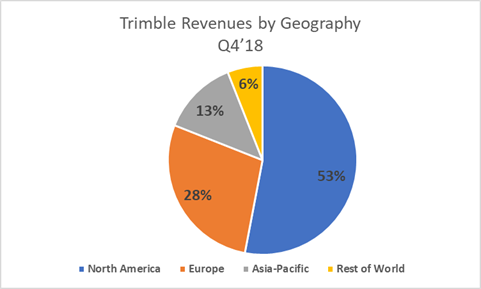 During their call with analysts, CEO Steven Berglund called 2018 a record year, and said that the company is meeting their goals even with the challenges that have come with "agricultural and energy commodity price changes." In fact, he says, the changes the company has been making in its business model is achieving the goal they hoped with a more balanced portfolio. As the company transitions to software and services, it is also transitioning to subscription and in 2018 the company reports an ARR over $1 billion. The company has grown its software and services and recurring business to 52%, while hardware comes in at 48%.
Trimble has also shifted its emphasis on end users rather than OEMs, finding more opportunity for growth on that front. The company says government orders and OEM centric business was lower than hoped and, as mentioned, agriculture took a hit with trade and tariff issues. Along the lines of growing subscriptions, Trimble kicked off subscriptions for SketchUp at $119 a year for the Shop version and $299 for Pro. CFO Rob Painter says, going to subscription for SketchUp is "the right thing to do for the business and will further fuel our ARR growth."
Berglund noted that Trimble fared a little better in world economies compared to the competition because it has less exposure to the vagaries of China. Only 3% of Trimble's revenues come from China. More important for Trimble's business, trade issues with China had an effect in 2018 on farmers in North America. He expects the resolution of trade issues to have an upside for China. So far, the majority of Trimble's business is being done in North America and the company says they have reason to be optimistic about infrastructure spending in the U.S.
Trimble is cautious about the near future, given trade issues and uncertain world markets.
The company repurchased approximately 1.1 million shares of its common stock for $40 million. CEO Steven W. Berglund called 2018 a record year, characterized by acquisitions that "outperformed expectations," and said the success of the company's game plan is attested to by the company's increased operating margins.  The company's plan calls for about 6–9% organic growth, with 3% or so boost from acquisitions.
In other news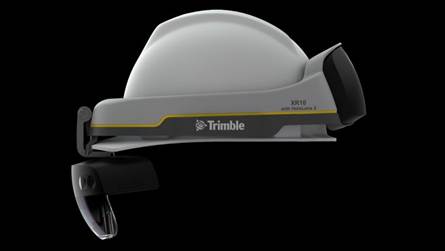 Trimble joined the ranks of Microsoft partners for Hololens at MWC in Barcelona. Trimble showed off a wearable hard hat that lets workers access digital information onsite. The Trimble XR10 is a HoloLens 2 device and the company has expanded its software to support the new device and provide workers constructible 3D models in a mixed reality environment. The hard hats have a flip-up viewscreen that provides a wide field of view.
What do we think?
Trimble is pulling in $3 billion plus, and it is building a new business in AEC, especially construction where there is plenty of room for growth as the entire industry updates and modernizes. Trimble has some significant advantages as it takes on competitors in BIM. It is able to go straight to the cloud with its acquisitions like e-Builder and Viewpoint has built a cloud-based tool for field-based project management. The company has some of the flexibility of a startup, and all the cred of an entrenched provider in civil engineering, and geospatial.
The company has been delivering tools for autonomous vehicles and with SketchUp, it has a well-loved conceptualization tool. In other words, the company's technology sits at a lot of flashpoints.
It has its own design tools but the company seems to be looking at BIM from the point of view of working with everyone in the field. In this, it seems to have a different strategy from its closest competitor Hexagon, which also combines metrology and design but, with Intergraph, has its own corner of the Process and Power market to nurture.