Alliances pay off; growth segment stalls are offset by Arena sales.

There were no real surprises in PTC's third-quarter announcement and no balls were knocked out of no parks but the company demonstrates the value of fast reflexes and strategic moves as well as the established position of its Core products in the market.
PTC president and CEO James Heppelmann said, "our performance in the third quarter and year to date reflects continued strong execution. We again delivered double-digit top line growth, leading to solid operating and free cash flow results." PTC is showing consistent growth as the company adds on capabilities through partnerships and acquisition.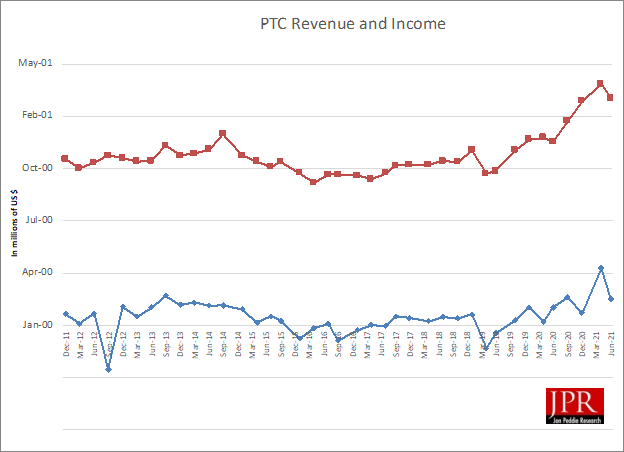 Heppelmann talked a great deal about the company's theme "Digital Transforms Physical," their mediated view of digitalization that encompasses IoT and AR, the company's growth segment products.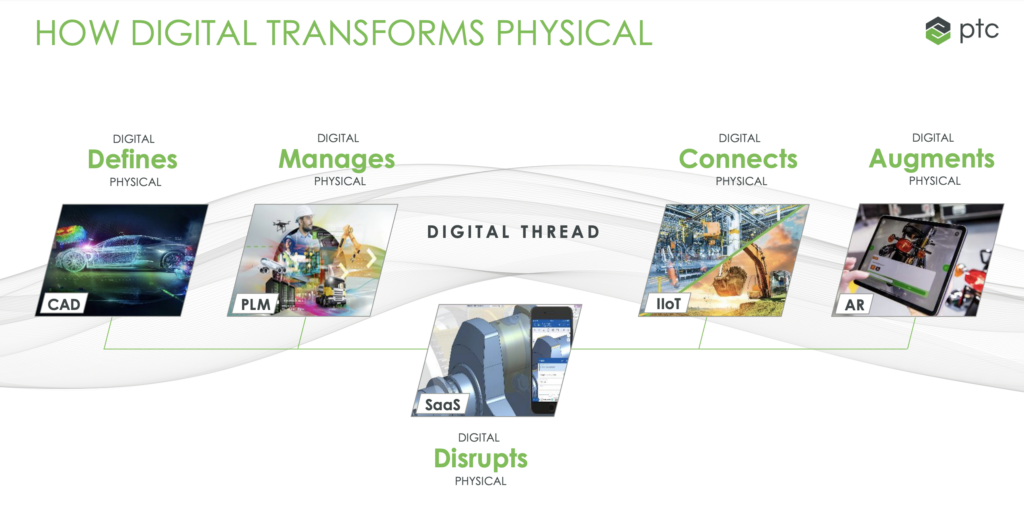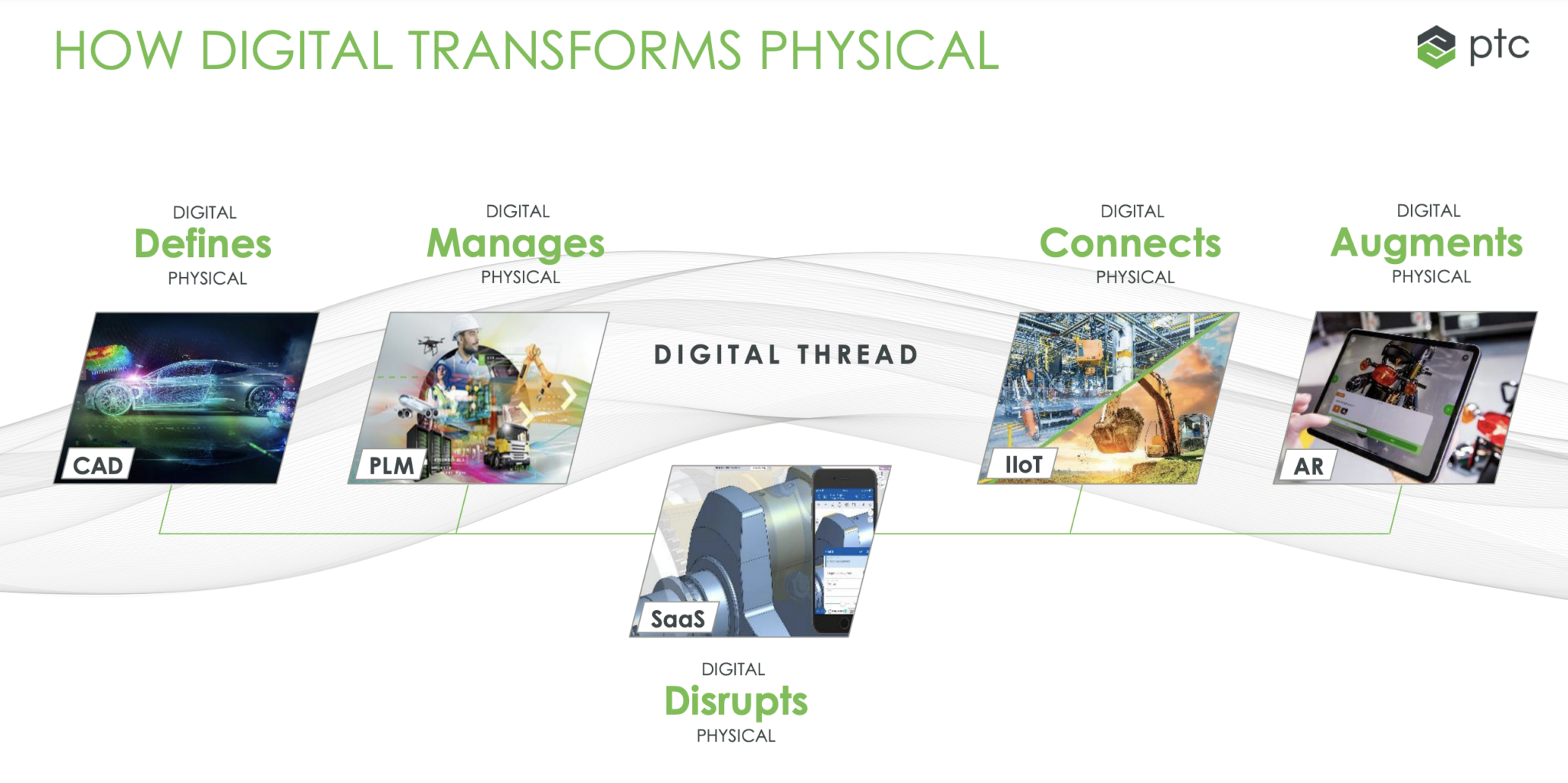 PTC is seeing nice returns on its acquisition of Arena that seems to be building synergy for Onshape. Arena helps complete Onshape with a SaaS PLM component. In fact, Onshape ARR revenues grew 40% year over year, a striking improvement as compared to Onshape's more modest growth as a separate company.
But PTC maybe can't take all the credit; timing is everything and SaaS has caught fire in 2020–2021 and Onshape has built a solid base, which now forms PTC's Atlas platform. Jim Heppelmann says in his prepared remarks: "the SaaS delivery model is just beginning to disrupt the industrial technology market and I am excited that PTC has carved out a leadership position at the forefront of that paradigm shift."
PTC's product groups are Core, which include the venerable flagship products Creo and Windchill; Growth including the IoT, AR, and the SaaS darlings Onshape and Arena; and the poor stepchild FSG or Focused Services Group that provides stable, regular incomes but doesn't get much attention. It's the handmaid to the other products.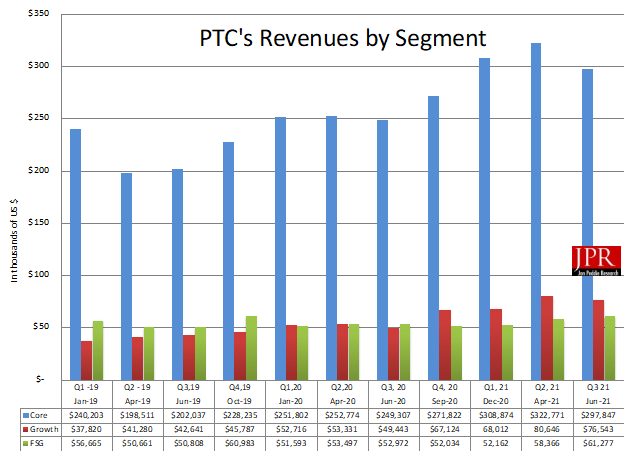 PTC offers the following data to describe its performance in the third quarter. You can find it all and more at the company's website: investor.ptc.com.
ARR was $1.42 billion in Q3'21, representing growth of 18%, or 15% in constant currency, compared to Q3'20, in line with our guidance. Organic growth was 14% in Q3'21, or 11% in constant currency, compared to Q3'20.
Revenue was $436 million in Q3'21 compared to $352 million in Q3'20, growth of 24%, or 19% in constant currency, driven primarily by strong execution, as well as the impact of upfront license revenue recognition under ASC 606, and a modest contribution from Arena.
Cash flow from operations was $88 million and free cash flow was $85 million in Q3'21, in line with our expectations, compared to Q3'20 cash flow from operations of $105 million and free cash flow of $99 million.
Operating margin was 17% in Q3'21, compared to 18% in Q3'20. Non-GAAP operating margin in Q3'21 was 31%, compared to 29% in Q3'20.
Total cash and cash equivalents as of the end of Q3'21 was $366 million; gross debt was $1.5 billion. We repaid $30 million on our revolver in Q3'21.
The company's Core business has been doing well in the second and the third quarter of 2021 and Heppelmann says it's due to the new features in Creo 7 including Creo Simulation Live and Creo Ansys simulation. Creo is outpacing its closest competitors in the market at least for this quarter. Heppelmann says Creo 8 will also bring growth when it arrives with the generative design extension module GDC, which is based on the Atlas SaaS platform.
Heppelmann says that it's still early days for Creo to be taking advantage of Atlas, but the GDX module is an example how PTC will eventually transition Creo to SaaS as well. Similar to the way Dassault is introducing SaaS-based features to its SolidWorks base, PTC is planning to add some new features via Atlas as appropriate. He was also careful to tell analysts that this is a long-term plan that will be tweaked with time to respond to what the customers are wanting. But, he also says the work the company is doing to bring Creo and Windchill to the cloud will be a singular platform that powers PTC's next generation of software that's going to breathe another decade or so of growth into our Creo and Windchill product lines.
Fiscal 2021 guidance
PTC's CFO and EVP Kristian Talvitie points out that PTC has been consistent in increasing revenue and meeting guidance and the company says they're going to do the same this year. He said that the company remains on track to deliver on their full year guidance on a constant currency basis.
The company expects its ARR to grow 14%–16% year over year putting them at $1,453–$1,478. The company is expecting revenue growth of 19%–21%, bringing it to $1,733–$1,736.