Revenue of $6.52 billion, up 68% from a year earlier, profit up 282% to $2.3 billion.
The company again reported record revenue gains. For the second quarter ended July 30, 2021, the company reported sales of $6.51 billion, up 68% from a year earlier and up 15% from the previous quarter, with record revenue from the company's Gaming, Data Center, and Professional Visualization platforms.
The company's Graphics business revenue was $3.9 billion, up 13% from last quarter and up 87% from last year.
"Nvidia's pioneering work in accelerated computing continues to advance graphics, scientific computing and AI," said Jensen Huang, founder and CEO of Nvidia.

Enabled by the Nvidia platform, developers are creating the most impactful technologies of our time—from natural language understanding and recommender systems, to autonomous vehicles and logistic centers, to digital biology and climate science, to metaverse worlds that obey the laws of physics.

This quarter, we launched Nvidia Base Command and Fleet Command to develop, deploy, scale and orchestrate the AI workloads that run on the Nvidia AI Enterprise software suite. With our new enterprise software, wide range of Nvidia-powered systems and global network of system and integration partners, we can accelerate the world's largest industries racing to benefit from the transformative power of AI.

"We are thrilled to have launched Nvidia Omniverse, a simulation platform nearly five years in the making that runs physically realistic virtual worlds and connects to other digital platforms. We imagine engineers, designers and even autonomous machines connecting to Omniverse to create digital twins and industrial metaverses," he said.
On July 19, 2021, the company completed a four-for-one split of our common stock in the form of a stock dividend to shareholders of record as of June 21, 2021. All share and per share amounts presented herein have been retroactively adjusted to reflect the stock split.
Gaming revenue was up 85% from a year ago and up 11% sequentially, reflecting higher sales in GeForce GPUs and game-console SOCs.
Nvidia says, "we continued to benefit from strong sales of our GeForce RTX 30 Series based on the Nvidia Ampere architecture. We have introduced Low Hash Rate (LHR) GeForce GPUs with limited Ethereum mining capability and increased the supply of Cryptocurrency Mining Processors (CMP) in an effort to direct GeForce to gamers and CMP to miners. Over 80% of our Ampere architecture-based GeForce GPU shipments in the quarter were LHR GPUs. CMP is included in OEM."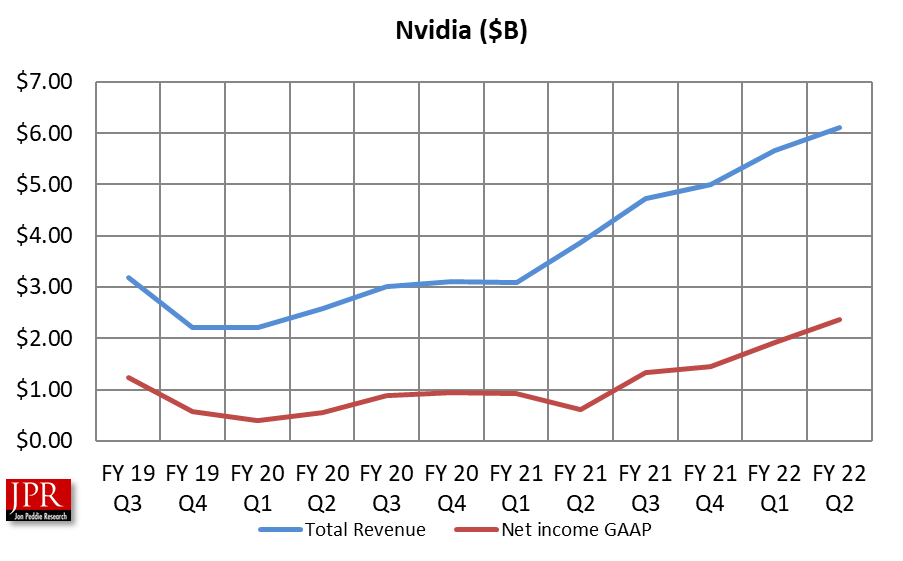 Data Center revenue was up 35% from a year ago and up 16% sequentially. The year-on-year growth was led by the ramp of Nvidia Ampere architecture products into vertical industries and hyperscale customers, including strong growth in inference. Sequentially, growth stemmed from both compute and networking products, led by hyperscale customers.
Professional Visualization revenue was up 156% from a year earlier and up 40% sequentially, driven by the ramp of Nvidia Ampere architecture GPUs, with growth led by desktop workstation GPUs.
Automotive revenue was up 37% from a year earlier and down 1% sequentially. The year-on-year increase was due to the recovery in automotive demand which was impacted by the pandemic in the prior year.
OEM and Other revenue was up 180% from a year ago and up 25% sequentially, primarily reflecting growth in CMP, which generated revenue of $266 million.
Outlook
Nvidia's outlook for the third quarter of fiscal 2022 is as follows:
Revenue is expected to be $6.80 billion, plus or minus 2%.
GAAP and non-GAAP gross margins are expected to be 65.2% and 67.0%, respectively, plus or minus 50 basis points.
GAAP and non-GAAP operating expenses are expected to be approximately $1.96 billion and $1.37 billion, respectively.
GAAP and non-GAAP other income and expense are both expected to be an expense of approximately $60 million, excluding gains and losses on equity securities.
GAAP and non-GAAP tax rates are both expected to be 11%, plus or minus 1%, excluding any discrete items such as excess tax benefits or deficiencies related to stock-based compensation.
Capital expenditures are expected to be approximately $200 million to $225 million, including principal payments on property and equipment.
Huang said it is unlikely that Nvidia will be able to complete its acquisition of Arm within 18 months as planned due to ongoing regulatory investigations, but Huang added, the company is "confident" that the planned deal will be approved.
What do we think?
Compute and network outran graphics for the second time, 17.6% compared to 13.2% for the quarter.
In the segments, ProVis was the big winner with 40% quarter-to-quarter, and a whopping 156% year-to-year.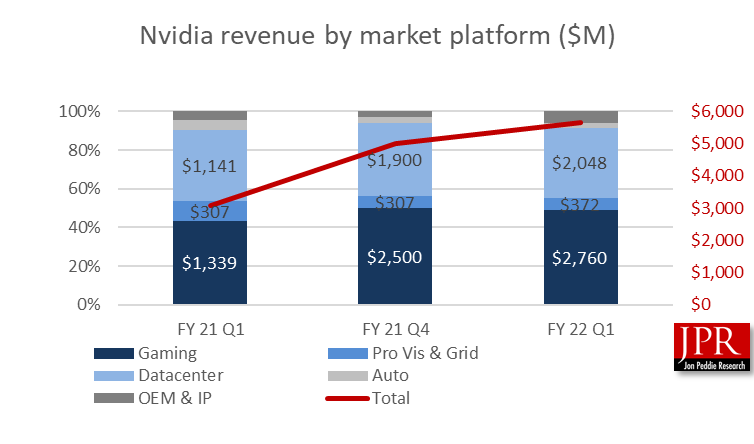 The company introduced its GeForce RTX 3080 Ti and GeForce RTX 3070 Ti, claiming they deliver up to 50% more performance over the previous generation. We didn't see that much but the RTX 30820 Ti was 36% better than the RTX 3070.
Nvidia's growth in the data center has been phenomenal, enhanced with the contribution from the Mellanox acquisition.
Nvidia made a big bet 20 years ago on CUDA and it has paved the road to the datacenter for the company. Nvidia is now making a big bet on Omniverse, and the benefactor from that platform is Pro Vis.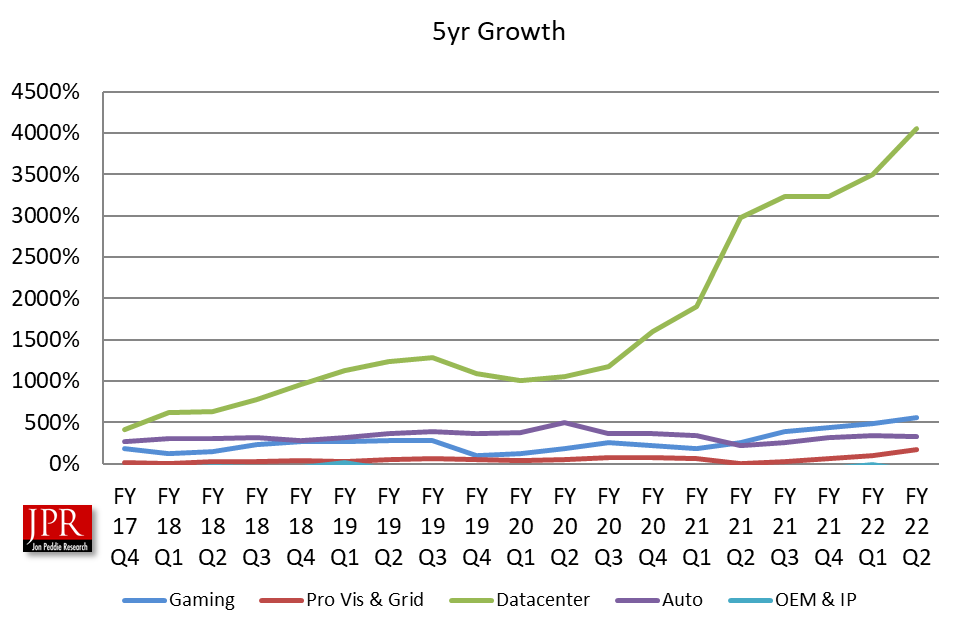 The numeric values are shown in the following table.

Nvidia has been the leader in gross margin since Q1'19.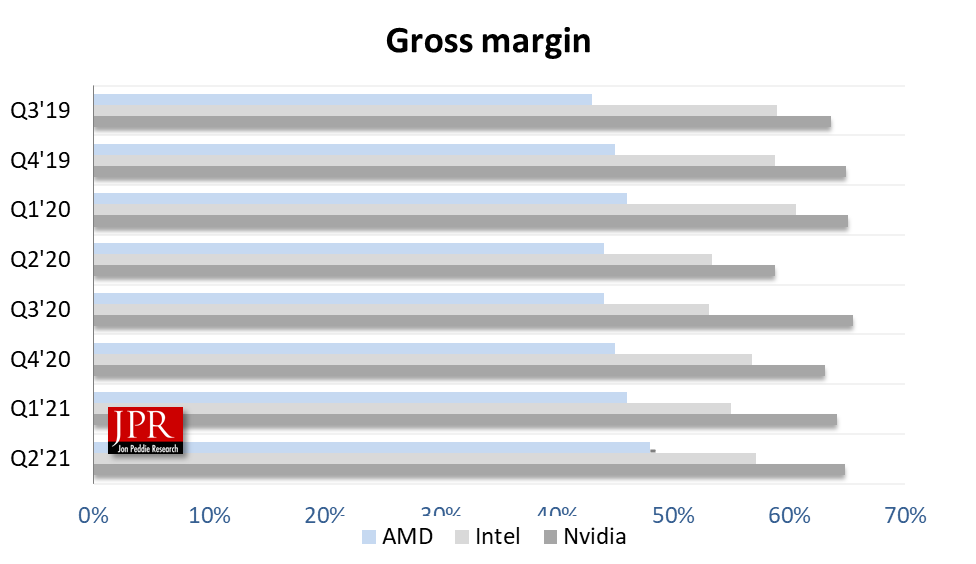 Most of Nvidia's bets have come in, and the company is enjoying the demand created by the new work at home rules and many companies going to a hybrid work arrangement.