A global lineup of speakers will talk about the future of architecture, digital fabrication, conceptual design, VR, design visualization, computational design, and 3D printed buildings.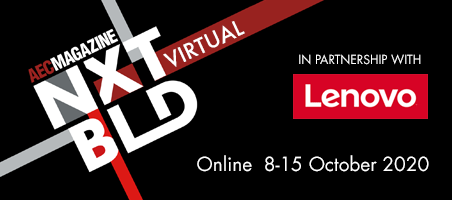 NXT BLD (Next Build) conference explores emerging technologies for the built environment beyond BIM. Due to the pandemic situation, the conference will take place virtually this year from 8 October to 15 October.  The virtual conference is organized and hosted by AEC Magazine in partnership with Lenovo. The conference is free to all. Moreover, registered attendees will also be able to access the online, on-demand content later.
NXT BLD, a 6-day virtual conference, will explore how brand new innovations in digital fabrication, architecture, autonomous robots, design automation, construction 3D printing, visualization, VR, etc., are poised to revolutionize the construction industry.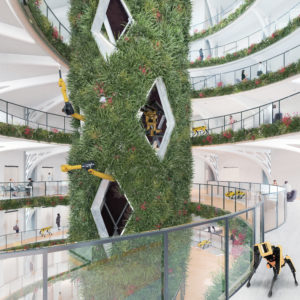 One of the highlights of NXT BLD Virtual will be a panel discussion on the future of Digital Design workflows, featuring key figures from the open letter to Autodesk group, the vocal collective of AEC firms who wrote a letter to Autodesk CEO Andrew Anagnost highlighting a range of concerns about Revit.
The conference will begin with Mollie Claypool (Bartlett School of Architecture) who will explore automating architecture. Elif Erdine (Architectural Association) will discuss Architecture & Robotic Fabrication, while Fernando Blanco and Elena Casini (Most Architecture) will reveal how robots will impact architecture, as they build, maintain, learn and coexist with humans.
For digital fabrication, Bruce Bell (Facit Homes) will share R&D work undertaken at his bespoke design to digital fabrication residential practice; Mark Taylor (Royal BAM Group) and Alexander Türk (Aeditive) will present the very latest developments in construction 3D printing; while Tal Friedman will talk about a journey from parametric architecture to a future that embraces digital construction.
Chris Ruffo, Mike Leach, & Scott Ruppert (Lenovo) will share research about how COVID-19 has impacted the use of technology and how AEC firms can navigate the path ahead, while Michael Katz (AMD) will show how the new AMD Threadripper Pro CPU can transform AEC workflows including reality capture, real-time visualization, generative design, and simulation.
For conceptual design, Nate Miller (Proving Ground) will explore the untapped potential of data-driven design; Julie Dorsey (Mental Canvas) will showcase digital sketching technology like you've never seen before; while Johan Hanegraaf and Hilmar Gunnarsson (Arkio) will present brand new collaborative VR technology for early-stage design.
Building on the VR theme, Alex Coulombe of Agile Lens will look at the development of VR through the lens of real-world project over a number of years, Ken Pimentel (Epic Games) will reveal the very latest in realtime visualization, while Andrew Rink (Nvidia) will explore new technology to help overcome the collaboration challenges in architectural design.
The full conference program can be found here.