Latest update influenced by the success of Fortnite.
The recent release of Unreal Engine focuses on multiplatform support and promises improved character development for more lifelike characters.
The game creation engine, Unreal Engine 4.20, introduces Niagara particle engine for VFX, a new Depth of Field (DoF) system; and in addition to the improvements to character development, Epic has improved the environment editor, making it easier for developers to build immersive digital environments.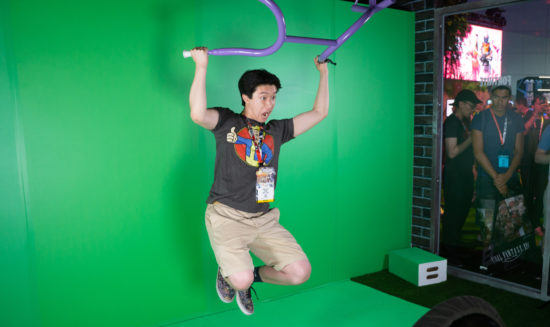 Epic has been previewing its Digital Human technology that allow realtime interaction with digital characters. Demos include the relentless Siren, played by actress Bingjie Jiang and driven by performance actress Alexa Lee or Meet Mike, a digital character based on Mike Seymour of FXGuide. 'Meet Mike' debuted at Siggraph 2017. The Digital Human technology signals that game engines aren't just for game development anymore and aren't even just for creating content—the technology creates moments.
The upgraded edition of Niagara system will eventually replace the Cascade particle system with an updated UI using a stacking module system.
Epic promises developers improvements in realtime rendering along with hundreds of optimizations mainly for iOS, Android, as well as Nintendo Switch. The latest Unreal Engine features tools to customize the development process with editor scripting as well as automation libraries.
The Unreal Engine 4.20 provides over one hundred mobile optimizations and improvements giving mobile game development as much power for development as console and PC. Epic promises 'write once, play anywhere' multiplatform support.
Highlights
New Level of Detail (LOD) systems advances: Unreal Engine 4.20's production-ready Proxy Level of Detail (LOD) system decreases rendering costs because of polycount, material complexity, and draw calls. The Proxy LOD tool is now only available in Unreal Editor on Windows.
New Cinematic Depth of Field (DoF): the Cinematic DoF enables high-quality scenes in a realtime context. Epic says this unique DoF effect is faster and cleaner than other Depth of Field approaches. It is designed to replace Circle DoF method providing a true cinematic appearance with Bokeh simulation.
Rectangular Area Lights: enable more graphic lighting effects for scenes and can simulate fluorescent lights, TVs, lit signs, and so on.
Shotgun integration (early access): Unreal Engine 4.20 adds support for the Shotgun launcher which makes it even easier to streamline the production pipeline. This latest Shotgun integration helps you to bring assets inside the Unreal projects.
Digital Human improvements: New tools for realistic and believable human characters through Unreal's character shader. The UE4s Dual Lobe Specular gives roughness values toward two different specular lobes, which are merged for the ultimate result. UE4 provides facial scan tools using 4K texture resolution for skin setup.
AR support: UE4's support for Google's ARCore 1.2 and Apple ARKit 2.0 enables the placement of AR gadgets on numerous surfaces, identification and drawing images to life, better tracking quality, face tracking, 2D and 3D object detection, as well as facilitating new sorts of AR experiences.
What do we think?
For good or ill, Fortnite is transforming gaming. The free-to-play game has brought Epic more than $1.2 billion in revenue. That's for in-app purchases. The game has over 125 million players and it's a Twitch hit with celebrity players including Drake, Chance the Rapper, and Joe Jonas. Obviously, the appeal of Fortnite crosses genre boundaries.
The Fortnite phenomenon is impressive, but it's more likely an unequivocal notification that gaming has changed forever, now that free-to-play, multiplayer games broken out of the Asian cafes and have enchanted the rest of the world. The success of Fortnite has elevated the importance of mobile gaming and forcing people to rethink the game industry. Fortnite is expected to earn $2 billion for Epic and that's through one of the highest revenue-per-player ratios in the industry.
Originally, Fortnite was packaged as a typical $40 game, first person shooter. When Epic introduced free-to-play and the multi-play Battle Royale free-for-all style, the game took off like a rocket. For the game industry, it's free-to-play here on out.