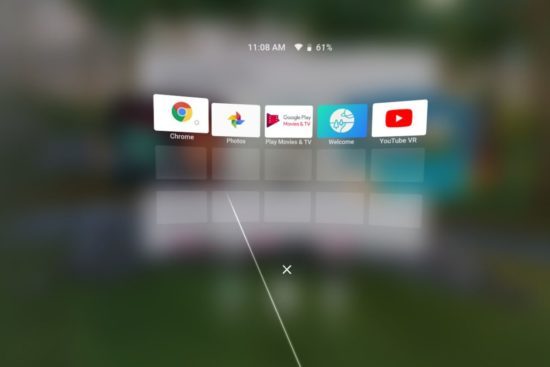 Built for the modern web, Google Chrome is a free web browser which can be accessed on any device and platform. With a humongous 58.94% usage of all web browsers globally, Google intends to make Chrome more accessible. Hence the technological behemoth has launched Chrome to its Daydream VR platform. The users can access Chrome from their phone-based Daydream View headset or the standalone Lenovo Mirage Solo. Google Daydream is a virtual reality platform to experience virtual reality through mobile device. It is Google's yet another VR platform which stimulates the interest of people in virtual reality, Google Cardboard being the first.
 The smartphones that follow the Daydream's software and hardware specifications include Samsung Galaxy S8 & S8+, LG V30, Huawei Mate 9 Pro, Samsung Galaxy S9 & S9+, etc. "So if you have one of these headsets, you can launch Chrome directly from your homepage to browse and interact with any webpage while in VR," said Gordon Brander, Chrome user experience engineer.  A virtual reality platform, Daydream set has all the characteristics of Chrome, be it a quick search directly in the address bar, a voice search, or saving bookmarks. In addition, a new feature "cinema mode," designed particularly for the Daydream platform, has been added to the VR version of Chrome. It is used for the optimization of web videos on a VR headset. Earlier the users were restricted to simply viewing since browsing could not be done in VR.
The announcement puts Chrome as a full-fledged and stable browsing app for all VR consumers, though the trial versions have been available to WebVR users for quite some time. Moreover, with the hiring of Sony's PlayStation VR guru Richard Marks, who helped Sony in creating its PlayStation VR headset and its PlayStation move controllers, Google seems to have something new up its sleeve.
Browsing and interaction with any webpage are facilitated with the effective synthesis of Chrome with Daydream. The Daydream users can conveniently switch between browsing and watching videos without removing the smartphone from the headset now.
It is certain that it has its own set of positives but one ought to have Chrome 61 coupled with Google's Daydream View headsets to avail the perks of this exciting feature. Update Chrome quickly now on your phone from Play Store, and get cracking!