In spite of growing disillusion with the SPAC strategy to goose the IPO market, Arogo and Eon Reality announce a deal worth $655 million. Eon lays out big plans in Istanbul.
Arogo is a special-purpose acquisition corporation (SPAC). It is joining with Eon Reality to form a publicly traded company called Eon Reality, Inc. and will trade under the symbol EOXR. Eon Reality was founded 20 years ago in Sweden and has grown through acquisition, with offices all over the world. The company will be led by founder Dan Lejerskar, the current CEO.
The company says it has seen substantial growth in recent years with its shift to the education and training market. The company says knowledge is a human right, which should be available, accessible, and affordable for every person on the planet. Further, the company believes its new product Eon-XR, a SaaS platform for content creation and training, has the potential to be the primary product and content delivery vehicle for XR education and industry solutions. As a cloud-based product, Eon-XR can deliver content to all clients—mobile, tablet, desktop, and even immersive domes, the company said. Its goal is to enable its customers to easily build, deploy, and scale XR applications to support employee training and increase productivity.
Eon-XR was released in 2016 as a mobile application that lets users create, share, collaborate, and publish AR and VR content on their devices without having to know how to program. In 2022, the company launched its Eon-XR SaaS project for education and training, and has announced plans to concentrate on this aspect of its business.
The deal with Arogo, says Lejerskar, will help Eon grow, thanks to the Arogo management team's experience in scaling similarly sized companies.
Specifically, the new company will have an enterprise value of $655 million and the deal will provide Eon with $101 million in cash proceeds, to bring $101 million in proceeds to its balance sheet (assuming no redemptions and before the payment of transactional fees and expenses).
The deal is expected to close in the second half of 2022.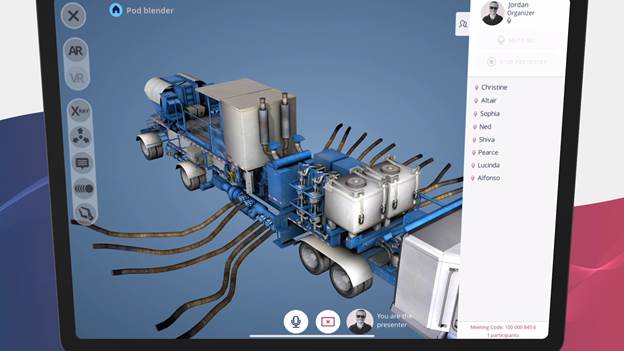 Eon-XR has enabled the company to build a library of over 2 million assets and growing. They have also built an international development network with more than 20 locations. The company says there are over 8,000 applications and over 40 million users worldwide, and has a Web page with sample applications that have been built with Eon-XR.
Eon is already spending money. Most recently, Eon threw itself a big conference and festival in Istanbul and announced new development directions and an expanded marketplace.
The new Eon Marketplace will enable users and institutions to buy experiences and sell their own. Lessons will be available for sale, as well. The store will use Stripe as a payment system.
In 2023, Eon plans to introduce hardware agnostic content through its Eon Universal. They're starting with support for the Meta Quest (1 and 2), HTC Vive Pro, HoloLens (1 and 2), and Magic Leap 2. Plans also call for multi-user sessions between different types of devices.
Eon Knowledge Worlds will enable the creation of entire digital worlds where users can buy, sell, and trade land and objects, and fill these worlds with their own content and experiences. The Knowledge Worlds plan will also integrate NFTs.
Eon's tools will enable persistent tracking through Eon Illuminate. Users will be able to create specific experiences to specific locations so everyone in the world can see them. The coming Illuminate technology will allow people to join the same sessions and experience the same content together.  
The company's coming EON Interact technology will advance Eon's content interaction abilities. Currently, users can interact with objects in Eon's immersive environments, but the company's Interact, now in development, will enable different locations, parts, triggers, and conditions to be added to objects having unique behaviors.
Eon says its Metaverse Builder tool is already extremely powerful, but the process of building content can sometimes require as many as 60 clicks for users to get the experience they want. The company is using AI and automation to reduce the number of clicks and thereby reduce the time of development. Related to this initiative, Eon says it is planning to roll out the Eon AI platform in the third quarter of 2023.
Finally, Eon announced the Eon-XR Modernization program, which will update the interface, add new social features, offer a personalized home page to users, and introduce new interaction for experiences.
At the Istanbul event, Lejerskar promised the arrival of Human 2.0, which he defined as "a way for all of us to augment ourselves and reach new heights with the help of technology and artificial intelligence."