The Intel-based GPU machine is positioned as business-ready and sports a 12th Gen CPU and Arc A380 discrete graphics.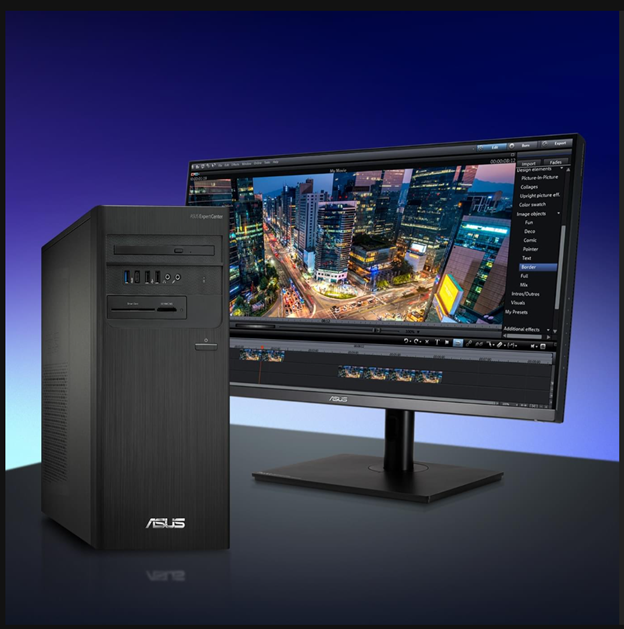 AsusTek (Asus) announced their entry into the workstation market in May 2020 with the ambition of capturing 5% of the commercial PC business within a year. The company planned to launch 10 to 12 products in the commercial category within the domestic market in September of that year.
The company recently released its ExpertCenter D7 Tower D700TD, describing it as a reliable and business-ready workstation engineered to be powerful, tough, and secure for business. Asus said the D7 Tower is powered by Intel processors, fast memory, and high-performance graphics. It meets MIL-STD-810H US military standards and features advanced security solutions. The workstation uses 12th Gen Intel Core i9 processors and B660 chipset, 4 × DIMM, offering up to 128GB DDR4 3200 MHz memory.
The ExpertCenter D7 Tower is available with Intel Arc A380 discrete graphics—the world's first graphics card with hardware-accelerated encoding for AV1 and augmented by AI and accelerated by Intel Deep Link technology. Asus says the Arc graphics leverages Intel's Hyper Encode feature to turbocharge every encoding task. All this adds up to accelerated performance and efficiency for content creation, video editing, and more.
The company says the workstation comes with Windows 11 Pro and is easy to upgrade HDD and ODD with its tool-free design. It boasts full expansion slots with up to four storages: 2 × 3.5 inches (up to 4TB) and 2 × M.2 SSD; it also has an upgradable 500 W ATX standard PSU.
The ExpertCenter D7 Tower also has certified ISV drivers for Adobe and Autodesk, with more planned.
The system is highly configurable, with prices starting at $1,700.
AsusTek stock took a hit recently as demand declined and inventory grew after sagging PC demand drove down quarterly net profit by 83% year-on-year last quarter and led to a massive inventory stockpile. AsusTek said net profit plummeted to NT$ 1.89 billion (US$ 63.06 million) during the quarter ending June 30, compared with NT$ 11.37 billion in the second quarter last year. That was a quarterly decline of 82% from NT$ 10.43 billion. Earnings per share dipped to NT$ 2.6 last quarter, compared with NT$ 15.3 a year earlier and NT$ 14.0 a quarter earlier. The company attributed the net profit reduction to supply chain turmoil, logistics snarls, international Covid-19 restrictions, global economic headwinds, and surging inflation, which depressed PC demand and shipments.