Recently Dell announced new PCs across its Latitude, Precision, and OptiPlex commercial PC portfolios. The company says these sustainable PCs offer 5G support, built-in AI capabilities, innovative thermal design, etc. Latitude 9510 is available for $1,899. The Latitude 7410 and 7310 are priced at $1,499 each. The Dell Precision 5550 and 5750 are available for $1,999 and $2,399, respectively.
The technology working behind Dell's intelligent business PCs is Dell Optimizer (DO), the automated Artificial Intelligence (AI)-based optimization technology. The in-built AI software requires 14 days to learn the user's behavior, adapts to their behavior, and helps them focus on their most important tasks. Dell Optimizer Express Response must be enabled in the applications feature to let DO improve overall application performance. It can enable faster log-in and secure lockouts, eliminate echoes and reduce background noise on conference calls, and extend battery run time. It's impressive that anybody can work smarter and faster irrespective of their location.
The Latitude 9510 is the smallest and lightest commercial 15-inch PC, weighs 3.1 pounds and can easily fit into a small work bag. It is the first Project Athena-verified commercial PC with 10th Gen Intel vPro processors. The company says Latitude 9510 offers up to 34 hours of battery life (with a configuration of Intel Core i5- 10210U, 8GB RAM, 256 GB SSD, 88Whr battery, and FHD non-touch display) and an enhanced conferencing experience with powerful built-in speakerphones and microphones.
Latitude 7410 and 7310 are the smallest 14-inch and 13-inch premium business laptops. Here the smallest refers to the total surface area of the 2-in-1s. Latitude 7410 can be configured as a 2-in-1. Its 4K low blue light screen provides better readability and enhances eye comfort.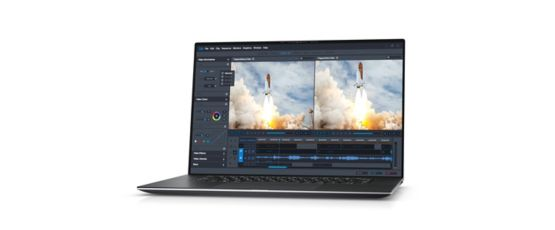 Dell's smallest and thinnest mobile workstations, Dell Precision 5550 and the brand-new Dell Precision 5750, focus on professional creators and engineers and carry out tasks like intensive graphics processing, data analysis, and CAD modeling. These 15- and 17-inch workstations offer 4-sided InfinityEdge 16:10 aspect ratio displays, a top bezel Infrared camera for maximum screen real estate and an improved video conferencing experience. Precision 5750 is also VR/AR and AI-Ready to handle fast rendering, detailed visualizations, and complex simulations.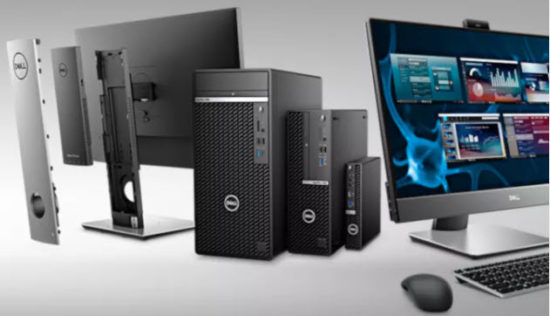 Desktop devices are needed in industries like healthcare and education. To serve these and similar industries, Dell has redesigned OptiPlex towers and expanded all-in-ones with flexible configurations in space-saving designs.