Integration of TrackMen real-time 3D tracking makes VP more accessible.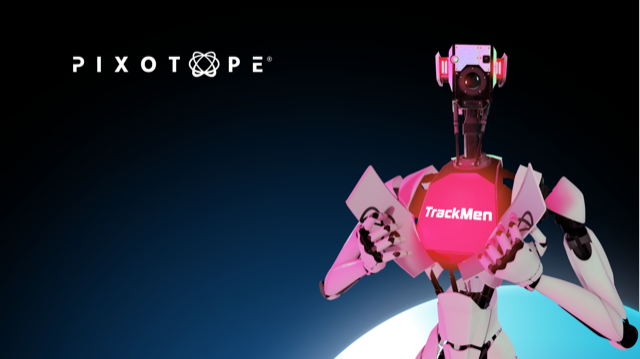 In a move that will result in a complete virtual production platform, Pixotope Technologies AS, which provides live augmented reality and virtual production solutions, has acquired TrackMen Gmbh, developer of real-time 3D camera and talent tracking solutions.
The acquisition, says Pixotope, is a major step forward for the media industry, resulting in a turnkey virtual production platform, including graphics, camera tracking, and talent tracking into a single product. This will make it easier for artists to successfully match the virtual camera to the real camera in virtual production scenarios, which is critical for achieving hyper-realistic visuals.
"Camera tracking is reported as one of the major barriers to the adoption of virtual production. The native integration of TrackMen's powerful tracking into Pixotope's end-to-end VP solution will make virtual production accessible to more users [and] create a true turnkey solution for virtual production," said Marcus Brodersen, Pixotope CEO. "By integrating camera tracking into our graphic tools, we are taking a quantum leap forward in making virtual production more accessible to media creators."
Pixotope customers will continue to have the flexibility to choose the tracking solutions that make the most sense for their workflows. As an open virtual production platform, Pixotope will continue to integrate and support tracking and graphics solutions from other vendors as they currently do.
Founded by Thorsten Mika and Hendrik Fehlis, TrackMen has carved out a unique position in the market as the only vendor that offers a range of real-time 3D camera and talent tracking solutions that covers all types of production based on a common software platform.
As part of the acquisition, TrackMen solutions will be rebranded over the next several months to become Pixotope Tracking. Meanwhile, the TrackMen team will continue to develop and support the existing portfolio, while also building the next generation of Pixotope tracking solutions.