Onshape's new add-ons and tools run on its cloud-based architecture without slowing down the user.
Onshape has announced the addition of two new add-ons for its cloud-based CAD design tool: SIMSolid Cloud and VisualCAMc by MecSoft. They were launched at the Pacific Design and Manufacturing Show, which was going on at the same time as Solidworks World.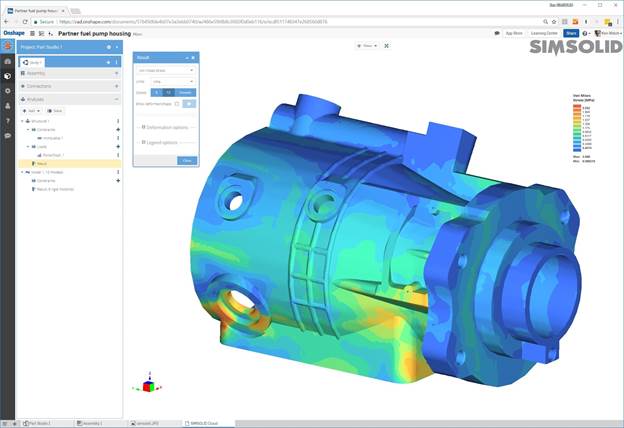 SIMSolid Cloud is a meshless simulation tool that can work on an original, full-featured CAD model without having to decimate the model. It can do structural static and modal vibration. It has an integrated material properties library. Individual parts or assemblies can be analyzed in either mesh or CAD solids-based. SIMSolid can create multiple studies to collect and quantify design performance variation. And the design studies are associative with Solidworks allowing geometry updates to be reflected in the Onshape model.
The product can be acquired in Onshape's App Store and uses Onshape's single sign-on to run within an Onshape document tab. SIMSolid is now available and can be accessed as a free trial. The product is available as monthly or annual subscriptions.
VisualCAMc by MecSoft is, as just about anyone can guess, a CAM application, which lives in the cloud and provides tools for programming milling CNC centers and machines.
The beauty of Onshape's cloud-based architecture is that these apps can run inside Onshape, but independently so when they're doing their job, sometimes long complicated jobs, they're not slowing down the work you are doing in Onshape.
In addition to new tools and simulation, the Onshape store has also a rendering tool, OneRender, which was also showcased at the Pacific Design Show. OneRender is a physics-based renderer with libraries of physically based materials and the ability to create customized cameras. The tool is available in several cloud-based plans including free and like the other Onshape add-ons can run independently in the cloud without interrupting other work.
According to a blog post from Onshape's Joe Dunne, head of developer relations, OneRender is one of three renders. As of now-ish, the store has:
9 CAM tools
9 Manufacturing add-ons
8 Simulation products
7 tools for Import and Export
3 Rendering tools
3 Utilities products
The other really important tool for Onshape in 2018 is FeatureScript, the add-on development tool for Onshape that allows customers to build their own DIY tools instead of waiting for the requested capability to make it to the top 10 most requested features and be implemented by the tool vendor. Customers can build their own tools and they can share them on the Onshape site.
For more information on Onshape's new cloud apps, check out these resources:
 What do we think?
A healthy developer community is the secret to success for CAD drafting and modeling tools. We're told Onshape now has 46 add-on tools for a wide range of capabilities. Onshape is growing up fast, and we see 2018 as an important year for cloud-based CAD in general and Onshape specifically. We're expecting to see an especially pitched battle between Autodesk Fusion and Onshape as both groups battle for developers and customization.
Solidworks fully intends to wade into the fray, but the company is being careful not to alienate the never-cloud people in their customer ranks. It's a safe course, and may turn out to be the wiser course.