Revenue $7.6 billion, up 53% from last year, profit up 106% to $3 billion.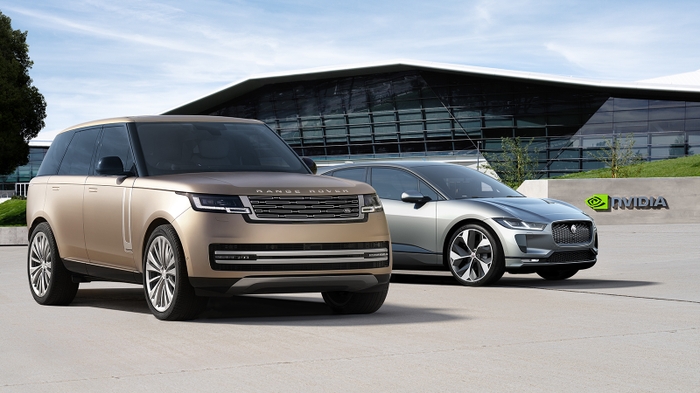 Nvidia reported a terrific revenue gain of $7.64 billion for the fourth quarter ending January 30, 2022, which was up 53% from a year ago and up 8% from the previous quarter. Gaming, Data Center, and Professional Visualization market platforms each achieved record revenue for the quarter and year.
For fiscal 2022, revenue was $26.91 billion, up 61% from $16.68 billion a year ago. GAAP earnings per diluted share were a record $3.85, up 123% from $1.73 a year ago.
"We are seeing exceptional demand for Nvidia computing platforms," said Jensen Huang, founder and CEO of Nvidia. "Nvidia is propelling advances in AI, digital biology, climate sciences, gaming, creative design, autonomous vehicles and robotics—some of today's most impactful fields.
"We are entering the new year with strong momentum across our businesses and excellent traction with our new software business models with Nvidia AI, Nvidia Omniverse and Nvidia Drive. GTC is coming. We will announce many new products, applications, and partners for Nvidia computing," he said.
Jensen announced the partnership with Jaguar Land Rover to jointly develop and deliver fleets of software-defined cars. Starting in 2025, all new Jaguar and Land Rover vehicles will have next generation automated driving systems plus AI-enabled software and services built on the Nvidia Drive platform.
Drive Orin will be the AI computer brain running the Drive AV and Drive IX software, and the Drive Hyperion network will be the central nervous system. This new vehicle architecture will enable a wide spectrum of active safety, automated driving and parking systems. Inside the vehicle, the system will deliver AI features including driver and occupant monitoring and advanced visualization of the vehicle's surroundings.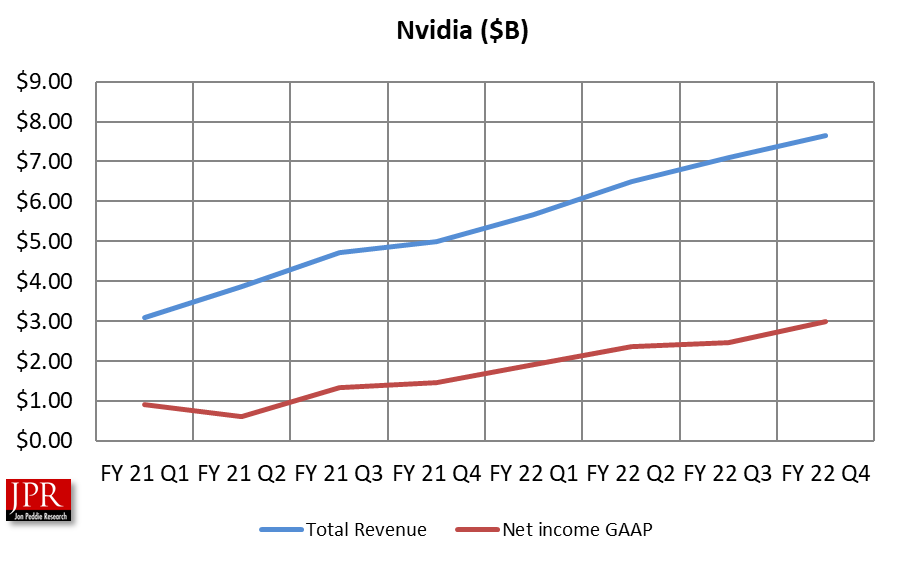 Gaming revenue was $3.4 billion for the quarter, which was an increase of  6% sequentially and 37% from a year to year. This per year revenue of $12.5 billion was up 61% from 2020. Gaming has become the top entertainment medium and continues to show strong momentum, for example, last month, Steam hit a record $28 million from current users, up 50% in two years.
"Desktop revenue in the quarter was led by our growth in our GeForce RTX 30 series products with continued strength in the high end," said Colette Kress, Nvidia's CFO and EVP. "At CES we announced the RTX 3050 GPU, which hits retail in January, bringing Nvidia, RTX, and AI technologies to more mainstream audiences."
Laptop Gaming revenue also set a record, driven by the ramp of the new GeForce RTX 3070 Ti and 3080 Ti GPUs (also announced at CES). Nvidia announced over 160 new laptop designs for RTX 30 series GPUs. "These include a number of studio systems, targeting the tens of millions of creators that are the future of design, innovation and virtual worlds. In addition to supporting the new RTX 30 series GPUs, studio laptops feature support for Nvidia software like Omniverse, Canvas and Broadcast," added Kress.
The company reported availability of its Gaming products in the channel remains level. Nvidia RTX ecosystem continued to expand with over 30 new RTX games and applications added in the quarter including Battlefield 2042, Grand Theft Auto: The Trilogy, Call of Duty: Vanguard, and God of War. In addition, several new titles support Nvidia Reflex for low latency game time. "Our GPUs are capable of cryptocurrency mining, and we have limited visibility into how much of this impacts our overall GPU demand," said Kress. Nearly all desktop, said Nvidia, are Ampere architecture. GeForce GPU shipments are light hash rate free to help direct GeForce supply to gamers.
Crypto mining processor revenue was $24 million, which is included in OEM and other. We continued to expand the Nvidia GeForce NOW cloud gaming ecosystem with new hit titles and announced a partnership with Samsung to integrate GeForce NOW and its smart TVs, starting in Q2 of this year. In addition, Nvidia teamed up with AT&T to bring GeForce NOW to 5G mobile devices in the U.S., and the company added a GFN data center in Canada.
Pro Visualization. Q4 revenue was $643 million, up 11% sequentially and up 109% from year ago. Fiscal year revenue of $2.1 billion was up 100%. Sequential growth in the quarter was driven by a shift to higher value workstations and the continued ramp of Ampere architecture. Nvidia believes strong demand is fueled by continued buildouts for hybrid work environments as well as growth in key workloads including 3D design, AI, and rendering.
Outlook
Nvidia's outlook for the first quarter of fiscal 2023 is as follows:
Revenue is expected to be $8.10 billion, plus or minus 2%.
GAAP and non-GAAP gross margins are expected to be 65.2% and 67.0%, respectively, plus or minus 50 basis points.
GAAP operating expenses are expected to be $3.55 billion, including the ARM write-off of $1.36 billion. Non-GAAP operating expenses are expected to be $1.60 billion.
GAAP and non-GAAP other income and expense are both expected to be an expense of approximately $55 million, excluding gains and losses from non-affiliated investments.
GAAP and non-GAAP tax rates are expected to be 11% and 13%, respectively, plus or minus 1%, excluding any discrete items.
Capital expenditures are expected to be approximately $350 million to $400 million, including principal payments on property and equipment.
Nvidia's automotive revenue was down a bit, but the company continues to score big brand partnerships. The automotive industry takes time to ramp up and the company thinks the combined hardware and software sales to the automotive suppliers will be thousands of dollars per vehicle, and the TAM is 100s of millions of cars.
What do we think?
Pro viz and data center has the biggest quarter-to-quarter growth, each with 11% while gaming was 6%. However, year-to-year Pro viz increased 110%, datacenter 72%, and gaming 57%.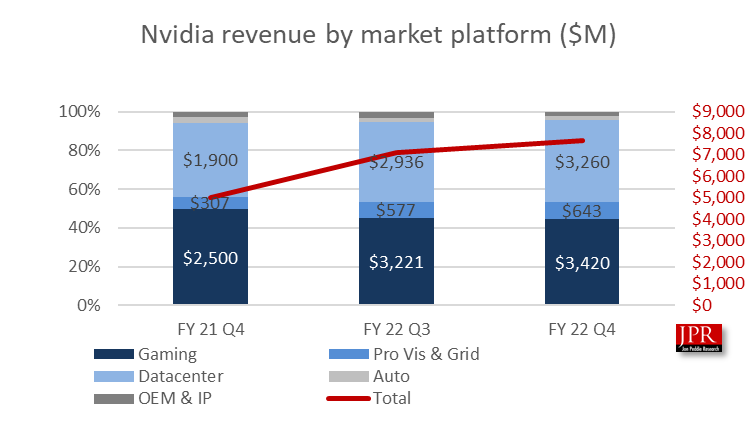 Nvidia terminated its efforts to acquire ARM.
Huang said, "When we entered into the transaction in September 2020, we believed it would accelerate ARM's focus on high performance CPUs and help ARM expand into new markets, benefiting all ARM customers in the entire ecosystem.
Like any combination of pioneers of important technologies, our proposed acquisition spurred questions from regulators worldwide. We appreciated the regulatory concerns. For over a year, we'd work closely with SoftBank and ARM to explain our vision for ARM and reassured regulators that Nvidia would be a worthy steward of the ARM ecosystem. We gave it our best shot. But the headwinds were too strong, and we could not get regulators the comfort they needed to approve our deal.
Nvidia's work to accelerate computing and our overall strategy will continue as before. Our focus is accelerated computing. We are on track to launch our ARM-based great CPU, targeting giant AI and HPC workloads in the first half of next year. Our 20-year architectural license to ARM's IP allows us the full breadth and flexibility of options across technologies and markets.
We will deliver on our three-chip strategy across CPUs, GPUs, and DPUs. Whether x86 or ARM, we will use the best CPU for the job. And together we're partners in the computer industry, offer the world's best computing platform to tackle the impactful challenges of our time."
Nvidia's operating expenses are expected to be $3.55 billion including the ARM write-off of $1.36 billion.
Like others in the industry, demand is exceeding supply. Even so, the company managed to report record sales and there are strong indicators that demand will stay strong even when supply catches up.