$4.7 billion in sales, $1.3 billion profit—up 115% from last quarter.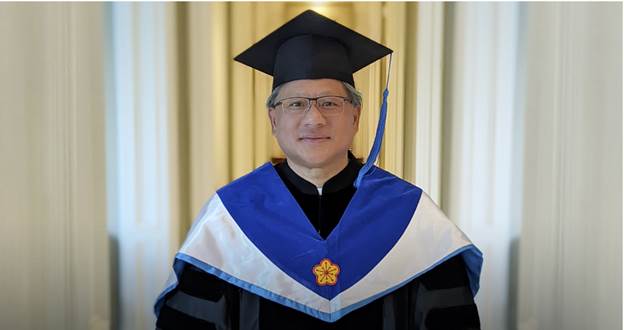 Nvidia reported record revenue for the third quarter ended 31 October, 2020, of $4.7 billion, up 57% from $3 billion a year earlier, and up 22% from $3.9 billion in the previous quarter.
The company's Graphics business revenue was $2.8 billion, up 34% from last quarter and up 25% from last year.
"Nvidia is firing on all cylinders, achieving record revenues in Gaming, Data Center and overall," said Jensen Huang, founder, and CEO of Nvidia. "The new Nvidia GeForce RTX GPU provides our largest-ever generational leap, and demand is overwhelming. Nvidia RTX has made ray tracing the new standard in gaming.

"We are continuing to raise the bar with Nvidia AI. Our A100 compute platform is ramping fast, with the top cloud companies deploying it globally. We swept the industry AI inference benchmark, and our customers are moving some of the world's most popular AI services into production, powered by Nvidia technology.

"We announced the Nvidia DPU programmable data center processor, and the planned acquisition of Arm, creator of the world's most popular CPU. We are positioning Nvidia for the age of AI when computing will extend from the cloud to trillions of devices."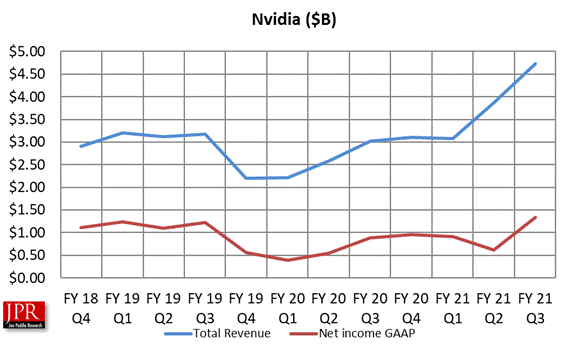 Graphics segment revenue was $2.79 billion, up 25% from a year earlier and up 34% sequentially.
Compute & Networking segment revenue was $1.94 billion, up 146% from a year ago and up 9% sequentially.
From a market-platform perspective, Gaming revenue was a record $2.27 billion, up 37% both from a year ago and sequentially. The increases reflect higher sales across desktop and notebook gaming GPUs and game console SOCs. Desktop gaming sales benefited from Nvidia's GeForce RTX 30 Series launch based on the Nvidia Ampere architecture.
Professional Visualization revenue was $236 million, down 27% from a year earlier and up 16 percent sequentially. The year-on-year decline was influenced by COVID-19, with reduced demand for desktop workstations. The sequential increase reflects a sharp rebound in mobile workstations due to work-from-home trends.
Data Center revenue was a record $1.90 billion, up 162% from a year ago and up 8% sequentially. Recently acquired Mellanox contributed 13 % of total company revenue and approximately a third of Data Center revenue. In addition to Mellanox, the year-on-year and sequential increases were driven by Nvidia Ampere architecture products' ramp. Nvidia closed its acquisition of Mellanox Technologies Ltd. on 27 April, 2020.
Automotive revenue was $125 million, down 23% from a year earlier and up 13% sequentially. The year-on-year decrease reflects a decline in revenue from legacy infotainment modules and autonomous driving development agreements. The sequential increase reflects higher sales of AI cockpit solutions.
OEM and Other revenue was $194 million, up 36 percent from a year ago and up 33 percent sequentially, primarily due to a higher volume of entry-level laptop GPUs.
The company reported that COVID-19 continues to affect its business positively and negatively, although there is uncertainty around its duration and impact. Gaming and Data Center market platforms have benefited from more robust demand as people continue to work, learn, and play from home. In Professional Visualization, lower demand for desktop workstations partially offset stronger demand for mobile workstations due to work-from-home trends. In Automotive, customers' production volumes have returned mainly to pre-COVID levels. Given industry-wide capacity/component constraints and long cycle times, it might be a few months for supply to catch up to demand.
Outlook
Revenue is expected to be up slightly by 1.6% to $4.80 billion, plus, or minus 2%.
GAAP and non-GAAP gross margins are expected to be 62.8% and 65.5%, respectively, plus, or minus 50 basis points.
GAAP and non-GAAP operating expenses are expected to be approximately $1.64 billion and $1.18 billion, respectively.
GAAP and non-GAAP other income and expense are both expected to be an expense of approximately $55 million.
In September 2020, Nvidia entered into a Share Purchase Agreement to acquire Arm from SoftBank Capital Limited and SVF Holdco (UK) Limited, valued at $40 billion in cash and equity as of the time of signing. Nvidia paid $2 billion in cash at signing. It will pay upon closing of the acquisition $10 billion in cash and issue to SoftBank 44.3 million shares of its common stock with an aggregate value of $21.5 billion. The transaction includes a potential earn-out, which is contingent on the achievement of specific financial performance targets by Arm during the fiscal year ending 31 Mar 2022. If the financial targets are achieved, SoftBank can receive either up to $5 billion in cash or 10.3 million shares of its common stock. Nvidia will issue up to $1.5 billion in restricted stock units to Arm employees after closing. The closing of the acquisition is subject to customary closing conditions, including receipt of specified governmental and regulatory consents and approvals and expiration of any corresponding mandatory waiting period; and performance in all material respects by each party of its obligations under the Share Purchase Agreement. Nvidia believes the closing of the acquisition will likely occur in the first quarter of calendar 2022.
What do we think?
Nvidia's results have been spectacular. Mellanox gave the datacenter business unir a nice kick in the top line. Now that Mellanox is integrated, that jump will be flattened going forward, and Nvidia will go back to its average growth, albeit at a higher level.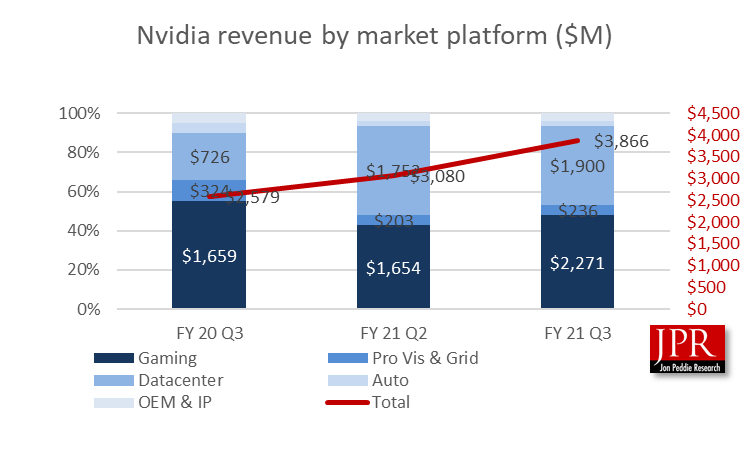 Pro Viz and Automotive were down year-over-year due to COVID 19 impacts, while gaming and data center were up. Data Center has been the superstar in quarter-to-quarter growth over the past five years, as illustrated in the following chart.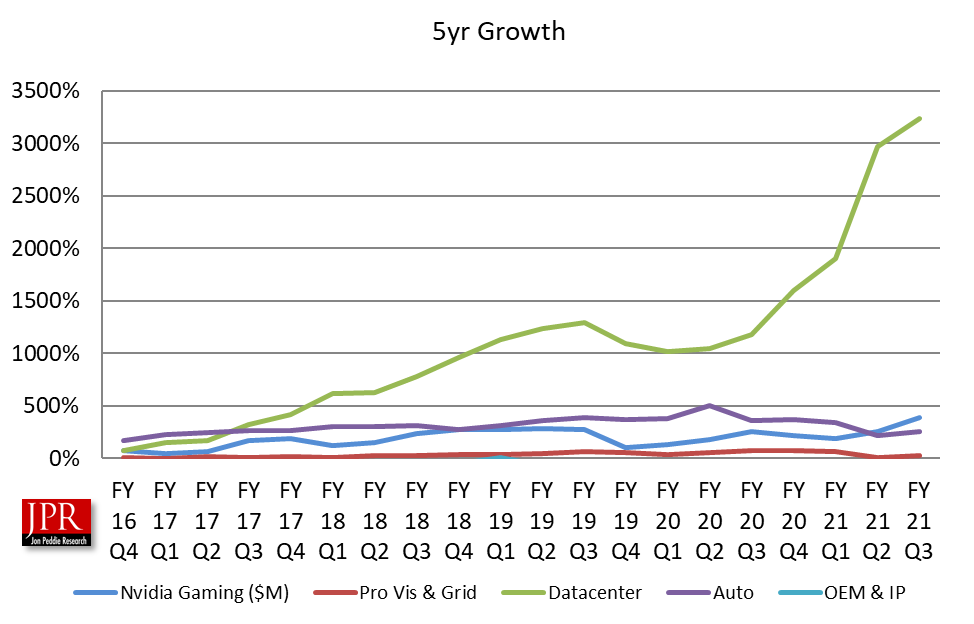 Rate of change of Nvidia's business centers over five years. (Source: Nvidia)
The numeric values are shown in the following table.
| | | | | | |
| --- | --- | --- | --- | --- | --- |
| $ (in millions) | FY 20 Q3 | FY 20 Q4 | FY 21 Q1 | FY 21 Q2 | FY 21 Q3 |
| Gaming | $1659 | $1491 | $1339 | $1654 | $2271 |
| Pro Visualization | $324 | $331 | $307 | $203 | $236 |
| Data Center | $726 | $968 | $1141 | $1752 | $1900 |
| Auto | $162 | $163 | $155 | $111 | $125 |
| PC Tegra | $143 | $152 | $138 | $146 | $194 |
| Total | $3014 | $3105 | $3080 | $3866 | $4726 |
Nvidia quarterly revenue trend by markets (Source: Nvidia)
Nvidia continues to enjoy a high P/E ratio (98.8 on 19 Nov '20), and the company enjoys a trailing-twelve-months P/E of 70.67× compared to the semiconductor – general industry's P/E of 24.08×.
The launch of the Ampere GPU for the data center and gaming has been very successful for the company, and demand has exceeded supply. The company will be releasing a fourth AIB to its gaming line up in December.
Nvidia is on the path to being a $20 billion company before they acquire Arm. The company has successfully transformed itself from a component supplier of just GPUs to a systems company offering AIBs, supercomputers, automotive computers, and network systems. Nvidia will do for Arm what Arm couldn't do for itself, build systems with Arm processors. Nvidia's acquisition of Arm is a brilliant move, and nothing is stopping Nvidia that we can see from becoming a $50 billion company in under ten years.