$3.8 billion in sales, $622 million profit—down 32% from last quarter.
Nvidia reported revenue, for the second quarter ended July 26, 2020, of $3.87 billion, up 50% from $2.58 billion a year earlier, and up 26% from $3.08 billion in the previous quarter.
Nvidia closed its acquisition of Mellanox Technologies Ltd. on April 27, 2020. The company's graphics business revenue was $1.9 billion, down 9% from last quarter, yet enjoyed a 25% increase from last year. The quarter was the first increase in year-over-year sales since Q3'18.
"Adoption of Nvidia computing is accelerating, driving record revenue and exceptional growth," said Jensen Huang, founder, and CEO of Nvidia. "Growth in GeForce gaming accelerated as gamers increasingly immerse themselves in realistic virtual worlds created by Nvidia RTX ray tracing and AI.

"Our new Ampere GPU architecture is sprinting out of the blocks, with the world's top cloud service providers and server makers moving quickly to offer Nvidia accelerated computing. Mellanox grew sharply, driven by the need for high-speed networking in cloud data centers to scale-out AI services. And Mercedes-Benz's partnership with Nvidia to power its next-generation fleet of luxury cars—from the computer to the AI software, and from the cloud to the car—is transformative.

"Despite the pandemic's impact on our professional visualization and automotive platforms, we are well-positioned to grow, as gaming, AI, cloud computing, and autonomous machines drive the next industrial revolution around the world," he said.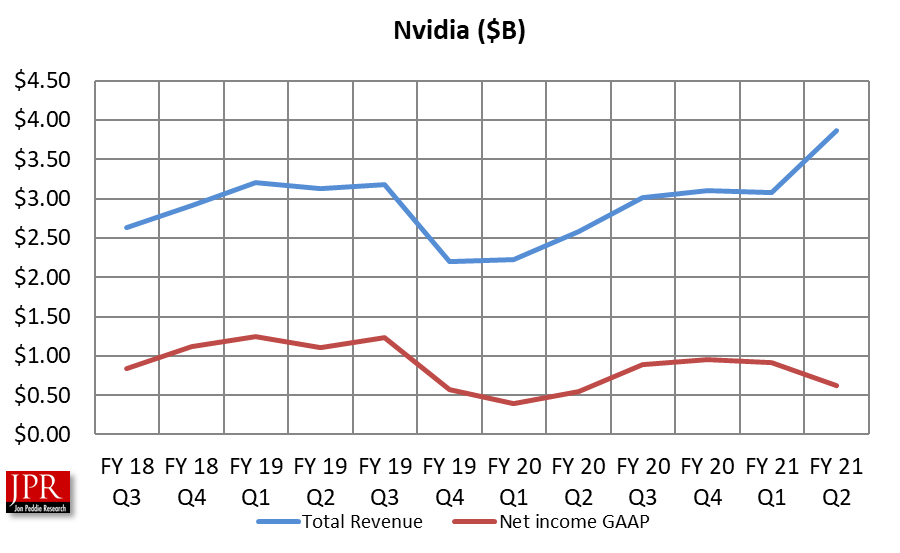 Gaming revenue was $1.65 billion, up 24% from the previous quarter and up 26% from a year earlier. The year-on-year increase reflects higher sales of gaming GPUs. The sequential increase reflects higher sales from gaming GPUs and game console SOCs.
Professional Visualization revenue was $203 million, down 34% from the previous quarter and down 30% from a year earlier. Professional Visualization revenue was negatively affected as corporate customers delayed spending on workstations. Automotive production is well below pre-COVID-19 levels.
Data Center revenue, which included Mellanox, was $1.75 billion, up 54% from the previous quarter and up 167% from a year earlier.
Automotive revenue was $111 million, down 28% from the previous quarter and down 47% from a year earlier.
OEM and Other revenue was $146 million, up 32% from a year ago and up 6% sequentially, primarily due to higher demand for entry-level laptop GPUs.
The company said the COVID-19 pandemic continues to impact their business, with most of their employees working remotely. Nvidia said its employees and partners are performing above and beyond to keep their supply chain functioning normally. Many industries the company serves are adversely impacted, including higher education research, energy, manufacturing, automotive, architecture, engineering, and media. Each industry is recovering, albeit at different rates.
Outlook
Nvidia's outlook for the third quarter of fiscal 2021 is as follows:
Revenue is expected to be $4.40 billion, plus or minus 2%.
GAAP and non-GAAP gross margins are expected to be 62.5% and 65.5%, respectively, plus or minus 50 basis points.
GAAP and non-GAAP operating expenses are expected to be approximately $1.54 billion and $1.09 billion, respectively.
GAAP and non-GAAP other income and expense are both expected to be an expense of approximately $55 million.
GAAP and non-GAAP tax rates are both expected to be 8%, plus or minus 1%, excluding any discrete items. GAAP discrete items include excess tax benefits or deficiencies related to stock-based compensation, which are expected to generate variability on a quarter-by-quarter basis.
What do we think?
With the addition of Mellanox, gaming is now down to 43% and data center is up to 45% which probably feels pretty good to Nvidia in terms of balance.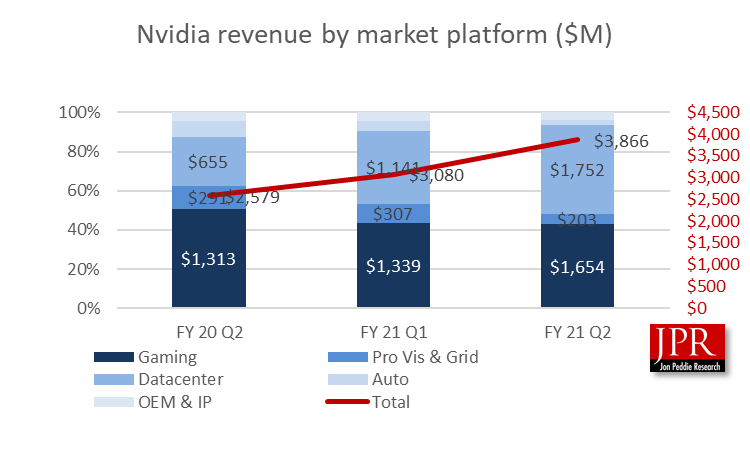 Pro viz and automotive was down due to COVID-19 impacts, while gaming and data center were up. Over the past five years, data center has been the superstar in quarter-to-quarter growth, as illustrated in the following chart.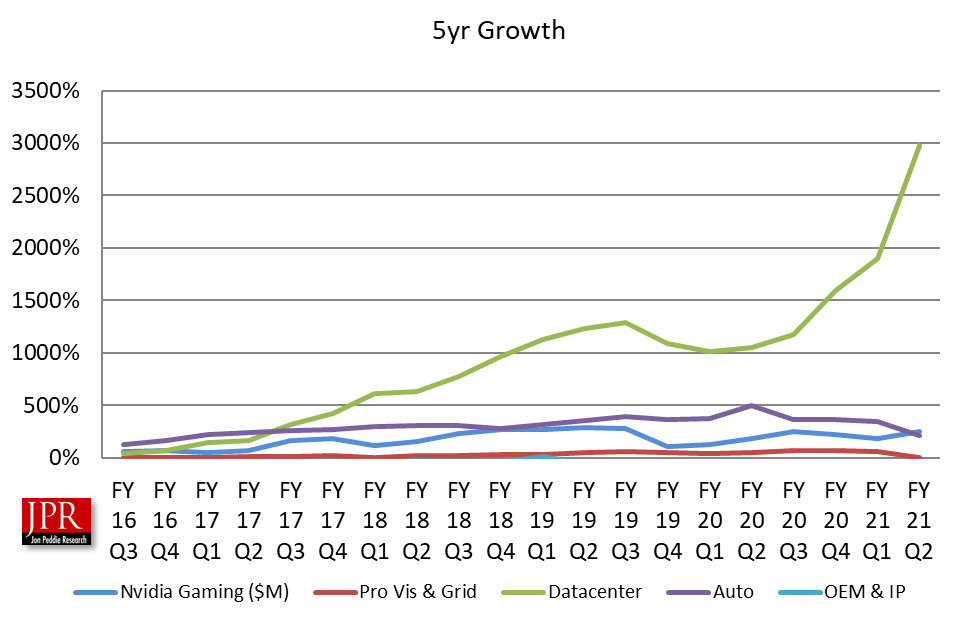 The numeric values are shown in the following table.

Nvidia continues to enjoy a high P/E ratio (89.2 on 20 August'20) and the record sales and announcement of the new Ampere GPU for the data center shows Nvidia's continued commitment to shift the company's business from being PC and gaming dependent to being more of a data center company, a strategy also being followed by AMD and Intel.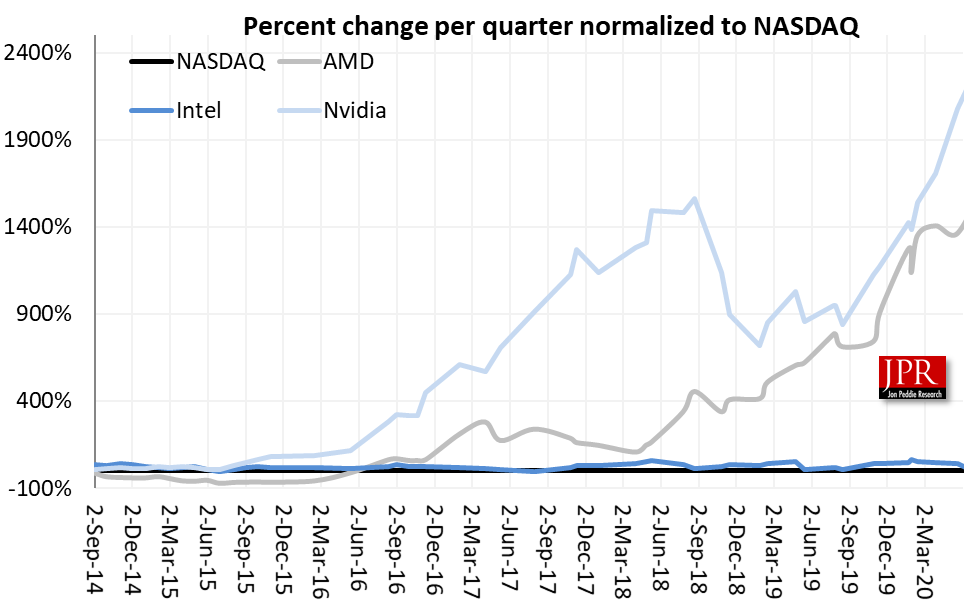 The company won sockets in 100+ new GeForce laptops and announced a range of games now supporting Nvidia RTX ray tracing and DLSS AI super-resolution, including Justice, Cyberpunk 2077, and Death Stranding. Introduced new worlds for Minecraft with RTX. Also, it expanded GeForce NOW to Chromebooks, enabling millions of users to play games in the cloud.