$3.08 billion in sales, $917 million profit-down 0.8% from last quarter.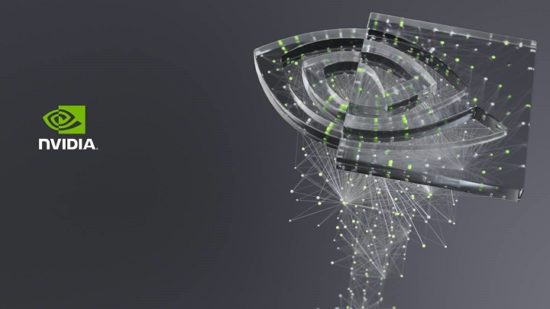 Nvidia beat Wall Street's expectations with their financial report and saw increases from all reporting segments. Revenue for the first quarter was $3.08 billion, up 39% from $2.22 billion a year earlier, and down 1% from $3.11 billion in the previous quarter.
The company's Graphics business revenue was $1.9 billion, down 9% from last quarter, but that's a 25% increase from last year. The quarter was the first increase in year-over-year sales since Q3'18.
"Nvidia had an excellent quarter. The acquisition of Mellanox expands our cloud and data center opportunities. We raised the bar for AI computing with the launch and shipment of our Ampere GPU. And our digital GTC conference attracted a record number of developers, highlighting the accelerating adoption of Nvidia GPU computing.

"Our Data Center business achieved a record and its first $1 billion quarter. Nvidia is well-positioned to advance the most powerful technology forces of our time—cloud computing and AI," he said.
Nvidia and its employees have committed to donating more than $10 million to those currently in need.
For the first quarter
Through fiscal 2020, Nvidia's reportable segments were labeled GPU and Tegra Processor. Starting with the first quarter of fiscal 2021, Nvidia's reportable segments have changed to "Graphics" and "Compute & Networking."
Nvidia Graphics segment includes GeForce GPUs for gaming and PCs, the GeForce Now game streaming service and related infrastructure, and solutions for gaming platforms; Quadro GPUs for enterprise design; Grid software for cloud-based visual and virtual computing; and automotive platforms for infotainment systems.
Nvidia Compute & Networking segment includes Data Center platforms and systems for AI, HPC, and accelerated computing; Drive for autonomous vehicles; and Jetson for robotics and other embedded platforms. Starting with the second quarter of fiscal 2021, Nvidia will also include Mellanox revenue in this segment.
All prior period comparisons presented reflect Nvidia's new reportable segments. Nvidia's market platforms—Gaming, Professional Visualization, Data Center, Automotive, OEM, and Other—remain unchanged. Nvidia will incorporate Mellanox in the Nvidia Data Center market platform.
The quarter's results
Gaming revenue was $1.34 billion, an increase of 27% from a year ago and down 10% sequentially.
Professional Visualization revenue was $307 million, an increase of 15% from a year earlier and down 7% sequentially. The year-on-year growth reflects strength in laptop and desktop workstations, but there was a sequential decrease between quarters. The decrease was driven by lower sales of desktop workstations and partially offset by strength in laptop workstations.
Data Center reported record revenue of $1.14 billion for the first quarter, an 80% increase from a year ago and up 18% sequentially, driven by higher vertical industries and hyperscale demand.
Automotive revenue was $155 million, down 7% from a year earlier and down 5% sequentially, primarily reflecting lower legacy infotainment revenue.
OEM and Other revenue for the first quarter was $138 million, an increase of 39% from a year ago and down 9% sequentially. The year-on-year increase was primarily due to higher demand for entry-level laptop GPUs from PC OEMs. The sequential decrease reflects seasonally lower sales of entry-level GPUs for PC OEMs.
GAAP gross margin for the first quarter was 65.1%, up 670 basis points from a year earlier, and up 20 basis points sequentially. The year-on-year increase was primarily driven by GeForce GPU product mix and higher data center sales. The sequential increase was driven by the Data Center, partially offset by product mix in GeForce GPUs.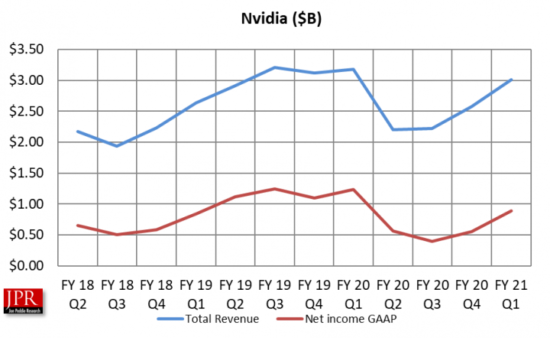 Nvidia launched its A100 and it is in full production. The company notes it was the fastest ramp in its history and contributed to Q1 revenue. It is up to 20× faster versus V100, making the A100 the biggest generational performance leap for the company. The new GPU unifies training & inference and adds multi-instance GPU capability to enable elastic data center.
The Mellanox acquisition closed on April 27, and Nvidia said it strengthens its Data Center strategy. Mellanox will be included in Nvidia financials starting with Q2 FY2021 results.
During the first quarter, the company saw strong demand across all major products and overcame COVID-19 related closures in iCafes and retail outlets with stronger e-tail demand. The company's "Stay-at-home" campaign drove over a 50% increase in hours played on GeForce devices. The company launched RTX on Minecraft, the most popular PC game in the world, and it released DLSS 2.0 AI algorithm, effectively doubling game performance.
The company says it is committed to keeping every job and accelerating annual raises; employees are working from home very effectively.
Outlook
Nvidia's outlook for the second quarter of fiscal 2021 includes a full quarter impact from the Mellanox acquisition. The combined second-quarter outlook is as follows:
Revenue is expected to be $3.65 billion, plus or minus 2%. Mellanox is expected to contribute a low-teens percentage of combined second-quarter revenue.
GAAP and non-GAAP gross margins are expected to be 58.6% and 66.0%, respectively, plus or minus 50 basis points. The sequential decline in GAAP gross margin primarily reflects an increase in acquisition-related costs, most of which are non-recurring in nature.
GAAP and non-GAAP operating expenses are expected to be approximately $1.52 billion and $1.04 billion, respectively. The sequential change in GAAP operating expenses reflects an increase in stock-based compensation and acquisition-related costs. GAAP and non-GAAP operating expenses for the full year, which will include Mellanox, are expected to be approximately $5.7 billion and $4.1 billion, respectively.
GAAP and non-GAAP other income and expense are expected to be an expense of approximately $50 million and $45 million, respectively.
What do we think?
This was the second quarter that gaming fell below 50% of the company's revenue.
Datacenter sales jumped, exceeded the $1 billion mark for the first time. The company says there was broad-based demand across hyperscale and vertical industries. And, the new A100 GPUs contributed to the quarter with strong adoption across leading hyperscalers.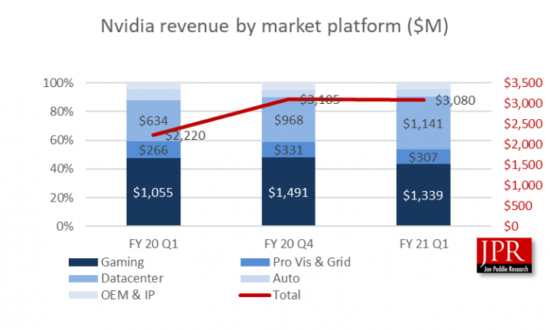 Pro viz showed continued strong demand for laptop workstations. Nvidia says Turing adoption is growing, and now is approximately 50% of sales. The company reported stronger demand in verticals including healthcare, media & entertainment, and higher education.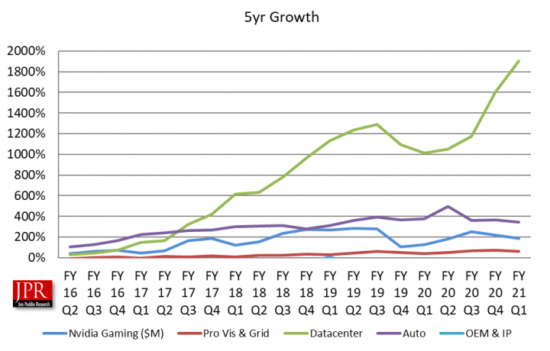 The numeric values are shown in the following table.

Nvidia continues to enjoy a high P/E ratio (79.44 on 22 May'20) and the record sales and announcement of the new Ampere GPU for the data center shows Nvidia's continued commitment to shift the company's business from being PC and gaming dependent to being more of a datacenter company, a strategy also being followed by AMD and Intel.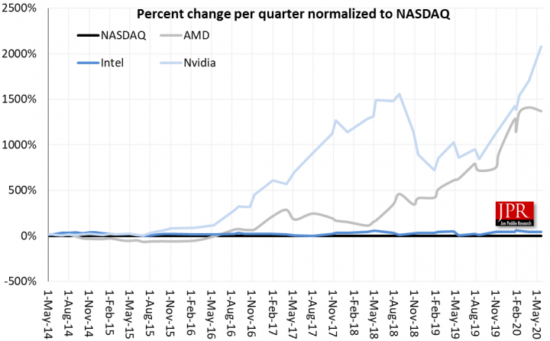 Nvidia's sales of its RTX series have been steadily gaining market share over its other products, as indicated in the following chart.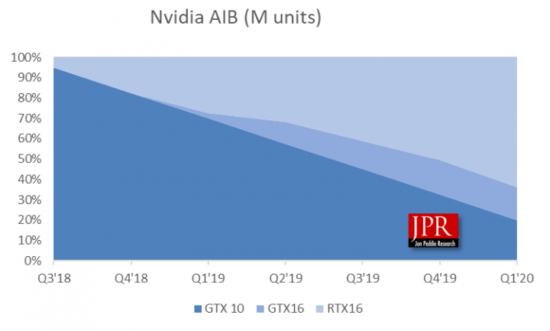 The year looks like it will even out; Nvidia and the industry should see a comfortable growth overall.