Adds Pyro and other features, as well as other updates to its product line.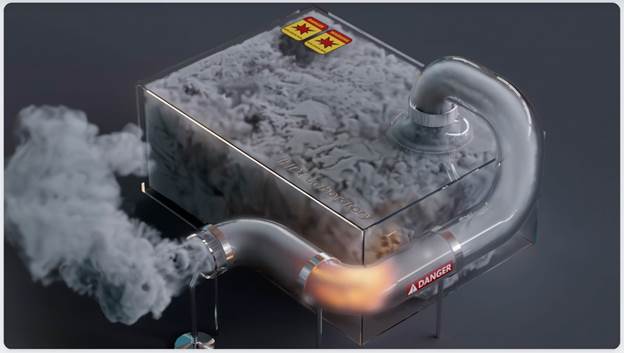 When there's smoke, there could be fire. And explosions. Those effects and simulations are possible with Pyro, a new feature Maxon has added to its Cinema 4D software suite. That update, along with others, were announced at the Maxon November 3D and Motion Design Show.
With Pyro, users can create fire, smoke, and explosions, which can interact with forces, cloth, and soft bodies, since Pyro is integrated with Cinema 4D's Unified Simulation System. The fire, smoke, and explosive sims can be emitted from any Cinema 4D object or spline, and can be simulated quickly and easily on the GPU or CPU. Parameters such as smoke density and fire intensity and temperature are controllable for an art-directed result.
Another feature introduced in Cinema 4D 2023.1 is a new integrated Redshift camera with physical camera controls and Redshift effect settings. Radical Symmetry has also been added to Cinema 4D, making it easier to model round objects interactively. Maxon further bolstered Cinema 4D with improved viewport preview capability of Redshift materials and support for procedural polygon selections and vertex maps on generators.
While many of the updates pertain to Cinema 4D, some of Maxon's other products in the Maxon One line received attention, too. Forger on the iPad now has Cinema 4D's advanced symmetry modeling capabilities. VFX boasts a full version of Real Lens Flares with new features. Trapcode sports an interactive and updated UI for Particular's curves and color gradients.
All these updates are available in the 2023.1 versions of the respective products.