New features for HDRI lighting tool include Diffusion and Light Looks which brings more possibilities for lighting and workflow management.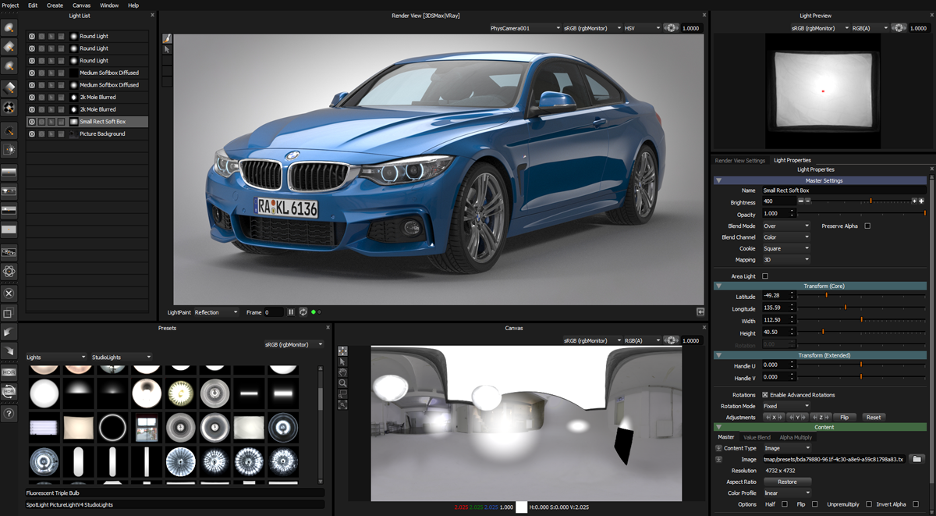 Rendering is one thing, but lighting can be another. Lightmap, based in Nottingham, England has been helping artists, engineers, and designers fine-tune their lighting since 2009. The company's product HDR Light Studio works with the leading 3D modeling and animation products and has plug-ins for 3ds Max, Blender, Cinema 4D, Maya, Modo, Houdini, VRED, Octane (Standalone), Rhino, SolidWorks (Visualize), Maxwell Studio, Lightwave 3D, and Dassault's Deltagen.
HDR Light Studio adds HDRI map authoring, and live HDRI textured area lights, to enhance the rendering process with its own lighting interface. Its tools enable users to create and edit HDRI maps, place lights, and control effects and colors. HDR Light Studio comes with a library of HDR light images, procedural content, and presets. The company's tools add another level of lighting control to 3D software to achieve professional effects.
The company's latest release Xenon Drop 2 came in January and brought new capabilities for product shots, portrait photography, and capabilities for streamlining workflows.
Lightmap has added a new Diffusion Filter for blur to soften light effects as if they were used with tracing paper or cloth. As in most of HDR Light Studio's features, changes can be made to interactively. The Diffusion Filter is used on Composite lights, and includes a spherical option for HDRI maps and a planar option for area lights. Masking can be used to direct the effects to specific places in the environment. The company notes that the diffusion effect maintains the intensity of the light in the scene. The light is softened and blurred, but it is spread over a larger area, so the scene doesn't get darker as the light is blurred.
With the introduction of Light Looks, Lightmap has enabled customers to store lighting designs within a project so they can compare looks, try out different options, define looks for specific situations, etc. Looks are stored in a tree hierarchy where child looks are added to parent looks. The different iterations and history can be saved, and Looks can be saved per camera view.
The feature helps customers better control the process and keep track of their preferred looks. The company says the feature can be especially useful in client review where stored looks can be quickly cycled through for approval.
The new update adds support for Octane Standalone 2020.2 and has fixed bugs in some product addons.
Further Details for the new update are included in the company's series of short tutorials.
A free Demo version is available for HDR Light Map Studio and it's sold as an annual subscription in three customer tiers: Indie for companies with revenues under $100K, Pro for companies with revenue over $100 K, and Automotive, which includes access to VRED, Deltagen, and Patchwork 3D connections. The base prices are $140 for the Indie version, $445, for the Pro, and $1495 for Automotive.