Didn't it seem like we'd all be measuring playing fields, creating 3D objects, and making virtual 3D playgrounds out of our living rooms by now? Phones have 3D sensors, and now Apple has added Lidar, so why can't we have these things?
It's here now and looks like a trend that will be happening in 2021. TikTok symbolically kicked it off with a New Year's Eve Lens, but they are hardly the first to use the capability.
TikTok has taken advantage of the Lidar capabilities in the Apple iPhone 12 Pro to power a New Year's Eve Ball, which explodes over the delighted TikTok kid. The gold tinsel from the ball falls across objects in the room, comes to rest on flat surfaces and in general falls into the category of it's-a-start.
To ring in 2021 we released our first AR effect on the new iPhone 12 Pro, using LiDAR technology which allows us to create effects that interact with your environment–visually bridging the digital and physical worlds. We're excited to develop more innovative effects in 2021!
Many of the apps that are now using Lidar technology were announced last October when Apple showed off the new Lidar capability in phones and the iPad Pro. Snapchat introduced Lens Studio 3.2 for AR to give developers a tool to take advantage of the new iPhone 12 Pro's sensor to build Snapchat Lenses. A sample app lets users add flowers and grass to their environment.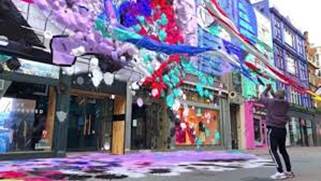 The Lidar scanner presents Snapchat's camera with a metric scale mesh overlay enabling it to recognized geometry and define spaces, objects, and surfaces. Thus, Lenses can interact realistically with the scene.
Lidar stands for Light Detection and Ranging, which helps describes how it works. It sends out an imperceptible laser beam and calculates how long it takes for the light to reflect back. Apple's ARKit software coupled with the A14 Bionic chip enables 3D objects to be rendered and placed in realtime. Although, Apple says it can also use its AI and machine learning capabilities to "see" in dark rooms and improve image quality.
Other new apps introduced in conjunction with the iPhone 12 Pro include 3D Scanner App by Laan Labs and RoomScan LiDAR by Locometric. Both of these apps lend themselves to more professional use. 3D Scanner App uses the phone or iPad Lidar sensor and the camera to create models from real-life objects, even large objects. The app can create both low res and high res models. The 3D models can be output as USDZ, OBJ, GLB, GLTF, and DAE. Also, 3D Scanner App is integrated with Sketchfab allowing models to be directly published. 3D applications like 3ds Max, Maya, Cinema4D can also import these models.
RoomScan LiDAR by Locometric creates floorplans with dimensions from scans made by using the Lidar sensor on the Apple iPhone 12 Pro or the iPad Pro. That right there is pretty impressive. The app creates 3D images of rooms with photographic texture and can save them as USDZ and PLY for 3D models. It supports annotation. And also supports DXF, condition reports using CSV for a database, and support for PDF for images and notes. It supports DXF to enable export to CAD programs for drawing files.
Canvas by Occipital takes advantage of iOS 14's improved compute capabilities to increase the accuracy of its room capture tool. It too captures the information in a room including dimensions and furnishings. Occipital has been working with Lidar in CAD applications and has added support for 3D programs such as Chief Architect, SketchUp, and Revit enabling scans to be converted to those formats.
What do we think?
We were pretty sure that depth-sensing cameras in phones would change the world, but it seems the world was waiting for Lidar sensors. If you've tried to capture a 3D model with a phone and a photogrammetry app, you know that it can be a very involved process. Depth sensing improves the process but Lidar adds accuracy and ease of use. Now anyone can have professional-grade 3D scanning. Or, anyone willing to shell out the extra bucks for the very latest phones or iPad. However, this particular tech snowball has just gotten its push down the hill. After all, TikTok is using it, and there are rumors (sourced from Digitimes) that the entire Apple 13 line will include Lidar. We're thrilled to see ancient and brilliant technology like photogrammetry finally come into the mainstream.
This kind of inflection point will empower the use of 3D technology by more creative people. The work being done to interpret the point clouds generated by scanners in vectors and usable CAD data is going to change design as well—and also IP. It will be much easier for anyone to capture a design for reuse or adapt it.
Adobe is an example of a company that has long fostered 3D ambitions and the company has made considerable progress on that front. They've been working on developments to extend 3D to all creatives regardless of their 3D modeling abilities. And, in fact, we'd say they've been waiting on just this kind of breakthrough. Lidar is an inflection point that's been over 50 years in the making.