Sales down, forecast down, revenue $15.3 billion, down 22% YoY.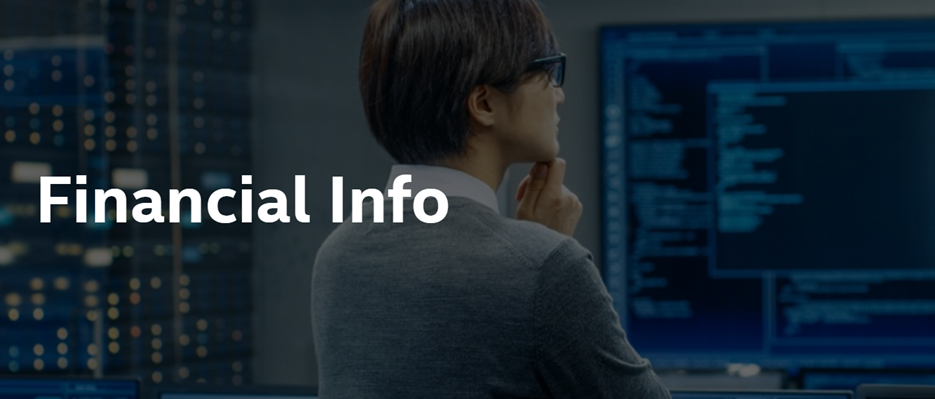 Q2'22 was a rocky quarter for Intel. Network and Edge Group and Mobileye achieved record quarterly revenue. Meanwhile, Client Computing Group and Datacenter and AI Group were impacted by adverse market conditions. The company revised its full-year revenue guidance from $65 billion to $68 billion, down from its prior guidance of $76 billion.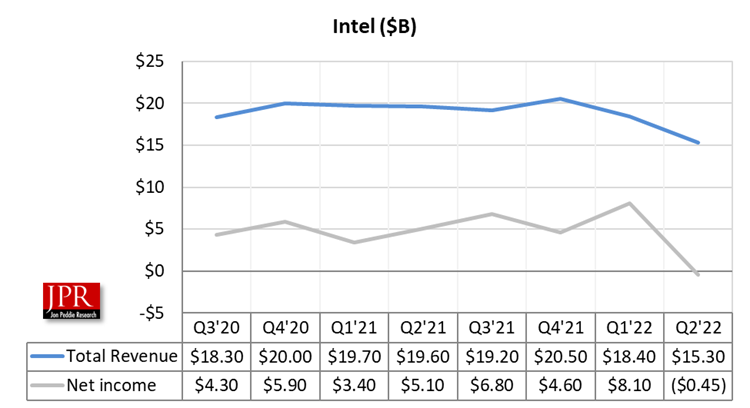 Intel's financial results for the quarter. (Source: Intel)
Lower gross margin from revenue was primarily driven by notebook and desktop declines.
"This quarter's results were below the standards we have set for the company and our shareholders," said Pat Gelsinger, Intel CEO. "We must, and will, do better. The sudden and rapid decline in economic activity was the largest driver, but the shortfall also reflects our own execution issues. We are being responsive to changing business conditions, working closely with our customers, while remaining laser-focused on our strategy and long-term opportunities. We are embracing this challenging environment to accelerate our transformation."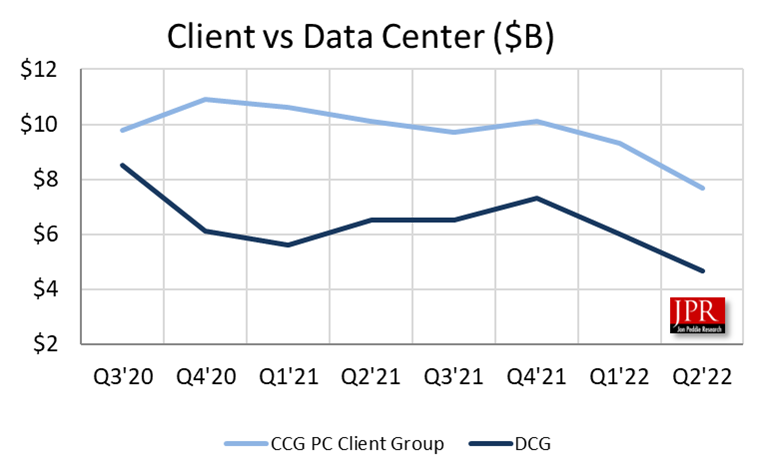 The PC Client Group is still the big revenue generator. (Source: Intel)
Notebook volume declined, driven by lower demand in the consumer and education market segments, although ASPs increased due to the resulting product mix, while desktop volume declined, primarily driven by lower demand for education products.
Notebook revenue was $4.8 billion, down $2.0 billion from Q2 2021. Notebook unit sales decreased 38%, driven by lower demand in the consumer and education market segments. Notebook ASPs increased 13%, due to an increased mix of commercial products and lower mix of education and consumer products.
Desktop revenue was $2.3 billion, down $503 million from Q2 2021. Desktop unit sales decreased 19%, primarily driven by lower demand for education products, with a slight increase in ASPs of 1%.
Lower demand for notebook and desktop product was driven by customers tempering purchases to reduce existing inventories.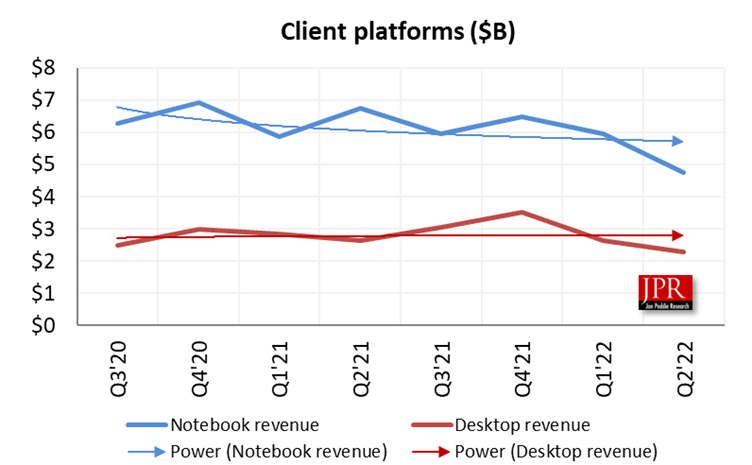 Intel's Client Platform sales by quarter. (Source: Intel)
Historically, Intel's net revenue has typically been higher in the second half of the year than in the first half of the year, accelerating in the third quarter and peaking in the fourth quarter. In 2021, continued strong COVID-driven notebook demand in the first half of the year contributed to a flatter trend than they historically observe. For the remainder of 2022, Gelsinger said, we again expect a flatter trend than we historically observed, as we experience the uncertainty and impacts, including on-demand and the supply chain, of current macroeconomic conditions, the potential for a recession, and the risk for continued COVID-related disruptions or shutdowns.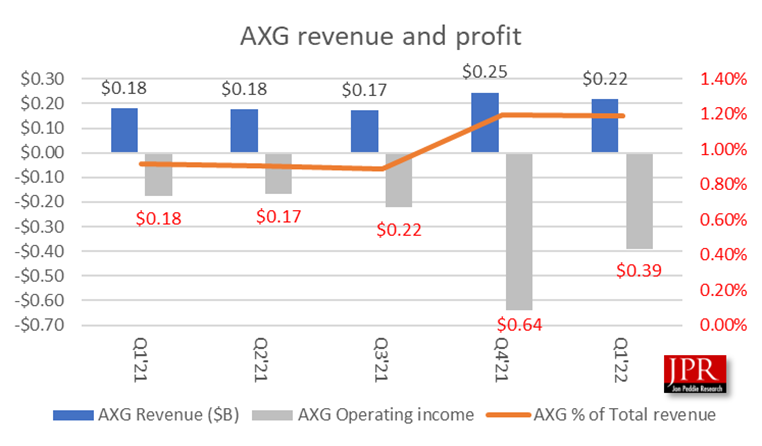 Accelerated Computing Systems and Graphics Group (AXG) results. (Source: Intel)
Gelsinger said they are planning for volatility as the world adjusts to the end of a two-year-plus pandemic and the unprecedented stimulus funds that governments used to fight it. Across the economy, supply chain issues have both limited the ability to meet demand in some areas and driven inventory well above normal levels in others. "We are prepared to manage through a slowdown typical of the normal cycles the semiconductor industry has experienced over the last 50 years," he added. "While the depth and duration are still difficult to predict, we have a proven track record of being able to adjust and succeed in any environment."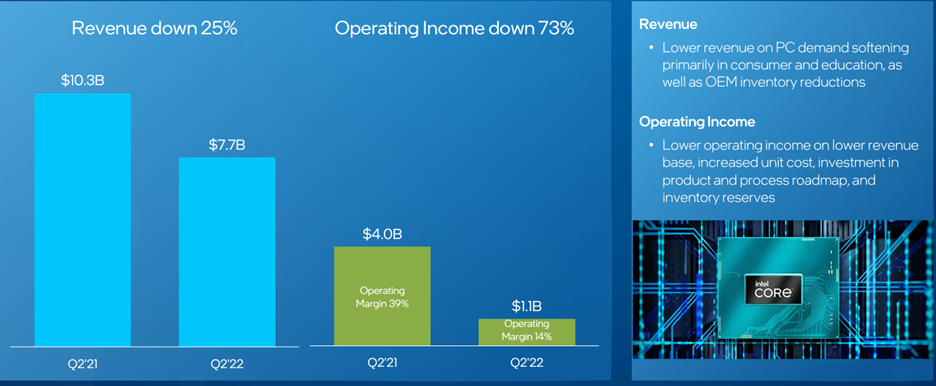 Intel's Client Computing Group's YoY results. (Source: Intel)
In Q2, the company sold its drone business and made the decision to wind down its efforts in Optane as it embraced CXL, a standard that Intel pioneered. These added to actions last year in NAND and the sale of McAfee. In total, Intel has exited six businesses since Gelsinger's return, providing roughly $1.5 billion for investments aligned with its IDM 2.0 strategy. "We are also lowering core expenses in calendar-year 2022 and will look to take additional actions in the second half of the year," said Gelsinger. "Importantly, expense discipline is not impacting the strategy, and we remain firmly on track to achieve process performance parity in 2024 and unquestioned leadership in 2025. This goal is our true North Star."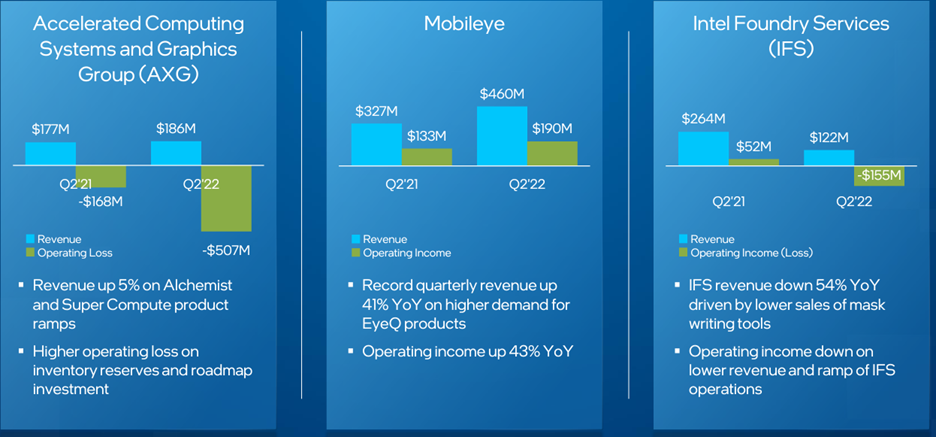 Intel's emerging business segments. (Source: Intel)
Intel sees the semiconductor industry to be at the beginning of a new structural growth phase, driven by four superpowers: ubiquitous compute, pervasive connectivity, cloud-to-edge infrastructure, and AI.
Outlook
As a result of macro weaknesses, the company expects the PC TAM to decline roughly 10% in calendar-year 2022, characterized by broadening consumer weakness and relative strength in enterprise and higher end SKUs.
The company's Q2 PC unit volumes suggest it is shipping below consumption, as some of its largest customers are reducing inventory levels at a rate not seen in the last decade and, along with some pricing actions, should allow for sequential growth into the second half, even as some customers manage lower inventory.
"While COVID-related dynamics like work-from-home and school-from-home pulled forward some demand, they also solidified the PC as an essential tool in the post-pandemic world," said Gelsinger. "For example, PC and corporate usage remains historically high, even as the pandemic's most acute impacts diminish. Markedly higher per-PC usage and a larger installed base, including 600 million PCs that are four years and older, supports a PC TAM sustainably above 300 million units."
Missed dGPU goal
"While we will not hit our GPU unit target for AXG," Gelsinger said, "we remain on track to deliver over $1 billion in revenue this year. In Q2, we started to ramp Intel Arc graphics for laptops with OEMs, including Samsung, Lenovo, Acer, HP, and Asus. COVID-related supply chain issues and our own software readiness challenges caused availability delays that we continue to work to overcome. Intel Arc A5 and A7 desktop cards will start to ship in Q3. Our energy-efficient blockchain accelerator Blockscale achieved a major milestone in Q2 with revenue shipments to our lead customers, going from 'tape-in' to shipping in less than a year. We expect to ship millions of units this year, not originally in our forecast," said Gelsinger.
"Our data center GPU, code-named Arctic Sound-M, has started production and is now shipping to customers supporting a diverse range of workloads, starting with media streaming and cloud gaming, followed by support for AI visual inference and virtual desktops," he continued. "In high-performance computing, we highlighted the installation of the Argonne National Lab Aurora supercomputer at our Intel Vision event in May, and we are on track to deliver over 10,000 blades in 2022, enabling over 2 exaflops of peak performance. We also announced new partnerships, including with the Barcelona Supercomputing Center to set up a pioneering RISC-V zettascale lab, and our continued collaboration with the University of Cambridge to evolve their current lab from exascale to zettascale."
What do we think?
The second quarter was a challenging quarter for Intel and was negatively impacted by multiple factors. There was a weakening and uncertain macroeconomic environment impacted by inflation, higher interest rates, and the war in Ukraine. They got caught with a much larger-than-expected OEM inventory correction as their customers adjusted to the new macroeconomic environment. And, worse-than-expected COVID-driven demand reductions and supply dislocations in China and other parts of the supply chain hit them, too.
Intel has gone through one of the toughest times in its history. It will get through it. Some of the smartest people in the industry are at Intel, and no one, not even their competitors, wants to see Intel fail. They have made too many great contributions to the industry, and we expect they will continue to do that.