Q1 revenue up 23% year-over-year, to $19.8 billion dollars.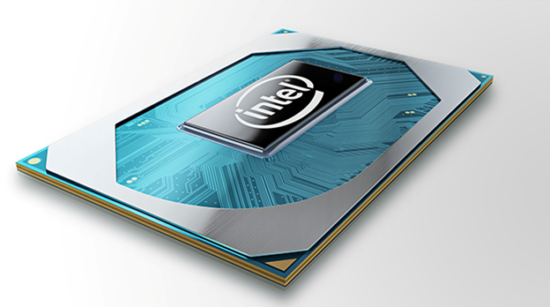 The impact of the supply chain on downstream vendors has been shocking. Combined with massive layoffs and soaring unemployment, the economic engine of the world is traumatized and forecasting is all but impossible.
Intel is not immune to any of that and, as a result, has reported a decrease in quarter-to-quarter sales and profits are down, but compared to last year's second quarter, things look good—it's all a matter of perspective.
Intel reported a 23% increase in calendar Q1 2020, compared to the same quarter last year but down -1.5% compared to the last quarter. The PC-centric business that Intel is trying to get out of grew 14% over last year but declined -2% from last quarter to $9.8 billion, and the data-centric business that Intel is trying to transition into increased 43% over last year and declined -3% from last quarter.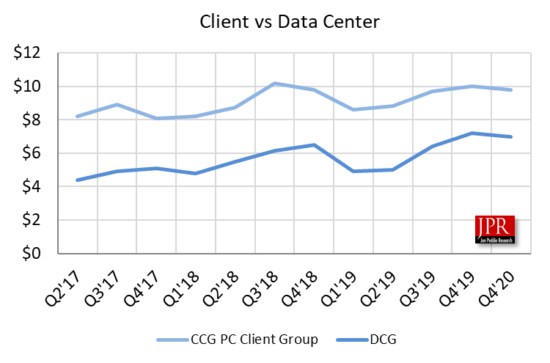 Q1'20 was very good compared to the last year and suffered quarter-to-quarter due to the pandemic.
"Our first-quarter performance is a testament to our team's focus on safeguarding employees, supporting our supply chain partners and delivering for our customers during this unprecedented challenge," said Bob Swan, Intel CEO. "The role technology plays in the world is more essential now than it has ever been, and our opportunity to enrich lives and enable our customers' success has never been more vital. Guided by our cultural values, competitive advantages, and financial strength, I am confident we will emerge from this situation an even stronger company."
The company generated $6.2 billion cash from operations and $2.9 billion of free cash flow while strengthening liquidity with $10.3 billion in new debt and suspension of share buybacks. Intel is expecting second-quarter revenue of $18.5 billion; GAAP EPS of $1.04 and non-GAAP EPS of $1.10; not providing full-year guidance given significant economic uncertainty.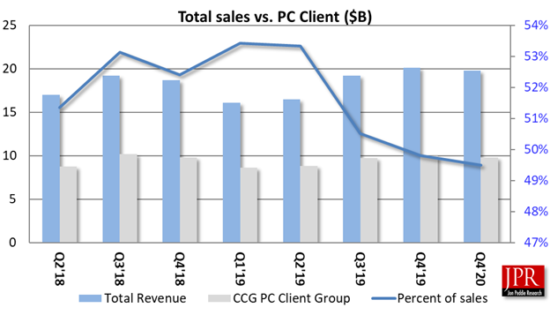 In the first quarter, the PC-centric business (CCG) broke beyond the 5-GHz barrier for laptops with the launch of the 10th Gen Intel Core H-series mobile processors. Headlined by the 10th Gen Intel Core i9-10980HK1 processor, the H-series, which the company says, delivers desktop-caliber performance that gamers and creators can take anywhere.

In the first quarter, Intel achieved 34% data-centric revenue growth and 14% PC-centric revenue growth year-over-year. The company claims it maintained essential factory operations with greater than 90% on-time delivery while supporting employees, customers, and communities in response to the COVID-19 pandemic. This includes a new Intel Pandemic Response Technology Initiative to combat the virus where we can uniquely make a difference with Intel technology, expertise, and resources.
First-quarter data-centric results were led by strength in the Data Center Group (DCG) with revenue up 43% year-over-year driven, says Intel, by broad strength including 53% year-over-year growth in cloud service provider revenue. Intel's memory business (NSG) and Mobileye both set new revenue records in the first quarter. Also, Intel introduced a broad, data-centric portfolio for 5G network infrastructure, including the new Intel Atom P5900, a 10-nm system-on-chip (SoC) for wireless base stations; a next-generation structured ASIC for 5G network acceleration (code-named "Diamond Mesa"); and new 2nd Gen Intel Xeon Scalable processors.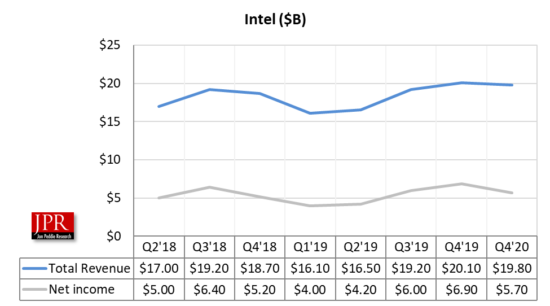 Spending for R&D was $3.3 billion, down 4.3% from last quarter, and down 1.7% from last year.
Just over under half (49.5%) of Intel's revenue comes from client computing, CCG includes platforms designed for end-user form factors, focusing on higher growth segments of 2-in-1, thin-and-light, commercial and gaming, and growing adjacencies such as WiFi and Thunderbolt.
Outlook
The company has lowered its Q2'20 revenue outlook to $19 billion; and given the significant economic uncertainty, Intel is not providing full-year guidance.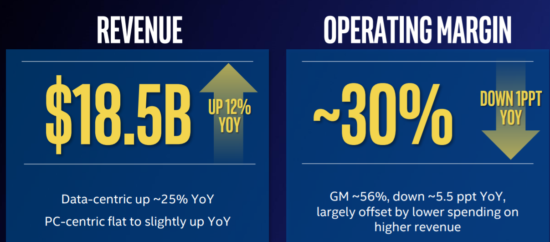 Intel's business outlook does not include the potential impact of any business combinations, asset acquisitions, divestitures, strategic investments, and other significant transactions that may be completed after April 23, 2020.
What do we think?
The early indications from OEMs and the supply chain suggest Q2 is going to be down quite a bit relative to previous years, and possibly as bad as last year. The second quarter of 2019 was especially bad for Intel due to its production problems, so their positive year-over-year forecast may be reasonable.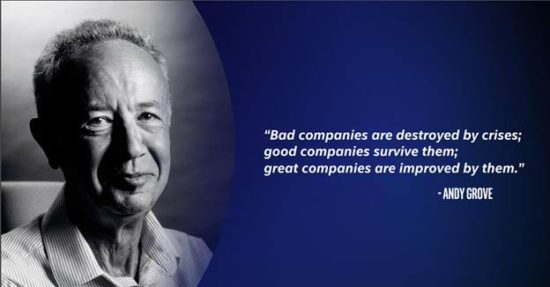 Datacenter demand could be strong in the first half of the year. However, due to the expected weaker Enterprise & Government demand, the second half could be flat to down. The strong Q1 notebook demand is largely driven by work/learn from home, and offset by the expected contraction of global GDP.