Last year, Dassault Systèmes pushed just about all their chips in on health care. This year, that decision looks like a very good bet. Dassault has reported its results for the first quarter of 2020 and the results are decidedly mixed, as a result of the worldwide pandemic. If it had not been for the acquisition of Medidata in 2019, the first quarter of 2019 would be flat, at best. Overall, revenue has come in at 2.5% below the low end of their forecast but revenue is up 17%.
But, let's start with the good news because honestly, we've got plenty of time for the bad news.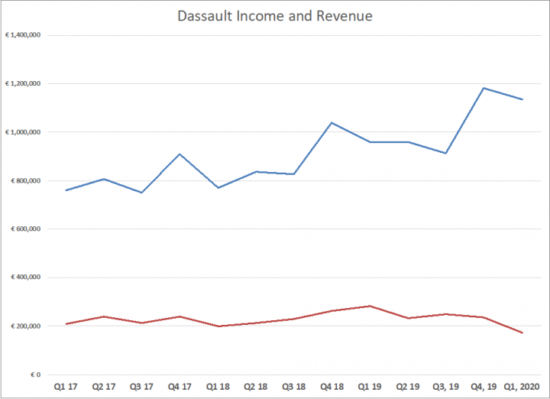 Headlines
For the quarter, Dassault Systèmes has reported €1.14 billion, operating margin 29.2%, EPS €0.95, up 9%
The company's recurring revenue is 83% of total software
Q1 cash flow from operations of €458 million
The company plans to pay an annual dividend of €0.70 for the 2019 FY
And the company says, performance for 2020, year-over-year, is expected to be stable according to its non-IFRS calculation. They expect to see an EPS of €3.65.
The acquisition of Medidata is key to Dassault's grand plan to transition its application software business to platforms for big data. Dassault CEO Bernard Charlès says, "we believe that the virtual world of modeling simulation on large data science are going to help the real-world being improved and being more sustainable."
Medidata gives Dassault access to big data tools to complement its work creating physical simulations for the human body as well as data simulations.
Dassault says that patient-centered technologies will be the new foundation of life sciences. In response to the pandemic, Dassault says they have accelerated the launch of their planned MyMedidata program which brings patients into the clinical trial process in a very open and active way. The MyMedidata program will include a research-based Covid-19 symptom tracker that will enable patients to add their data to support research.
Dassault announced 20% growth in life sciences and health care and a good share of that is coming from China, helping to grow Dassault's market share in the region. Even though Dassault's Biovia group, which is Dassault's brand for its life sciences business, is spotlighted for this quarter, Dassault has the same vision of marrying the physical and the digital for all of its business units.
In fact, says Charlès, Dassault is finding considerable validation for the vision internally. He says Dassault is using the 3DExperience throughout the company and as a result, they are able to remove their CRM, HR, and supply chain systems and replace them with one system. He says they're seeing results and, "by the way, we are learning how we should sell our own platform in a better way."
In the first quarter of 2020, Dassault's CFO Pascal Daloz says their manufacturing and transportation business, which accounts for 70% of Dassault's revenue, has been negatively impacted by the pandemic and they're seeing quite a bit of that effect from China. They're seeing resilience in the aerospace industry, especially in the realm of defense, but Dassault also admits there's plenty of uncertainty around the fortunes of Dassault's major customer Boeing.
In addition, Dassault says, they are seeing double-digit growth in their Infrastructure and Cities. On the not so happy front, Dassault says the manufacturing segment has been hit, which makes sense given the blow China took in 2019, and the rest of the world is experiencing in 2020.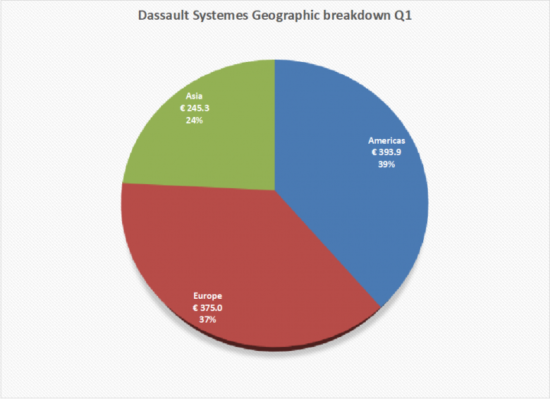 By product line, Dassault says they're seeing the effects of the pandemic in their Industrial Innovation software revenue which includes the Catia design and engineering tools and Enovia PLM. Both product groups were down -1% in 2019.
In 2019, Dassault rolled out its 3DExperience Works, a major milestone on the company's path to integrating its two major design and engineering software groups, Catia and Solidworks. The company has introduced access to Solidworks in the cloud. During the financial call, Daloz talked about growth for Solidworks in Asia and continuing growth for recurring revenue. He said growth for Solidworks recurring revenue was 6% in the first quarter.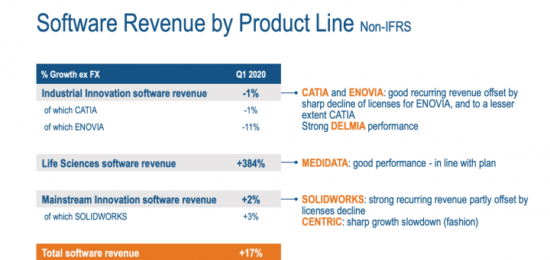 Looking forward
The coming months are going to be very interesting for world economies and industries. As is pretty obvious by now we're in for a bumpy ride. Daloz has been looking at 2009 as a guidepost and he's seeing similarities. As a result, Charlès and Daloz warn of "churn" in the mid-range market as companies struggle to survive a period of recession.
New licenses have already been down and Dassault's executives say they expect that situation to last for a while. The bright side will come as businesses get ready to come back to work. Daloz says that could be a time when companies look at adopting new systems, such as 3DExperience tools in the mainstream as well as enterprise.
2020 is the year that Dassault has planned to transition the Solidworks customer base to a subscription base and cloud-supported workflows. That process could be more complicated given world economies, but as Daloz suggests, it might also be a good time for companies to bring on new efficiencies.
For the second quarter of 2020, Dassault is forecasting:
Non-IFRS revenue objective: €1.04 to €1.07 billion, growing about +9% to 12% in constant currencies
Non-IFRS operating margin objective: about 25% to 26.5%
Non-IFRS EPS objective: €0.72 to €0.77, ranging from -12% to -6%
For the year:
Non-IFRS revenue objective: €4.50 to €4.55 billion, growing about +12% to 13% in constant currencies
Non-IFRS operating margin objective: about 29.5%
Non-IFRS EPS objective €3.65–€3.72, ranging from 0% to +2%
What do we think?
We started this off suggesting that Dassault could be providing a glimpse into the future as it sees slowdowns in manufacture and customer spending, but Dassault is an unusual company with its commitment to life sciences. The company is diversified in ways that its competitors may not be.
The debate around here is whether we will be having a V-shaped recovery or a U-shaped recovery meaning the economy groundhog was scared by his shadow and recession lasts longer. We can't help but see a U-shaped recovery for design and engineering because recovery is going to roll out differently all over the world. Subscription revenues can stabilize a company's income, but only if its customers stay in business.