Computex is shaping up to be another big year. Our friends at AMD, Intel, Lenovo, and Nvidia have been bugging us with hints and promises and demands because they're lining up their big announcements and they want to make sure we recognize Computex week as a worldwide celebration of compute power.
AMD is expected to show the 2nd Gen of Ryzen but the company is also planning a major keynote. Last year, Lisa Su clearly outlined how AMD intended to beat Intel by providing more value at less cost. Intel has fought back with a deep lineup of processors, so this year is shaping up like a battle of the Titans.
As everyone knows there are no secrets in Taipei and AMD's partners proved it this year by leaking news about new products for AMD's 7 nm Navi. Board maker Sapphire revealed the Navi XT is one the way. It will be aimed at the Nvidia RTX 2070 and also the Navi Pro which will take on Nvidia's RTX 2060 and 2070 with competitive price points. And of course, we expect the latest leaks and hints about the forever coming Xe GPU from Intel.
What we know is the always-on computer is on again. Qualcomm may have jumped the gun a bit in 2017 providing details about how the game changes when computers can be thin, light, always on and always connected are enabled. Qualcomm made the announcement to promote its LTE modem, but mainly the 5G transformation on the way. That transformation will come closer with the arrival of Computex this year in Taipei. However, the Chromebook gang aren't just sitting around waiting for Microsoft and Qualcomm to take their business away, so expect several new CB announcements too.
Intel showed a few of us analysts some of the things they will reveal and speak about at Computex in June in Taipei this year.
We saw a new form factor and got a few details on Intel's Athena project, the new initiative Intel announced at CES. Athena is a project and technology development program to design the next generation of laptops and is similar to what Intel and laptop manufacturers did with Ultrabooks a few years back. Project Athena involves Intel working with the big brands in the laptop industry such as Acer, Asus, Dell, Google, HP, Lenovo, Microsoft, and Samsung. Those companies are creating the next generation of laptops which will be thinner, lighter, more powerful, have better battery life, possibly be always connected, and definitely shown at Computex.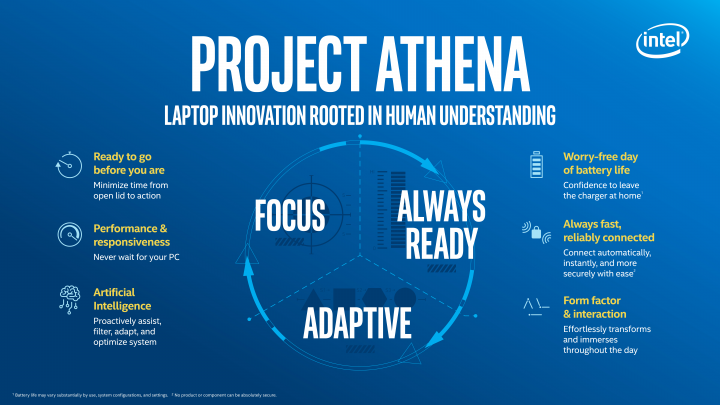 Intel will reveal their gen 9 processor roadmap and stun you with their new code names for architectures, chips, and platforms. The big boss of Client Computing, Senior VP and GM Gregory Bryant will be giving a keynote and he has a lot to tell you.
One more hint without getting Intel's NDA ninjas after me or spoiling your conference, Intel is going to surprise you about gaming and what they've done and are doing. Intel makes as much from gaming as the top gaming content suppliers do, and the company has an enormous and surprising software stack for users and developers.
The new notebooks, workstations, desktops, and other systems and devices will be revealed at this year's Computex. Should be quite a show.
Lenovo's big year
Lenovo has upgraded its workhorse laptops, the P920, and P720 with Intel's latest 2nd gen Xeon CPUs (Cascade Lake) and Nvidia RTX 8000 Quadros (Turing). The company describes these machines as being designed for "heavily threaded, "I/O intensive workloads."
Intel's processors have up to 28 cores per socket and run at up to 4.4 GHz, they can have up to 384 GB or 2 TB of DDR4-2933 memory (P720 or P920) and the new machines will support multiple Quadro cards via NVLink including the RTX 8000 or Quadro GV200 graphics boards. The machines will support several NVMe/PCIe SSDs, and will also support up to 60 TB of HDD capacity.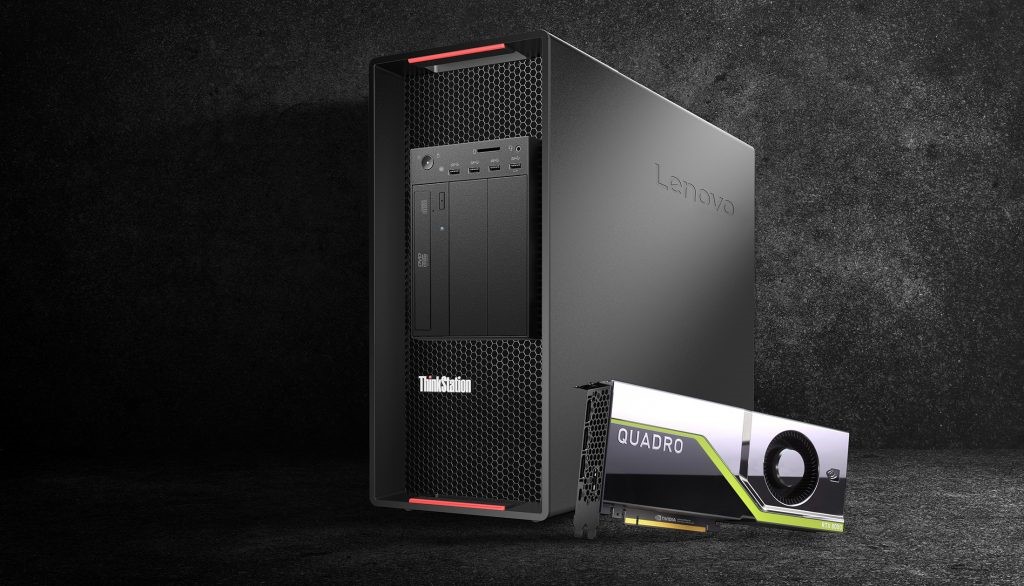 The amazing folding ThinkPad
Lenovo has been pulling its folding ThinkPad from behind the desk at tradeshows to lay the groundwork for its innovative new design and the new PC was officially unveiled in a conference in Orlando, Florida, and comes with a foldable 13.3-inch touch screen display and a keyboard attachment. The display was made in collaboration with South Korean company LG and can be folded in half and held like a book. In "half-screen" mode, consumers are left with a 9.6-inch display.
The foldable PC is still a prototype and does not yet have a firm release date or pricing, but Lenovo said the device will join the company's premium ThinkPad X1 family, pledging that portability will not compromise productivity and reliability.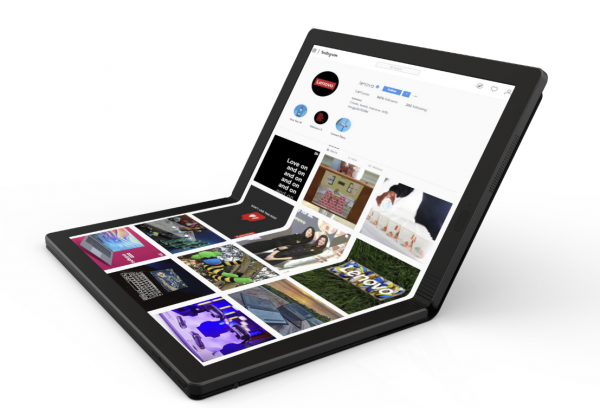 The notebook features a 13.3-inch OLED screen with 2K resolution. When folded in half, one has two 9.6-inch displays. It will be a challenge for keyboard geeks, but it's obviously a convenient form factor and one that comes around every few years.
What do we think?
Where's the keyboard? Oh, wait, the lower screen is a virtual keyboard like your smartphone. With an external keyboard, one could turn the machine on its long edge and have a nice wide 2k screen. The design is provocative. Will it support hover in the virtual keyboard? Is the whole thing touch capable? Where is the camera, how does it do fingerprint, how many times can it be bent, what about an active pen, is the screen HDR? Those are all nit-picking questions which Lenovo can easily solve if it chooses to. I'm just not sure what the application for it is. What would I do with such a machine? Use it for giving presentations? Lenovo offers these ideas.
Wake up, fold it into a book, and start the day scanning your social media feeds in bed.
Walk to your kitchen, unfold it, and stand it up for hands-free viewing of your top news sites.
Hit your commute on the bus or train and morph it into a clamshell to catch up on emails.
Get into the office, dock it into your multi-monitor setup and get to work.
Go into meetings, take notes with its pen, and write on a full-screen tablet.
After lunch, set up the stand and use its mechanical keyboard to type out a few work emails.
Come home at night, open it up and stream your favorite shows.
Relax in bed, fold it in half and enjoy your latest read before going to sleep.
Stay tuned, says the company, for full product details and availability in 2020.