Updated and more effective realtime 3D content creation.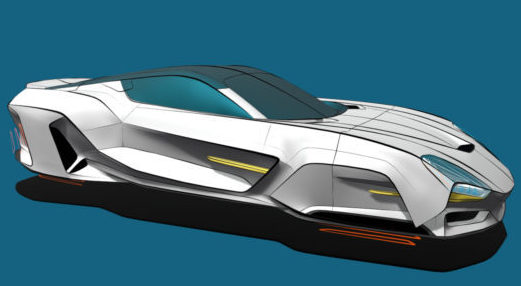 Gravity Sketch has released version 1.5 of its immersive 3D creation tool. Gravity Sketch 1.5 includes new drawing tools, new geometry types, orthographic views, improved export options, and a new, experimental surface patching tool. The latest update claims to offer more engaging tools to users.
Some of the new features in the latest release include:
Taper mode: allows artists to draw any length of stroke and always have tapered ends.
Draw with normals: when artists draw with a non-round brush, the shape of the stroke will do a much better job matching the rotation of the controller.
Edit normals: allows artists to edit the twist of strokes along their path (think square brush).
Depth of field + Square snapshot: artists can now add a depth-of-field effect to their snapshots and take square pictures.
Orthographic views: accessed from a new menu on the advanced panel, artists can now view their model from top/front/side orthographic viewports, then grab the panels off and take screenshots of them directly!
Export options: Gravity Sketch now has improved export layout and settings for .obj, .fbx and .iges, which give artists more control over the export process and improve compatibility with popular design tools.
The company had launched a limited public beta of an early-access version of the software last year.  Earlier this year, Gravity Sketch announced that they had raised $1.7 million as seed investment. Forward Partners, a London-based VC firm, led the seed round. A San Francisco-based venture capital firm dedicated to augmented reality, Super Ventures and Wacom, a Japanese company known for its digital design hardware, also participated in the funding.
Gravity Sketch has used the funds to develop its immersive 3D design software. The software is compatible with Oculus Rift, HTC Vive, Windows Mixed Reality headsets, and motion tracked controllers. The immersive VR environment enables designers to create 3D models intuitively. They can create and manipulate 3D models in realtime without any specialized training. The model can be exported to other design tools, CAD software, game engine, or 3D print platform. Sharing the creation is also easy via the cloud.
Availability
The latest version is now available to download
from Steam: https://store.steampowered.com/app/551370/Gravity_Sketch
from Oculus store: https://www.oculus.com/experiences/rift/1018110521596029/
Gravity Sketch is available in four license types: a normal license, a Pro license, a Studio license, and an Enterprise license. More information on the first three is available on Steam. More information on the Enterprise license is available by contacting Gravity Sketch. VR hardware is sold separately.