Cloudgine technology will give developers working in Unreal the ability to offload compute jobs to cloud processing.  
Epic is adding on to its arsenal of capabilities with a middleware provider, Cloudgine. The company has acquired Edinburg-based Cloudgine for its technology to enable gaming on the cloud.
Cloudgine was founded in 2012 in Edinburgh by former Grand Theft Auto co-founder David Jones, and Mauricio Scigio, and Marco Anastasi. The technology can be built into games and prioritizes realtime elements. Features such as physics and AI are accelerated in the cloud and multiple players can be supported. Cloudgine has been based on Unreal all along, so this is not a big leap for either company.
Cloudgine will be joining Epic Games as a wholly owned subsidiary. Terms of the deal have not been announced. It has been noted that Cloudgine offers cloud-based compute power to interactive content. It's an obvious benefit for games. The companies say the technology can enable any game to run on any platform. Down the road,  Cloudgine can provide cloud support for VR and even resource-heavy applications like rendered architectural walk-throughs. It can computationally heavy processes such FEA analysis, fluid dynamics, etc.
The first uses of Cloudgine has been in the demo title, They Came from Space, and Toybox. Toybox was developed in conjunction with Oculus to illustrate the capabilities of the Oculus controllers. They came from space is designed to demonstrate the multiplayer capabilities of the Cloudgine technology and can be played in VR and PC interactively.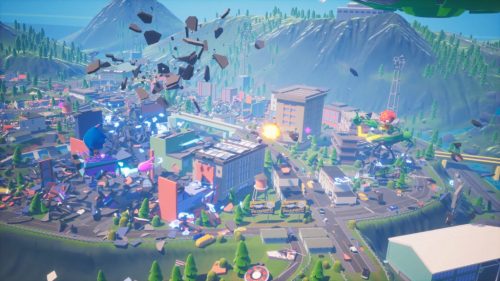 The acquisition has inspired active recruitment for the Cloudgine offices in Edinburgh.
What do we think?
The big clue in this announcement is that Epic Games is interested in Cloudgine for non-games development as much as it is interested in game development. Given what we know of the companies involved, we'd speculate that some of the attraction of this deal is that the technology is useful beyond gaming. It will support work such as rendering, analysis, AI, industrial VR/AR, and all that giving Epic room to grow, and we think the company is very interested in going in that direction.