Virtual production, education, and open source will be among the areas of focused activity for the company.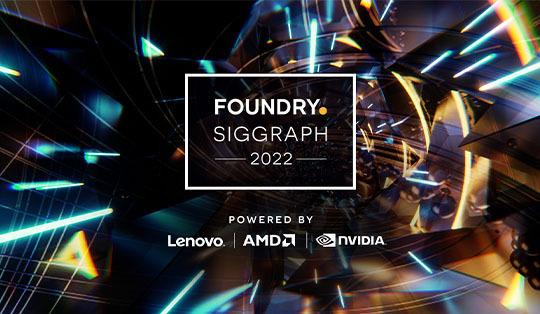 When it comes to developing new technology or bettering mainstays, Foundry is always working to improve solutions for the industry. At Siggraph 2022, the company will host a series of events focusing on the use of Nuke in virtual productions, education, look development and lighting, and USD.
On Monday, August 8, Foundry's Dan Ring, Dan Caffrey, and Niall Redmond, along with Kevin Tod Haug (KTH VFX), Pierpaulo Verga (O'Groove Productions), David Stump (American Society of Cinematographers), and Peter Canning (High Res), will participate in the Virtual Production Talk 'Comandante': Braving the Waves With Near Real-time Virtual Production Workflows.
"Comandante" is a naval feature film to be shot on a water stage within a waterproof but very low-res LED volume. The near real-time workflow immediately improves the quality of the shots, seamlessly bridging in-camera VFX and post-production, allowing VFX to start on set as soon as the director says "cut."
The session, which will be recorded, will take place 9:40–10:20 a.m. PDT in West Building, Rooms 211–214.
Also on Monday, August 8, Mathieu Mazerolle, director of product at Foundry, will be presenting the OpenAssetIO project as part of Open Source Days. The new open-source project, which has recently gained early-stage adoption by the Academy Software Foundation, provides production tools with an asset-centric way of working for resolving, discovering, and registering production data. This will unlock artists' ability to find and share deeply connected assets, regardless of how or where they're stored.
The session will be held from 1:10–1:50 p.m. PDT at the Fairmont Waterfront, Ballroom C.
In addition, Kirstyn Salehi, Foundry's education industry manager, participated in two talks that are now available on the Siggraph conference virtual platform: Amplifying Inclusion in Open Source: Intentional Actions Everyone Can Take as part of the Diversity, Equity & Inclusion Spotlight and Mentorship Matters for the Educator's Forum. In the former, Salehi was one of five panelists who shares both the opportunities and proven best practices in the area of building an inclusive, empowering, and supportive open-source community. In the latter presentation, she and two others from Santa Monica College discuss professional mentorship and its impact on student artists.
Both of Salehi's panels are part of the virtual Siggraph program.
Furthermore, Foundry will be dedicating its booth (number 532) to Foundry learn and education, and an opportunity to reconnect with the communities and partners missed during the pandemic. Visitors can enjoy daily demos of Modo, Katana, Nuke ,and Mari, as well as the opportunity to meet teams behind Nuke, Foundry Research, Look Development and Lighting, and Flix.
Aside from the line-up of talks and sessions, Foundry is also supporting DigiPro 2022, Siggraph's Student Volunteer program, The Educator's Forum, and the Women of Siggraph Lunch Mixer at this year's conference.
Christy Anzelmo, chief product officer, says: "It's fantastic to be back in Vancouver and reconnecting in person with our clients and the wider Siggraph community. We're excited to have the Foundry teams presenting the latest developments across the product portfolio, previewing our future plans, and sharing insights on key areas of innovation, including machine learning, USD, and transition to cloud."
Lenovo, AMD, and Nvidia are Foundry's technology partners and will be providing hardware and support for all the company's activities.
A full list of Foundry's activities at the conference can be found on the company's events page.