The portfolio of offerings spans from cameras to monitors and to the cloud.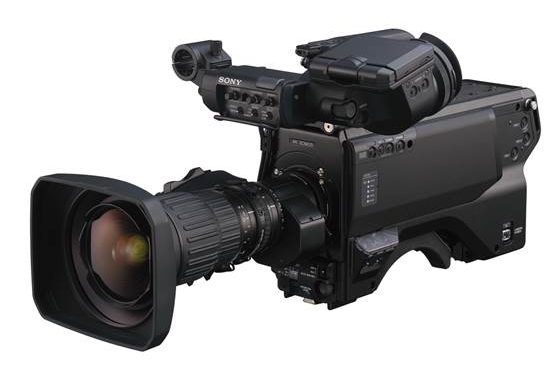 During its press conference that kicked off NAB 2022, Sony Electronics presented a broad range of products and services to support the recent evolution in user creativity and workflow within the imaging, cloud, and visualization realms.
"The last few years have redefined the world as well as our industry," said Theresa Alesso, president, Imaging Products & Solutions Americas, Sony Electronics. "Our customers have relied even more heavily on technology to help connect and collaborate remotely and in real time, with the greatest degree of reality. At NAB Show, we're looking forward to reconnecting with the industry, shining a spotlight on Sony's transformation and highlighting trends, including the cinematic look and virtual production."
With the introduction of the new HDC-3200, Sony is building out its portfolio with a more affordable 4K/HD camera that has many of the features common to Sony's HDC series, including a two-thirds inch 3CMOS image sensor with global shutter, 4K and HDR, and support for numerous signal formats. The HDC-3200 is compatible with the existing lineup of Sony viewfinders, large lens adapters, and IP transmission systems. It is planned for May 2022 availability.
Sony also presented two new large lens adaptors: the HDLA-3505 and HDLA-3501. The HDLA-3505 can be used with the HDVF-EL70 and has an LCD panel for easily assigning settings and monitoring via SDI Input. The HDLA-3501, meanwhile, complements the new HDC-3200, providing a cost-effective 4K system. It is designed to operate with the HDVF-L750 viewfinder and enables easy access to the camera head, while supporting rear-panel operation. Sony is planning delivery in June 2022.
These new camera offerings complement other recent news from Sony Electronics, including the launch of its flagship Venice 2 camera, which is shipping now.
In addition, Sony's PVM-X series 4K, HDR monitors, available in 18-, 24-, and 32-inch sizes, will get a firmware update to Version 4, scheduled for August 2022. Among the new features are two optional licenses to support signal conversion and 3D LUT output. Timecode and audio output capabilities will also be added to the enhanced monitor output.
The company also enhanced its Sony Ci Media Cloud Services, cloud-based applications for collecting, organizing, collaborating, delivering, and archiving media assets. For post-production, Ci's Workflow app automates VFX pulls using an edit decision list (EDL).