Dell proves the more you can see, the more you can do.
Dell has been a leader in displays for 15 years or more. The first to offer an 8k display, the first to offer a 49-inch curved display, and the first to offer a 2K mini-LED display with backlit zones.
For 2021, Dell launched a 40-inch ultrawide curved monitor they say is designed for productivity and content creation chores. The 5k UltraSharp 40 (U4021QW) is a curved WUHD display with a resolution of 5120 x 2160. The 40-inch lets you take full advantage of those 5120 lines—it's like having two, seamless, side-by-side monitors.
IPS (in-plane switching) panels have the best color and viewing angles among the other panel types of display.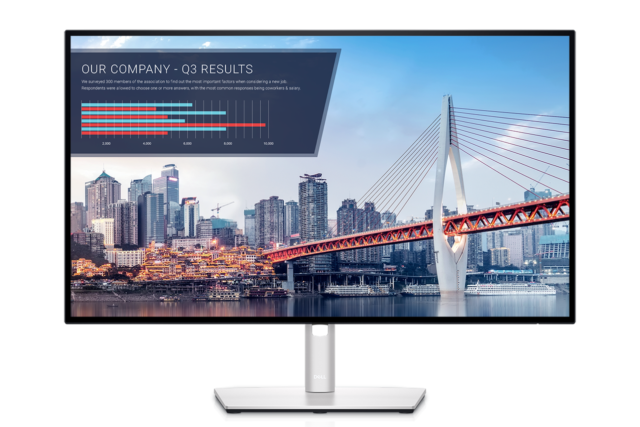 The UltraSharp 40 IPS display offers wide color coverage and great color performance. The color specs on it are 100% sRGB, 98% DCI-P3 with 1B colors. Also, it's a commercial panel, so the refresh rate is 60 Hz. However, the monitor has a 5–8 ms response time. It can deliver a billion colors, making it a 10-bit color-depth display. But even though it has an LED backlight, it's not modulated, and doesn't have 1k nits so it can't be called an HDR display—but still, 1 billion colors are 1 billion colors.
And it's plenty bright putting out 300 cd/m² or nits, with a 1000:1 contrast ratio. And you can see it from almost anywhere with its 178-degrees viewing angle (horizontal and vertical).
There is also a companion 90 W power charging hub with Thunderbolt 3, fast data transfers with super speed USB 10Gbps, and RJ45 internet.
Dell says the new monitor will be available on January 28th, 2021, for $2,100.
What do we think?
Dell has always surprised and delighted us with their displays, both stand-alone, and in their laptops. The company has made a considerable investment in people and technology to become a (if not the) leading monitor supplier, and the results speak for themselves.