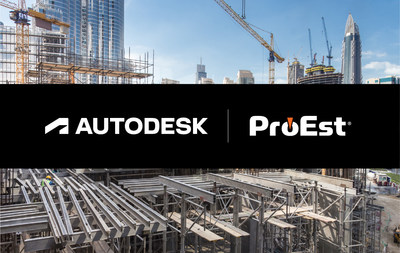 As we've been following the CAD companies' progress during the Covid years, it's striking to note that the large companies are universally adding on to the data side of the equation. Autodesk's latest acquisition is another in a series as the company builds Construction Cloud, the fastest-growing part of its CAD business now.
ProEst is a cloud-based estimating tool for creating estimates, digital takeoffs, reports, proposals, and to manage bid-day processes. The company says it will help construction teams manage preconstruction and construction workflows.
So, doesn't Autodesk have all that stuff? The company says the acquisition of ProEst will tighten the links between the products in Autodesk's Construction Cloud portfolio. As a tool for the Construction Cloud portfolio, ProEst is cloud native and so is accessible from everywhere and on different platforms. It will also help bridge the tools companies are already using with support for third-party database formats. In addition, ProEst is well established with prestige customers. Autodesk names Geisinger, O'Brien Construction, Vantis, and Oswald. ProEst can translate drawings, specifications, and modes into material, labor, and equipment costs.
For review, Autodesk Construction Cloud solutions include:
Autodesk Takeoff: 2D and 3D quantification workflows.
Autodesk BIM Collaborate: manages design collaboration and coordination workflows from a single solution.
Autodesk Build: connects project, cost, quality, safety and field collaboration workflows.
BuildingConnected: centralizes and streamlines the bidding process to help teams discover trade partners, identify the right subcontractors and solicit and compare bids.
Autodesk describes BuildingConnected as Autodesk Construction Cloud's builders network, which includes over one million construction professionals. In addition, BuildingConnected takes advantage of machine learning and AI to qualify contractors.
"Estimation significantly impacts downstream construction workflows, but is often a disconnected and manual process, which creates room for errors that can lead to cost and schedule issues later in a project lifecycle," said Jim Lynch, senior vice president and general manager of Autodesk Construction Solutions in a prepared quote.
Other acquisitions from Autodesk for Construction Cloud include Aurigo Software's capital planning tools and Bridgit's workforce allocation and resource planning solution. Autodesk also acquired Assemble, BuildingConnected, PlanGrid, and Pype in acquisitions totaling more than $1.1 billion.
What do we think?
The work being done in AEC across the vendor community is happening in data, project management, and also in building connective tissue between products. Companies are also doing the hard work of getting their tools in the cloud. We are back in the age of data mining, but the difference is that finally the tools are being offered to all companies and not enterprise companies with big compute abilities. That's nice, isn't it?