The new app gives designers more tools to further enhance their designs.
By Joshua Volckaert
New Zealand-based Cerulean Labs has hit a sweet spot with its iPad application, Spaces: Conceptual Design. It's a tool that incorporates the iPad pencil as its basic input tool for concept sketching. It is a little like SketchUp, or maybe how SketchUp was once intended to be—an easy-to-use, lightweight conceptualization tool for architects. Spaces is also similar to the idea of Shapr3D, an iPad native CAD competitor that leans towards the industrial designer.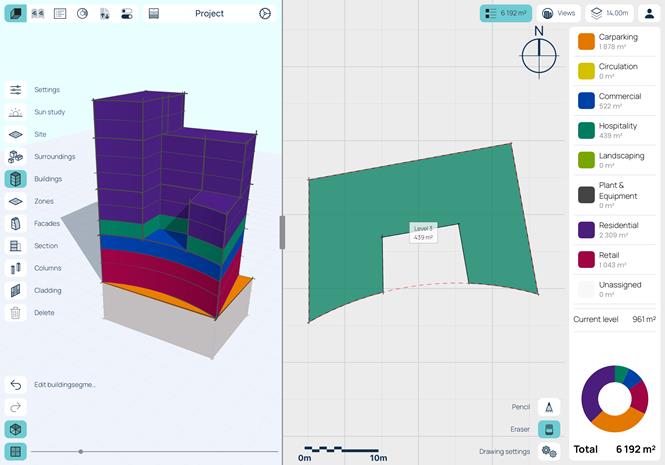 Spaces takes designers back to the sketch where ideas begin and lets designers loft their designs to create editable 3D shapes. The sketch is data-driven, allowing users to access design data and add building information.
Introduced at the start of the year, Spaces has gotten good reviews in the AEC press, and Cerulean Labs has continuously updated the product.
Cerulean says version 2, introduced in June, is a critical update with important fixes. In addition, the new release brings space planning, animated sun studies, and a digital sketchbook, which adds a tracing paper feature. The company has added support for IFC (Industry Foundation Classes) and OBJ formats.
Space planning gives users a brief view to place their design within the context of a project and its requirements. As users design, Spaces provides real-time feedback to identify areas that don't conform to project requirements.
Sun studies are detailed, location-based, and include multiple options. The sun studies feature turns on "real sun" to allow designers to work within the context of the location or they can turn off the feature and add their own lighting. A slider allows users to rotate through 360 degrees.
Additional features add access to real-time building data, cloud backups, the ability to share models, vector-based building tools, open street maps integration, and more.
Spaces is subscription-based with three options: a free subscription, which allows up to two projects in total; a $29/month subscription, either paid annually in advanced or paid monthly for $39; and a $79/month subscription paid annually in advance, which comes with the IFC and OBJ exports and Space planning. Both paid subscriptions come with a 14-day free trial.
Space v2 is available for download in the Apple App Store.