The Analysts Conference at the 6th JiWei Semiconductor Summit in China.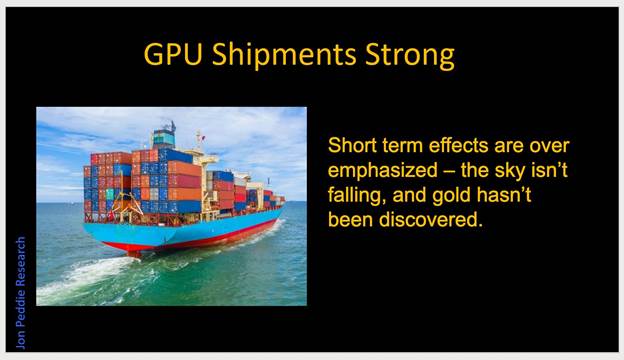 During The Analysts Conference at the 6th JiWei Semiconductor Summit, held recently in Xiamen (Fujian Province), China, various researchers and analysts, including JPR Founder/President Jon Peddie, addressed the audience, providing views and insights concerning the semiconductor industry. Attendees included representatives from universities and businesses, among others.
Peddie, a well-respected analyst in the semiconductor industry, discussed the global and local (China) 2022 GPU market, first reviewing key terms that are often misused—for instance, a GPU is not a synonym for an AIB or card. AIBs have GPUs on them. He then discussed the taxonomy of the PC GPU landscape and the GPU environment, as well as highlighted the importance of attach rate and the impact of crypto mining on AIB sales. His takeaway: The average selling prices have stabilized, and GPU shipments are still very strong.
Peddie was among several speakers from companies such as Counterpoint, S&P Global, Strategy Analytics, Omdia, and Future Horizons, some of whom, like Peddie, spoke via videoconference.
The annual summit was presented by China Semiconductor Investment Alliance and JW Insights. As JW Insights' Han Xiaomin notes, China's semiconductor investment is entering a third stage with a focus on technological innovation and expanded production. Securing the necessary talent to advance development in this sector is vital.