Apple services brought revenue of $30 billion in fiscal year 2017.
At the close of 2017, Apple was battling a scandal over its decision to throttle batteries rather than risk sudden shutdowns as older phones' batteries decline. There are rumors that the iPhone X, the newest, biggest, baddest iPhone is actually just a big bad flop. Lawsuits are popping up, but Tim Cook and his band of barely shaven, cranky men are raking in the bucks and handing out dividends. There's absolutely no evidence that the gravy train has pulled into the station. In fact, there is considerable reason for optimism.
In the company's year-end results reported in November, the company reported annual revenue of $229 billion, a modest 6% over last year's take of $215 billion. However, in November, Cook predicted Apple would see its biggest quarterly revenue take with revenue between $84 and $87 billion. As you can see from the company's historical results, Apple tends to have great big happy Christmases and New Years.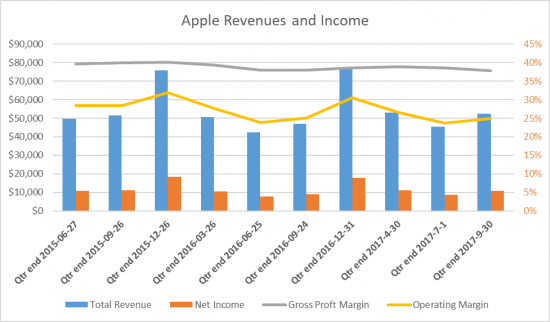 Probably one of the most important keys to Apple's success last year was its growing revenue from services. The company made $30 billion in Apple's fiscal year 2017. That's more than the company's Mac division brought in.
People may get tired of upgrading their phones year after year (or maybe not) but the mobile phone is getting a wealth of new jobs for the connected home. Already people use their mobile phones for entertainment more than they use their phones to actually make a phone call. In addition, they're buying content, storage space, and maintaining content in the cloud. Apple's services revenue includes revenue from apps, iTunes, storage, iCloud, software, and support. Even though the company's service tools vary in usability—for instance, the company is much better at extracting money for iTunes, than it is at helping customers effectively find and share content in the cloud, but just about all of Apple's customers use some form of Apple services. Lately, they're filling up the stores getting new batteries.
In his talk to financial analysts, Tim Cook said the company experienced its "best quarter ever for Services." And, of course he highlighted the promise for the Christmas season with new products in the market including the iPhone 8 and iPhone 8 Plus, iPhone X, Apple Watch Series 3, and Apple TV 4K in the line up.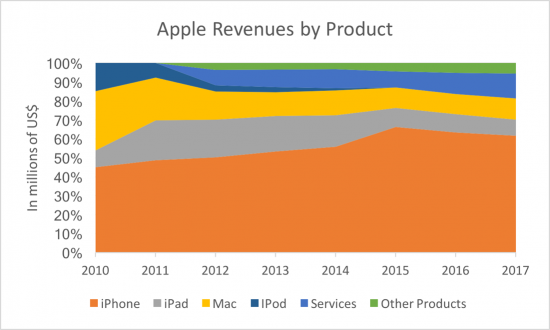 Apple is providing the following guidance for its fiscal 2018 first quarter:
revenue between $84 billion and $87 billion
gross margin between 38% and 38.5%
operating expenses between $7.65 billion and $7.75 billion
other income/(expense) of $600 million
tax rate of 25.5%
After a bit of grumbling last spring and at the start of the year, Apple's investors are happy and continuing to invest. Frankly, there is always going to be a lot of drama around Apple's results because there is so much to gain and lose.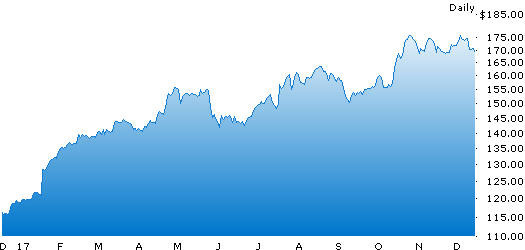 The brave stock cowboys willing to go for broke shorting Apple are always going to feed the negativity machine, but Apple has built a strong platform, that has recurring charges to pay the rent … at least for a while yet.