Sets up for growth.
Indisputably, 2020 was a big year for Bentley Systems and the third quarter a major milestone, as the company provided its financial results as a public company. The company is a big data company through and through, even before it knew it was a big data company. Visualizing and understanding trends and technology flows through the company's DNA. It's great that the company has finally gone public, because the executive team thrives on data and they want to share what they learned. Now, to a certain extent, they can.
Bentley Systems just issued its IPO in September 2020. It is hugely ironic that the company, which has been very cautious about its timing for its IPO, finally pulled the trigger in the spectacularly awful 2020. It's emblematic of this strange year that the pandemic has not significantly wounded Bentley, and in fact it has not significantly wounded Bentley's competitors either.
Bentley Systems reported revenues of $203 million for the third quarter of 2020. The company's revenues grew 8.8% year over year. Recurring revenues account for 87% of their total revenues and subscription revenues were $173.2 million, an 11.6% increase year over year. The company says its retention rate has been 98%. It was at 98% last year and it's at 98% so far this year.
CEO Greg Bentley says the majority of the company's recurring revenues are "renewed annually paid in advance, and the majority from accounts with whom we had enterprise relationships, they spend at least $250,000 per year with us."
In his call to investors, Greg Bentley made a point that they offer perpetual licenses in contrast to Autodesk, which is subscription only. He sees the availability of perpetual licenses as a competitive advantage, but the company does offer some services add-ons and maintenance to customers as benefits. Still, a subscription is the future for Bentley and for this quarter the company notes that perpetual licenses revenues declined by 7%.
The company's ARR was $715.3 million as of September 30, 2020.
The company's bottom line was $5.8 million compared to $20.4 million for the same period last year. In addition, Bentley Systems had high tax bill this year. The drop in income and the high tax bill are both the result of the way Bentley structured its IPO. We talked about this when we wrote about the company's Year in Infrastructure conference (YII) and its IPO. In the call to investors, Greg Bentley said the high tax bill "results from the non-deductability of much of the $26.1 million in IPO costs we expense during the quarter. In addition, as a public company, certain of our executive compensation for all of 2020 becomes non-deductible and upon our IPO in the third quarter…"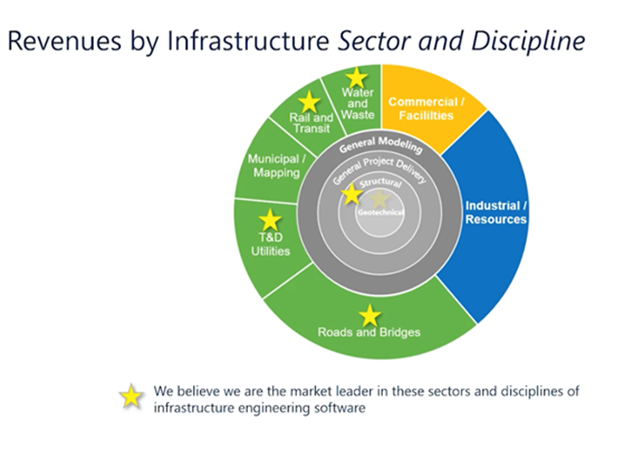 After seeing a drop in revenues during the start of the pandemic, revenues recovered over the summer. In the company's press release, Greg Bentley said, "Our encouraging operating results for the third quarter of 2020 continue to reinforce the relative resilience of infrastructure engineering, and the priority placed by our user organizations this year on going digital, as they have resourcefully 'virtualized' their mission-critical work," said Greg Bentley, CEO.
Like most companies in the sector, the company's executives are cautious about the coming quarter and the year because there are some tightening in the process and power markets. Interestingly, Greg Bentley notes that much of the resilience the company has seen over 2020 is as customers digitize their businesses and in many cases adopt digital twin models which is an ongoing investment. Bentley is also advantaged by the amount of accounts it has in China.
Bentley Systems has considerable visibility into the usage patterns of their customers through their ELS (enterprise license subscription) or their E365 subscriptions for enterprise customers which are daily consumption based. As a result, says Bentley, "during the first half of 2020 we could see waves of pandemic-related lockdowns adversely impacting our days of usage by a few percent, and then abating progressively by region." In the third quarter, the company saw impacts to the commercial facilities sector, while public works and utilities were least affected. They've also seen declines in the Industrial/Resources sector with declines affecting companies in EPC (engineering/procurement/construction).
Greg Bentley says overall he sees continued resilience for infrastructure investments at large and "our predictable business model."
Financial outlook 2020
For the full year, Bentley Systems is expecting to see total revenues in the range of $790 to $800 million, putting the company's annual growth at 7.2%–8.6%.
Bentley has made their very informative investor presentative available on the company's website.
What do we think?
Bentley Systems and Greg Bentley himself are a wonky bunch and we have long loved them for that. They are invested in what their customers are trying to accomplish.
Although Bentley is fresh off its IPO, the company has long shared quite a bit of information about the company and its products. In addition, since 2017 with the introduction of its Enterprise License Subscriptions (ELS) program, and more recently E365, the company has gradually migrated to metered services for its large clients.
Interestingly enough, Autodesk, Bentley's arch-rivals, have also talked quite a bit about a future where customers pay for the software they use.
Bentley Systems is not making predictions for 2021, and neither are we at this exact moment. But, there is worry about the construction industry as the money and enthusiasm for new projects have slowed and trouble in the energy industries slow down process and power in early 2021.
One of Greg Bentley's comments was particularly suggestive and that is his observation that some of the resilience Bentley is seeing for 2020 is coming from spending on digitalization. In 2021, companies might have to economize.