Bentley Systems started talking about digital twins in earnest last year at its Year in Infrastructure Conference. The term has been used more for design and manufacture processes but it obviously has wide applications. 2019 is the year, the term has gained wide acceptance to describe the use of digital mode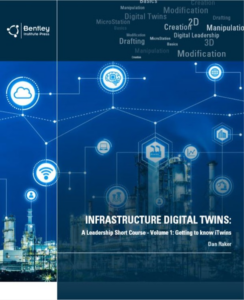 ls to describe and live with real-world products and buildings.
As a major BIM software supplier, Bentley Systems has been in the business of enabling digital twins all along. Bentley's training organization Bentley Institute has kicked off a new training series as part of its digital-twin curriculum.
The title of the program is A Leadership Short Course—Volume 1: Getting to Know iTwins, by longtime CAD publisher and author, Dan Raker, whose current venture ConnectPress covers all aspects of the CAD industry. The book is available in print at www.bentley.com/Books, and as an e-book at www.bentley.com/Books, Amazon Kindle, and Apple Books. As the name implies, there is also a Volume 2 coming in Q4, 2020.
For more information, see the press release on Bentley's site.