What pandemic? What letter? The company going strong but sees some clouds on the horizon.
Autodesk's second-quarter revenues for fiscal 2021 were absolutely on course for the company underlining several points: the resilience of the subscription model, the ongoing progress of Autodesk's revamped licensing plan, and the relative powerlessness of customers.
Autodesk is in the process of transitioning from multi-user licenses to the named license, which boils down to one license person rather than a company having licenses, different users may use as needed. For Autodesk, it means that Autodesk has much more visibility into how its products are being used, how much they're being used, and how usage varies between users. For customers, it could mean more personalized service but for companies it means higher software costs in cases where users may share licenses. Architects have been the most vocal and have written letters of protest and the company says it is listening, but it's not backing down and, so far, customers are sticking with their systems and applications.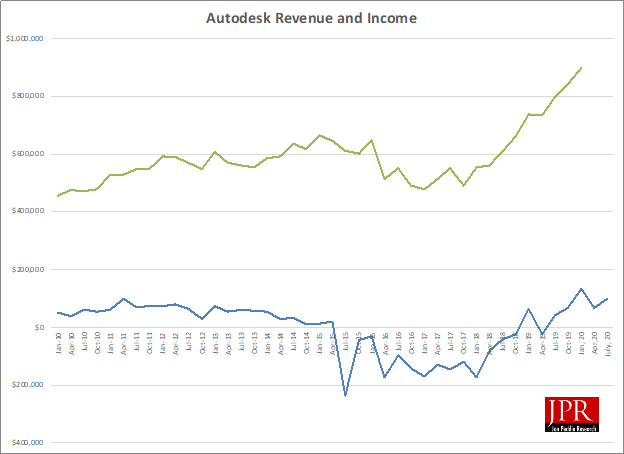 The numbers
Autodesk reported revenue of $913 million, a 15% increase of the same quarter last year when the company reported revenues of $886 million. The company's income was up 144%, which is mostly because it was down quite a bit last year. As it turns out, lockdowns are very good at helping companies reduced spending. The operating margin expanded by 5 percentage points.
CFO Scott Herren notes that subscription revenue grew by 27% to $841 million.
The company is especially pleased with the growth of their online channel. Herren told analysts, "our ongoing investments in digital sales are yielding results as we saw strong double-digit billings growth through the online channel during the quarter." He says the effort is helping to attract new customers to Autodesk and he notes that three out of four new customers came through e-commerce.
As good as the news was for the company's second quarter, Herren notes that there is caution in the company's base and as a result the company is being cautious about the second half of the year. As an indicator, Herren notes that total billings decreased 12% to $787 million and there was a slowdown in multi-year commitments. They also noticed a slight slowdown for larger transactions. In the end, the company's performance was very strong for the second quarter and the promise for the rest of the year is positive. The company says their net revenue retention rate was within 100–110%.
The company puts its deferred revenue at $2.88 billion.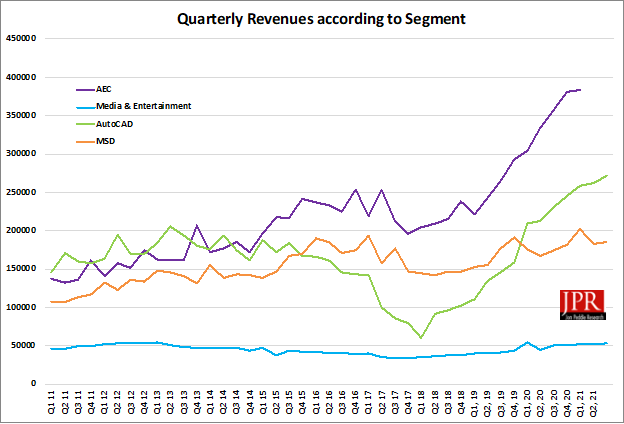 Autodesk is riding the tailwinds of transition and the company has had quite a few.
Herren told investors, "I'm really pleased with our results and proud of our execution in the second quarter. In an incredibly uncertain environment, to be able to produce the results that we just put up is something that I think we all take a lot of pride in."
What do we think?
This season has been so interesting. In the past, the CAD industry has been a sensitive barometer of the industry. Subscription smooths that out, just as it was intended to. The cautiousness of customers in re-upping for multi-year subscriptions suggests when a big clump of renewals comes due, the company could see a decline if we're also seeing an economic recession. That recession is on the schedule.
Well, Autodesk has always had a restive user base. Right now, it's the architects who are restless and their major point of irritation is Revit. Architects are saying that if Autodesk wants them to pay more money via the switch to named users, Anagnost and his lieutenant SVP Amy Bunszel have both admitted customers have a fair beef because updates at Revit have fallen behind as the company has concentrated on building its online construction business, but both have also insisted that the changes are for the better. Anagnost says, basically, that the pricing is fair and the benefits of the named user model will flow both ways.
The transition was started on May 7 and the end date was August 7. Autodesk offers 2 for 1 license, which it sees as fair. The company believes that this average of customers is sharing licenses. With an individual license, users working remotely can sign in anytime. Autodesk gets more visibility into how users are working and support can be better tailored to individuals. As usage migrates to the cloud, it will become easier for companies to keep track of their licenses as well as for Autodesk. And, possibly one of these days, use could be metered. For some users all that is not such a rosy prospect.
The bottom line is that no one seems to be making any big moves right now. Commenters have asked, well why don't people just move? That's not so easy if you have built your practice around a tool like Revit, or we should add, enterprise PLM systems. We don't doubt that customers are looking around but history suggests they'll stick and they'll especially stick during times of uncertainty and they don't get much more uncertain than now.