For the first quarter of what is already a very difficult year, Autodesk maintains an even keel. The company's AEC business thrives; manufacturing slows.
Autodesk has come through its first quarter with good results and the company expressed satisfaction and just moderate caution about the rest of the year. The company raised revenue 20% to $886 million and reported a net income of $66.6 million. The company's operating margin increased 10 percentage points to 28%.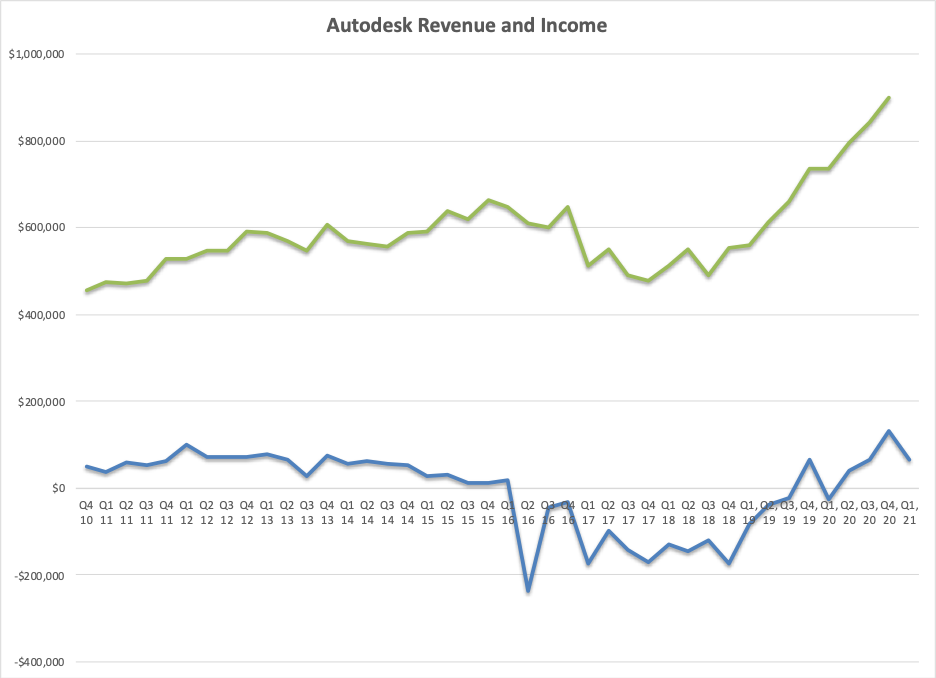 During the financial call to analysts, Anagnost and CFO Scott Herren said they are also keeping watch on the rate of renewals within a company. If companies choose to renew only some of their licenses, it suggests layoffs or at least uncertainty about the future. Anagnost and CFO Scott Herren both said renewal rates remained steady in the first quarter.
There's a lot more confidence in the AEC sector, however, as construction has generally moved forward. Manufacturing has slowed first as a result of the Coronavirus in China, then as a result of the Coronavirus everywhere else. It's been interesting to see that the just-in-time (JIT) modalities that transformed manufacture decades ago are breaking down as multiple disasters introduce unexpected waves of demand. Such shocks to the system can be a source of new strength when the machines are up and running again. (At least that's what we're hoping.)
On the topic of manufacture, during the financial call, Anagnost said, "automation and flexible supply chains will be vital to competitiveness in the future." He believes that Autodesk's products offer companies the ability to be more flexible by enabling remote work and collaboration in the cloud between divisions, customers, and supply.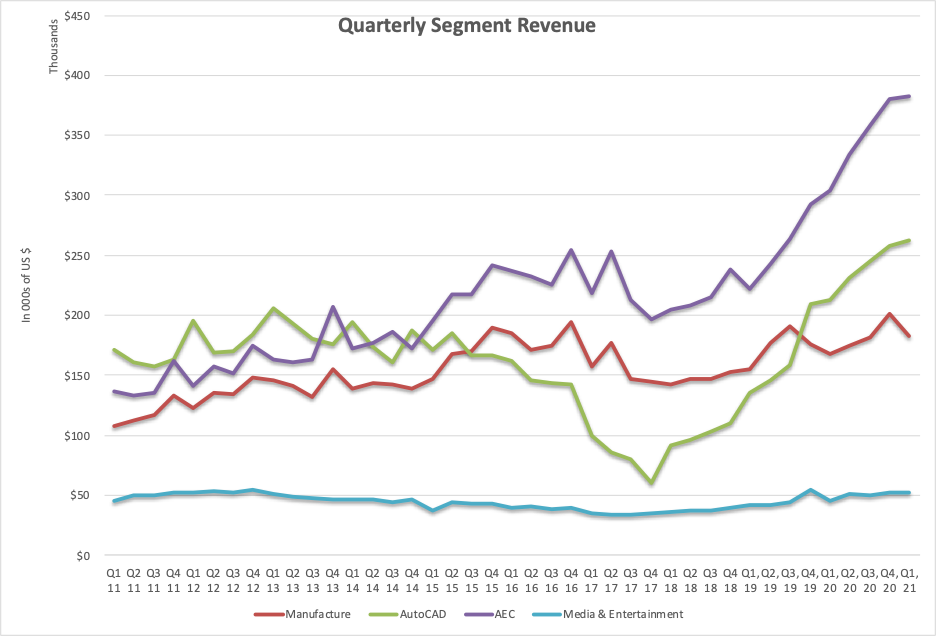 For Autodesk, sales of new units are telling them the story. Customers are being cautious about buying additional seats of software and they're shying away from multi-year deals for now.
During the financial call, Herren says they believe the second quarter will be the quarter most impacted by the pandemic. He says, "our pipeline entering the second quarter is strong and growing, but we're cautious about new business close rates."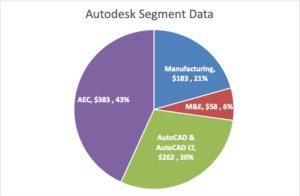 The company has revised their outlook down compared to the assessment they offered at the end of 2019. Now the company has estimated revenues for 2020 of $4,070–$4,220, which would be -3% to 1% compared to the company's revenues at the end of 2019 (FY 20). (The company had forecasted revenues of $4,635–$4,715 for the company's fiscal year.)
Herren says they're basing their optimistic estimates on a swift recovery in new business in the third quarter and continued improvement in the fourth quarter. They hope to see modest growth for the new unit volume. The company's more pessimistic forecast is for a decrease of 3% year over year as recovery takes longer and full-year new units decline slightly.
Autodesk had planned some price hikes and a transition to named user accounts, which would force companies to have a product license for every employee rather than the option for multi-user seats. Instead, Autodesk is moving that transition out to August and also extending an offer that allows customers to buy new multi-user subscription plans.
In addition, Autodesk is extending payment terms to 60 days through the beginning of August 2020. They have been offering free commercial use of their cloud collaboration products through June 2020. That includes BIM 360 Docs, BIM 360 Design, Fusion 360, Fusion Team, AutoCAD Web and Mobile, and Shotgun.
This last deal is working spectacularly well for the company. In their quarterly presentation, the company says Autodesk has seen 200% growth in BIM 360 Design and 100% growth for BIM 360 documents. In manufacturing, the company claims Fusion 360 is gaining market share and says they saw the fastest growth for Fusion 360 new users.
Additional data
Autodesk's recurring revenue represents 98% of its total revenue.
The company has changed its nomenclature from "core" to "design." There's no change to their accounting. The main products in Design are AutoCAD, AutoCAD LT, Industry Collections, Revit, Inventor, Maya and 3ds Max, and the company reported $797.7 million for that group of products. That's a 20% year over year increase.
They're also changing the name of their cloud products to Make. The businesses included in that designation are Assemble, BIM 360, BuildingConnected, PlanGrid, Fusion 360, and Shotgun. Autodesk helpfully notes that some products like Fusion 360 include both Design and Make functionality, but they're classified as Make. The Make group reported $67.4 million, a 49% increase year over year.
The company's subscription plan revenue increased 35% year over year and maintenance decreased 45% to $62 million.
So, so far, Autodesk is optimistic and that's a hopeful sign for the future.
What do we think?
One quarter down, three to go.
I'm sort of afraid of Autodesk's financial presentations. Last quarter, Andrew Anagnost said he expected Autodesk to meet its forecasts with little trouble, unless the Coronavirus just arriving in the US turned into a pandemic, then "all bets are off."
So, okay, all bets are definitely off right now for all of us. And, it seemed like right after this Autodesk financial call, the US blew up. Protests that had been peaceful across the US turned into late-night looting and violence in some places. Just as businesses were opening across the country, they're being boarded up to protect against riots and looting. Meanwhile, China has taken advantage of the US's inattention to clamp down on Hong Kong.
Autodesk believes their second quarter will show more effects of the shutdown and worldwide political uncertainty. Last week when Autodesk presented their results, it did seem like the US was working its way back to normal. This week, the game has changed. Jobs are going to be lost, small companies will go out of business. The picture doesn't look good for brick and mortar retail.
So while none of this has much to do directly with Autodesk, If people don't have jobs they don't buy cars, or shop, or even build.
Autodesk and its competitors in the design and engineering fields are trailing indicators. Their business reflects world economies and industrial trends. The hit to the CAD industry, if it comes will happen as Autodesk predicted in the second quarter, but it could keep going.
Luckily, the technological innovation being championed by the CAD vendors has the power to transform industries. Virtualization has taken off. Remote computing has allowed professionals to keep working. And the transition to cloud computing has gained speed. Next up, digital twins.