With a good sense of timing, Autodesk targets infrastructure.
Autodesk says it has made good progress toward digitizing AEC, advancing its design and manufacture workflow, and pushing into the Enterprise. One of Autodesk's key fundraising strategies is to convert "non-compliant users" into paying customers and to upgrade all subscribers to user-identified subscriptions. Autodesk says this program has been a big success, and also, they've raised their full-year subscription revenues by 26%.
The only apparent dark cloud in Autodesk's pandemic year is that they haven't done as well in new business as they hoped.
Autodesk's bullet points for their 4th Quarter are:
Total revenue increased 16% to $1.04 billion
GAAP operating margin was 18%, up 3 percentage points
Non-GAAP operating margin was 30%, up 1 percentage point
GAAP diluted EPS was $4.10, in part reflecting a $679 million deferred tax asset valuation allowance release; non-GAAP diluted EPS was $1.18
Cash flow from operating activities was $658 million; free cash flow was $634 million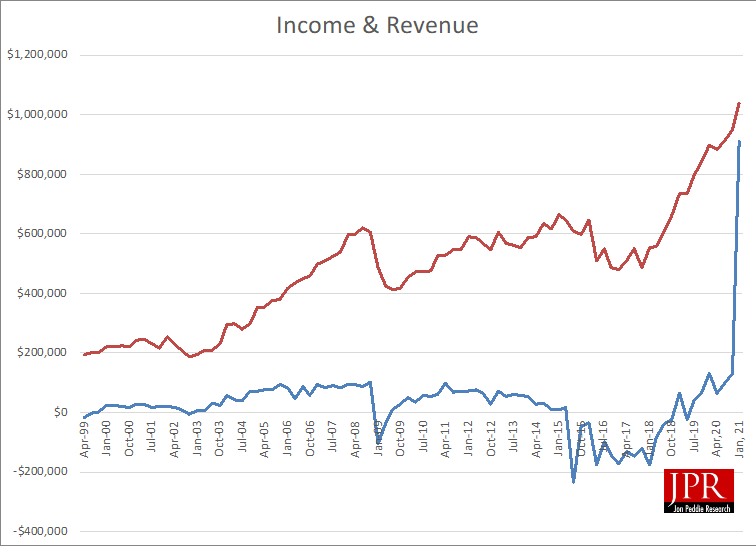 Autodesk president and CEO Andrew Anagnost credits the company's transition to the cloud and subscription-based licenses for its strong performance in fiscal 2021 and its resilience.
Autodesk raised its design revenue by 13% year over year to $899 million. That's most of Autodesk's total revenue. The company's Make revenue came in at $82 million and increased 28% year over year.
Subscription plan revenue is up to $950 million, a 22% increase and it now represents 21% of Autodesk's revenue.
Maintenance revenue is decreasing according to plan, it's now at $30 million.
Net revenue retention rate was within the range of 100–110%.
The company raised its GAAP operating margin by 18%.
As for deferred revenue, Autodesk says it's at $3.36 billion and its unbilled deferred revenue came to $881 million, which adds up to a Remaining Performance Obligation (RPO) of $4.24, a 19% increase year over year.
Cash flow from operating activities was $658 million, a decrease of $41 million compared to the fourth quarter last year. Free cash flow was $634 million, a decrease of $50 million compared to the fourth quarter last year.
Net revenue by product family
Our product offerings are focused on four primary product families: Architecture, Engineering and Construction ("AEC"), AutoCAD and AutoCAD LT, Manufacturing ("MFG"), and Media and Entertainment ("M&E").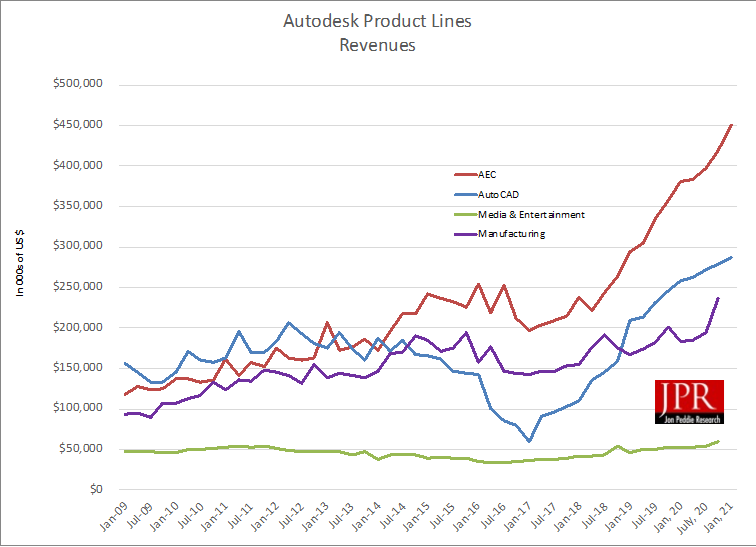 Fiscal 2021 financial highlights
We've spent a whole lot of time talking about Autodesk's growth for AEC but the company notes that during its fiscal year, the company added 20,000 Fusion subscriptions. The company claims significant replacement wins over Solidworks for Fusion and some interesting wins from companies that have uses for the company's products in both AEC and Manufacturing. As companies in AEC adopt modular building practices and pre-fab they're building factories and parts and Autodesk's literacy across those boundaries are providing new opportunities.
Total billings decreased 1% to $4.14 billion.
Total revenue was $3.79 billion, an increase of 16% as reported, and 17% on a constant currency basis. Recurring revenue represents 97% of the total.
Design revenue was $3.37 billion, an increase of 15% as reported, and 16% on a constant currency basis.
Make revenue was $296 million, an increase of 36% as reported and on a constant currency basis.
Total subscriptions increased approximately 404,000 from fiscal 2020 to 5.27 million at the end of fiscal 2021. Total subscriptions adjusted for the multi-user trade-in increased approximately 186,000 from fiscal 2020 to 5.06 million.
GAAP operating income was $629 million compared to $343 million last year. GAAP operating margin was 17%, up 6 percentage points.
GAAP diluted net income per share was $5.44, compared to $0.96 last year, in part reflecting a $679 million deferred tax asset valuation allowance release.
Building for the future
In its forecast for the future. Autodesk says they're confident about the future. They're a whole lot more confident than they were last year in March when the coronavirus first appeared. Since the company has gotten through the pandemic year, and they've successfully built a new cloud-based construction business along the way, Anagnost says "we are looking to the future with optimism and remain confident in our fiscal 2023 targets and double-digit growth thereafter."
For the quarter, Autodesk is projecting revenue in the range of $955–$970 million. Mighty close to a billion-dollar quarter.
Also at this time, Autodesk announced the acquisition of Innovyze for $1 billion, which will give Autodesk a stronger position against its rival Bentley Systems. This is Autodesk's largest acquisition ever. Somewhat ominously for the Innozyze people, Anagnost said in his quarterly call to investors, "not only are we going to plug Innovyze into our sales engine in terms of named accounts, channel sales, and international expansion, we're also going to apply our expertise on business model transformation to the Innovyze product portfolio." Anagnost expects the integration of Innovzye will have a transformative effect on Autodesk in the way it deals with acquisitions.
Autodesk marked another milestone for the end of the year. CFO Scott Herren announced that he's taken the job of CFO at Cisco and Autodesk has turned to Debbie Clifford to be the new Chief Financial Officer. She has worked at Autodesk previously and went to Survey Monkey. She's coming back, and Anagnost says he looks forward to working with Clifford on future acquisitions like that of Innovyze.
For the year, Autodesk says they're targeting revenues of $4,265–$4,345 billion.
What do we think?
The move to named users has had its controversies. Autodesk characterizes it as "plans for people instead of serial numbers." By the end of January, the end of Autodesk's fiscal year, the company's customer base is pretty steadily inching its way to the end of the transition period. Anagnost told investors that by the end of the company's fiscal 4Q, "the lion's share of our commercial subscriptions were named users."
The company says it has moved all of its single user subscriptions to named users in fiscal '20 and now they're moving their multi-user subscriptions. The company has offered a 2:1 trade to customers who moved to named-user subscriptions to keep the ball rolling and they've said they're going to extend that offer through to August 2023.
As a result, customers and Autodesk can get a clearer idea of their usage and Autodesk gets better visibility into user patterns. This is an area that Bentley Systems has pioneered and has been very usefully mining for its development and acquisition strategy.
That probably has not escaped Autodesk's notice. Anagnost has said the company is looking into consumption-based models to meet the needs of customer requiring flexible license usage. That might go a long way towards appeasing users grouchy about the value they are getting from some of the subscriptions they have, most notably Revit.
Overall, we see Autodesk thinking big for the coming future. It probably has to if it wants to grab a substantial piece of the infrastructure pie the US government is trying to get baked.