It's programmable, texturable, bakeable and offers scripted materials.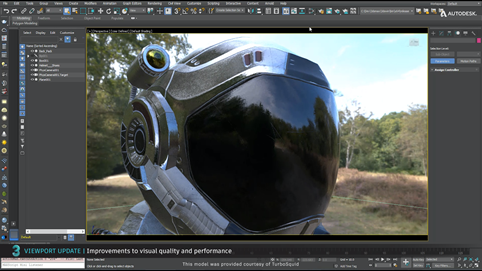 You might have missed this in all the news: Autodesk has released 3ds Max 2021. The latest release heavily focuses on rendering and textures and thanks to the improvements in performance and the viewport, users will get an even clearer view of what they're doing. With this release, Autodesk has added support for Python 3, scriptable baking, and more focus on CAD-related workflows and interoperability with Autodesk's CAD tools such as AutoCAD and Revit. Autodesk also notes that 3ds Max 2021 features an improved install process.
Autodesk's official video for 3ds Max 2021. (Source: Autodesk)
Here's the official list of 3ds Max 2021 improvements:
New Texture Baking experience supports physically-based rendering (PBR), overrides, and OSL workflows and provides intuitive new toolset.
Updated installer allows users to get up and running quickly and easily.
Integrated support for Python 3 and an improved pymxs API ensures developers and technical artists are able to better customize pipelines.
Native integration with the Arnold Renderer v6.0 offers a high-end rendering experience out-of-the-box, while included scripts efficiently convert V-Ray and Corona files to the Physical Material for added flexibility.
Performance enhancements simplify the use of PBR workflows across renderers, including realtime game engines, provide direct access to high-fidelity viewports, improve the OSL user experience, significantly accelerate file I/O, and enhance control over modeling with a new weighted normals modifier.
Toolset advancements to SketchUp import, Substance, ProSound, and FBX streamline the creation and movement of high-quality 3D assets.
New plug-in interop and improvements from support for AMG and OSL shaders to scene converter extensions—allow for a broader range of plug-ins to easily hook into 3ds Max while also simplifying plug-in development and installation.
This latest version offers improved interoperability with Substance.
3ds Max 2021 is now available as a standalone subscription or with the Autodesk Media & Entertainment Collection. For more information and pricing, visit the 3ds Max page on Autodesk's site.
What do we think?
Autodesk's latest release of Max underlines the importance of materials and textures driven by the Substance tools, now owned by Adobe. In addition, 3ds Max is finally getting some advanced customization and programmability tools that at one time distinguished its big sister Maya. Autodesk seems to be nudging Max ever more to the visualization side of design, while the usefulness of Maya in media and entertainment is nurtured.