New facility demo's Autodesk's commitment to the next generation of design and manufacture.
The news has been full of news about layoffs at Autodesk, so the announcement of a new manufacturing lab in the UK city, Birmingham, might have escaped notice. Autodesk is in the midst of a major shift, actually several major shifts. Famously, the company is shifting to a subscription basis for all its products, but it is also negotiating other industry wide transitions such as design to manufacture workflows, cloud computing, Internet of Things, and the digitalization of all production from buildings to movies.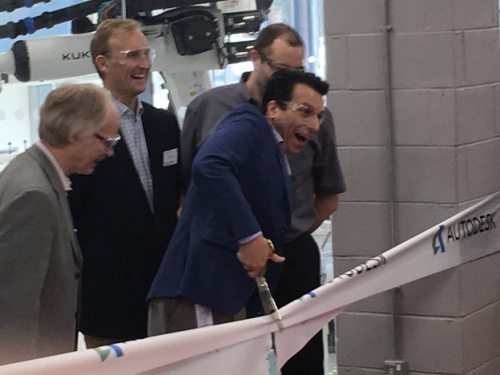 It's not just Autodesk that is going through an industry shift, the entire manufacturing industry is adapting to digitalization. Despite their efforts to differentiate themselves, the 3D design companies are moving along common trajectories. For instance, Solidworks World and Autodesk University both put strong emphasis on additive manufacture. The CAD companies have struggled a bit to understand their role in additive manufacture—do they rely on interim software, redefine ancient formats, make alliances with individual printer companies, etc. The answer is all of it, but the approaches so far are hardly definitive. You can't really push a button on a CAD design and spit out a 3D part and install it in your car, repair the kitchen cabinet, or use it to adjust your giant industrial machine, but it's a goal.
Autodesk's new Advanced Manufacturing Facility (AMF) in Birmingham is part of the Forge/Fusion program. The facility is a laboratory and proving ground for smart manufacturing and it's also a demonstration of Autodesk's absolute commitment to the next generation of design and manufacture—call it Industry 2.0., or the next Industrial Revolution, or your tagline of choice.
The AMF is stocked with direct manufacture machines and also new software and hardware for AR/VR. The company plans to work directly with customers to help with design problems, explore options for generative design and strategies for new manufacturing approaches.
At the center of the AMF's work is Autodesk's Fusion Production tool introduced in 2017, which provides transparency to design and manufacturing processes including initiating processes, monitoring the progress of direct manufacture tools, insight into the workings of the factory floor, design updates, via a browser-based interface to the cloud. The company wants it to become part of the connective tissue for design and manufacture.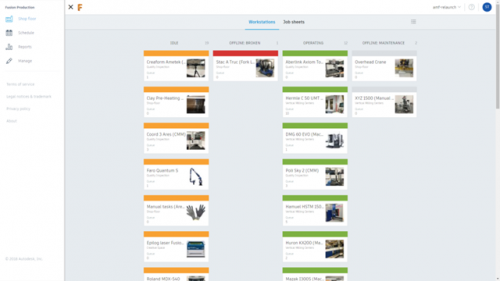 Fusion was built on Autodesk's Forge platform, a development base that's common to Autodesk as well as third party developers.
What do we think?
There is a huge emphasis put on subscription models for mission critical software and investors debate about the wisdom of Autodesk's shift to all subscription, and dinging the company in response to customer unrest. It's nonsense. The majority of customers have been paying maintenance subscriptions for at least a decade. The only difference is that the software stops working when you stop paying. Yeah, sounds dire, but if your company depends on a particular software you never want it to stop working.
The real shift is how the changes in design and production methods require companies have near prescient agility to keep up with innovation and to accommodate new methods and materials. We believe that Anagnost is just beginning a major restructuring of Autodesk, and the company sorely needs it. The layoffs are always the outward sign of a restructuring, but we believe what's going on under the surface is even more revolutionary—and probably pretty risky in places.
Learn more about Fusion Production and the Advanced Manufacturing Facility.
Related story: