The ASWF will hold its Open Source Forum on February 16, 2023. The annual event provides an opportunity for business and technical leaders to gather and discuss the status of open-source software in the M&E industry. Guest speakers include renowned industry experts, including Wētā Digital/Unity's Dr. Andrew Glassner.
The Academy Software Foundation (ASWF) will be hosting the Open Source Forum on February 16, 2023, at the Academy Museum of Motion Pictures in Los Angeles. ASWF is a non-profit organization that was established in 2018 to provide neutral, open governance and regulation of key open-source software projects used in the motion-picture and media industries.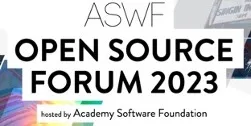 The ASWF Open Source Forum offers professionals an opportunity to network, learn, and collaborate on the future of open-source software in the M&E industry. The Open Source Forum usually features keynote speakers, panel discussions, and technical presentations on topics like VFX pipelines, animation, game development, etc.
This year, a keynote will be given by Dr. Andrew Glassner, principal research scientist at Wētā Digital/Unity, titled "Storytelling in the Era of AI." Glassner has worked as a film director, computer researcher, video game writer-director, and novelist. He now works at the intersection of human artistry and software for creating visual effects and developing tools for a new generation of storytellers and audiences.
Other sessions include:
Open RV: Journey of Open Sourcing a Commercial Product
Xstudio: An Open Source Playback and Review Application
Digital Production Example Library Updates: Intel 4004 Moore Lane USD Scene
Open MoonRay Update
OpenVPCal: An Open Source In-Camera Visual Effects Calibration Framework
Metropolitan Museum of Art, Chroma: Ancient Sculpture in Color—Behind the Scenes Challenges, Solutions, and Opportunities for Imaging Standards
"This year we are expanding the Open Source Forum to a larger audience, and we are thrilled to share the latest on open-source developments for the motion-picture industry at the Academy Museum, one of the most inspiring venues in Los Angeles," said David Morin, executive director of the Academy Software Foundation. "From artificial intelligence in storytelling to the Open Review Initiative, we invite you to attend a series of stimulating presentations at the Open Source Forum."
Speakers rounding out the program include Andrew Pearce, VP global technology, and Randy Packer Sr., manager—production software/DreamWorks Animation; Carol Payne, imaging technologist/Netflix; Guillaume Brossard, director of engineering— ShotGrid/Autodesk; Sam Richards, VFX manager/Disney; Scott Geffert, general manager for advanced imaging/The Metropolitan Museum of Art; David Morin, executive director/Academy Software Foundation; and Hilary Carter, SVP research & communications/Linux Foundation. Presenting virtually at the event will be Sean McDuffee, platform architect, 3D creator segment/Intel and Ted Waine, R&D/DNeg.
 To register for the event, click here.