Trade shows are not drawing the crowds they once did. Is this a sign of the Covid times or a sign of things to come?
By Pete Putman
Have you been to any trade shows lately? If you have, you may have noticed a certain trend. In fact, it's rather difficult to miss. Attendance is down, as are the number of exhibitors—this being the case even after Covid-19 outbreaks began to subside.
I make these observations as a longtime attendee of shows like NAB, Comdex, CES, InfoComm, Cedia Expo, and other smaller get-togethers like Video Expo, CCW/SatCon, and NAB NY. I've endured numerous red-eye flights, stood in long Las Vegas taxi lines after the show floor closed, fought to get dinner reservations, had my ears blasted out by loud music in restaurants and parties, and also discovered many amazing inventions and products along the way.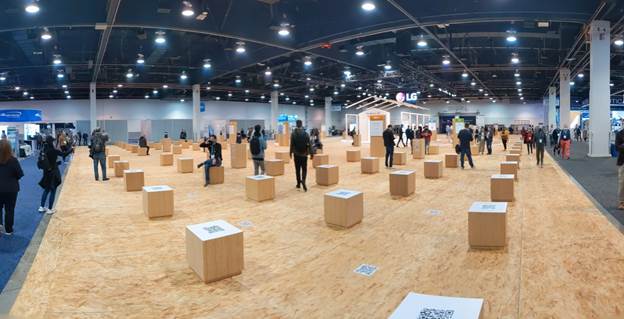 The Covid-19 pandemic has upended our normal lives in more ways than we can count. Aside from the toll on human lives, it has disrupted supply chains, ignited our current battle against inflation, spelled doom for numerous small businesses, and forced us to re-examine the way we work (in offices or remotely)—and even if we want to work anymore (the Great Resignation).
Restrictions on travel, dining, and lodging severely impacted trade shows from March 2020 through the rest of that year, with a slow recovery occurring through 2021. Some shows rescheduled (NAB, InfoComm, IBC), while others had to go virtual. Eventually, some of the rescheduled shows also had to go virtual or just cancel altogether.
Many shows made a comeback
Despite recurring waves of Covid mutations, many shows made a comeback in 2022, albeit with greatly reduced attendance. CES claimed that just over 40,000 made it to Las Vegas last January to visit about 2,300 exhibitors. I attended and found it largely to be a ghost town—no lines anywhere, large, open spaces in all three halls—and was able to do my press coverage in one day.
NAB's show finally returned to the Las Vegas Convention Center in April, but only 52,000 showed up. (Three years ago, attendance was 91,000.) Like CES, they opted not to use the South Hall this time around. InfoComm claimed that just under 20,000 folks attended their June show in Vegas, with 500 exhibitors taking up 300,000 square feet of exhibit space. In comparison, 44,000 made it to Orlando in 2019. (I remember two decades ago when ICIA Executive Director Walt Blackwell stated at a press conference that InfoComm would never be held anywhere that didn't offer at least 1 million square feet of exhibit space.)
IBC took a similar hit after canceling their rescheduled 2021 show. The 2022 edition drew just 37,000 visitors, with some longtime exhibitors skipping the show entirely. (Approximately 56,000 made it to the RAI in 2019.) CEDIA Expo in Dallas attracted 15,000 attendees and 300 exhibitors, down 5,000 visitors and 150 booths from 2019.
NAB New York sets a record
In contrast, the recent NAB New York show set an attendance record of 9,500 over two days with 245 exhibitors. I walked the aisles, and it was indeed a busy show. A harbinger of smaller, regional shows?
What prompted this missive was an email I received this morning from CTA promoting next January's CES.
"Browse the growing list of more than 1,400 companies from around the world set to join us in Las Vegas this January."
Only 1,400 confirmed exhibitors just two months out? That's down 900 from last January, and we don't have any real issues with Covid mutation breakouts right now. If I was able to walk the 2022 show floor in one day, is it even worth going to CES 2023 at this point?
There are many other reasons beyond declining attendance why the trade show paradigm is changing. Here are a few that I've observed:
Hardware is cheap. Go back to the mid-1990s at InfoComm when products like scan converters cost thousands of dollars and the most advanced "presentation switchers" were five-figure purchases. Broadcast cameras were five-figure purchases (sometimes six). Projectors and self-contained displays (monitors, video walls) were god-awful expensive. A 500-lumen VGA projector in 1994 cost $9,000!There were lots of profits for manufacturers and dealers, and consequently, lots of dollars available for marketing and trade show budgets to build big trade show booths (and have fancy parties, too). Hardware prices have largely collapsed since then. It's hard to justify a million-dollar booth today when you're showing products that mostly sell for hundreds of dollars. And much of that hardware is now expensed in a year, and if it breaks, it's recycled—not repaired. It's not unusual to hear of a TV station or institution buying multiple inexpensive camcorders and keeping a few in storage to replace those that break or wear out.
Many former "big spenders" on trade show booths have downsized their footprints considerably. The big Japanese electronics firms have sold off their fancy US headquarters and labs, and downsized to leased office space in cost-cutting moves. Believe it or not, some major Asian brands make more profit selling personal fitness, appliances, and beauty aids than they do cameras and monitors. And an increasing number of "tasks" are accomplished in software now. How much floor space do you need to demo a software program? That can also be done over the Internet at the prospective customer's convenience.
Some brands have taken a gamble to skip trade shows altogether, hosting their own press events and road shows. Apple is a perfect example, but we're seeing more companies leaning in that direction. You have a captive audience, free from distraction and travel issues. Sony, which didn't exhibit at NAB NY, opted to hold its own road show event in the city the week before. And Extron, a major manufacturer of AV signal management equipment, pulled out completely from InfoComm and IBC years ago, with zero impact on its sales.
Moving products to market is a vastly different process now than it was at the turn of the century. So much of it is handled through distribution that distributor road shows make more sense to attend, especially since they often come to the prospective customer's geographical area. And there's a case to be made for moving away from resort convention sites to cut down on travel. The success of NAB's New York 2022 show is a perfect example, as it is located in the densely populated Northeast corridor and can be a day trip for attendees from Boston to Washington, as opposed to flying 5 hours and staying in overpriced hotels with "resort fees." Additionally, there's been so much consolidation among systems integrators in recent years that a handful of those companies now dominate the marketplace. How many of their employees need to attend a show?
To be sure, trade shows aren't going away, but they are going to look very different. What you'll see happening is smaller booths and more of them, with greatly reduced head count for staffing and not as many "brag" or "ego-sized" booths (mine's bigger than yours!) that used to dominate CES, InfoComm, and NAB. Exhibitors can't justify the costs of those booths plus travel, per diems, lodging, and so forth anymore. Smaller companies that are nimble with social media and platforms like Zoom will rely more on those platforms to develop prospects and leads. And you'll find fewer tire kickers in attendance, which is a silver lining for exhibitors—a better quality of attendees.
The ultimate losers here will be trade associations, which derive 80% or more of their annual revenue from trade shows. The pandemic shutdowns took a real financial toll on these groups, resulting in layoffs and lots of cost-cutting moves… not to mention dipping into rainy day financial reserves to stay afloat. The days of needing a million square feet of exhibit space are long gone—perhaps a third of that will suffice for the larger shows. And corporate and institutional restrictions on travel expenses will also have an impact, favoring shows that can be done in a day, preferably by ground travel, with maybe an overnight stay.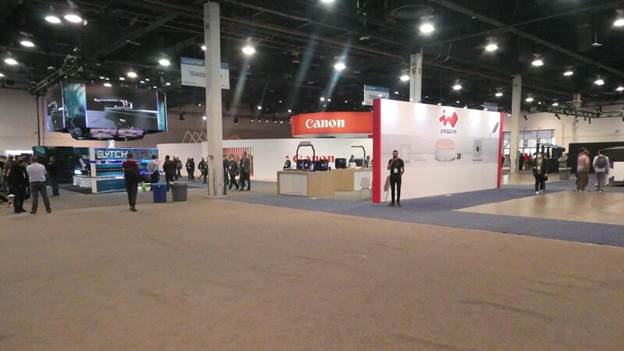 This article was first published on JPR's Display Daily.