Nvidia announces Omniverse Connector for Archicad 24
The future is in the 'verse and Graphisoft has opened a door into it. Nvidia and Graphisoft have announced the availability of a connector for Archicad 24 to Nvidia's Omniverse. Omniverse is a 3D development tool now in beta that Nvidia hopes will one day enable people to work in the same environment using different tools appropriate for their jobs. In other words, engineers, architects, electricians, interior designers, lighting specialists, structural engineers, and god knows what all, can come together to create a building.
Sounds pretty futuristic, but the ideas have been with us since the early days of cyberpunk. I deeply apologize for dragging up two patron saints of 3D living, Neil Stephenson and William Gibson, like every other writer talking about shared universes, but it's worth noting that William Gibson first published his book Neuromancer in 1984, and at that time he introduced readers to the idea of computer viruses—which were real—and Cyberspace—which probably was too, we just hadn't been there yet. Neal Stephenson trundled along in 1992 with Snowcrash and introduced the Metaverse, which is not only real but we're starting to move the furniture in.
Nvidia has offered up its Omniverse technology as a building block for the coming Metaverse. One of its major ambitions is to sign up the AEC content creators because they're perfect candidates for Nvidia's cybervision. There are millions of people working in the AEC fields. They're creating work that has to be viewed, reviewed, and approved, but just as important the AEC industry is building working models of their designs for future management. They're building digital twins that will enable buildings to be serviced like cars and airplanes. The trait that makes them all members of the future users' group for Omniverse is that they don't have a lot of time to create beautiful renderings and visualizations as much as they may want to. Traditionally, they sent the job off to specialists who are actually interpreting designs not working from the original intent but with the help of the CAD vendors themselves. They're trying to devise ways for design models to become living rendered models.
Nvidia is encouraging companies to build in Connectors to Omniverse that will allow users to access Omniverse from within their design tools and also to connect with the other programs that have Omniverse Connectors. Support for Omniverse is growing and there are implementations for the broader world of content creation including VFX, game development, character development, modeling, and animation. Nvidia's site mentions connectors for Omniverse, has connectors for Adobe Photoshop, Substance Designer; Autodesk's Max, Maya, Motion Builder, Blender, Revit; Graphisoft Archicad; Epic Games Unreal Engine; McNeel Rhino; and SideFX Houdini.
Nvidia is building Omniverse on USD, Pixar's candidate for a universal graphics format, which is getting wide acceptance in the content creation world and is getting growing acceptance in adjacent product realms including game development, scientific visualization, CAD, etc.
From the barebones start of USD, Nvidia is adding on technologies that enhance the operation of models and to make them photoreal. First up they've added physics, rendering, and collaboration. Nvidia hopes Omniverse can offer an easier step to creating digital twins.
Nvidia says their support for Archicad follows the same lines as their support for other CAD companies including Autodesk's Revit, McNeel's Rhino, Trimble's SketchUp, etc. Key features include:
Send to View – one-click publish to Omniverse and View is started automatically, loading the design
Publish to Project – full support of saving Archicad designs into the project-based workflow
Export as Prop – save the design as a single USD for re-use in many projects
Live Edit – move a curtain wall, add a door and the changes are pushed in realtime to Omniverse
Material Mapping – any material assignments are mapped to existing MDL's in our library
Support for Archicad Materials – In addition to mapping, Nvidia says they support translating Archicad materials into an MDL, Nvidia's material library.
Lights – all lights are translated into USD lights
Component Substitution – Trees, furniture, etc., will be replaceable through existing USD assets. Again, says Nvidia, they use the same approach for ArchiCAD as they're using for Revit, Rhino, and SketchUp, which is access to USD objects through a CVS mapping file.
Today, Nvidia is promoting Omniverse for Archicad as a rendering tool. The idea is that once you get it installed and running, creating renderings using Nvidia's RTX technology is fast and easy. However, it's the getting-it-installed-and-running part that's still a little challenging.
Nvidia provides a video tutorial for installing the Omniverse Launcher, which is the first step to getting connectors, there are various apps that can be installed, and then the desired connectors. Finally, the Nucleus server enables collaboration. The Nucleus Server can be installed by in-house servers for small company implementation or it can be scaled up for remote applications.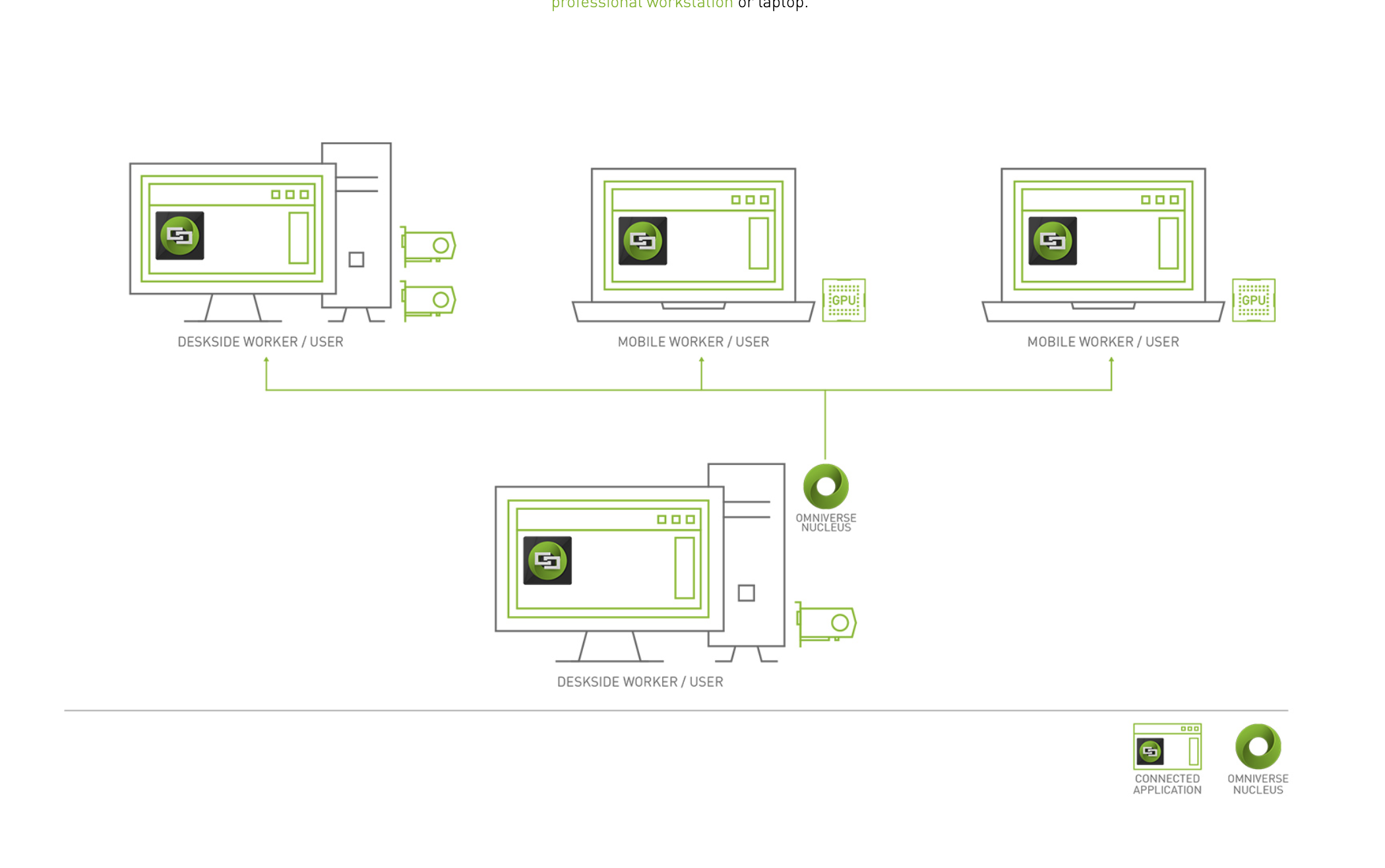 But, to hack back out of the weeds, right now, Omniverse is just beginning its Beta journey. Nvidia is doing an enormous amount of work to make Omniverse usable but it's depending on its dedicated fan base and developer community to pump up the balloon and get it off the ground.
Support for Omniverse is growing and implementations for the broader world of content creation including VFX, game development, character development, modeling, and animation, and within these categories, the work may be much further along. It's worth it to keep checking Nvidia's Omniverse site for news.
Graphisoft is entering the fray for connected content creation at a critical time in its evolution. Their flagship Archicad is a sophisticated BIM modeling tool that has thrived as an easy-to-use tool from an attentive supplier. It is embarking on a plan to open up and support its customers in whatever tools they're using, especially if they are using Nemetschek tools. As part of the Nemetschek family of product for CAD and Entertainment content creation, the company is forging links with its siblings first. It makes sense that the company would take the relatively easy step of enabling a plug-in connector from Nvidia's Omniverse. Connectors could make interoperability a lot easier.
Omniverse has great promise with its built-in channels for collaboration across tool vendors but at the moment it's a lot of work for a fancy rendering tool. That hasn't stopped people from downloading it and seeing what it can do. Right now, that's the point.
What do we think?
It's hard to overstate the importance of the collaboration between Nvidia and Epic in the development of the metaverse. They're doing it together and they're doing it individually. Epic is benefitting from Nvidia's huge commitment to its RTX technology, which is enabling real-time rendering in Epic's Unreal engine. Similarly, Nvidia's commitment to Omniverse may give the Unreal non-gamer community a convenient entrance into the metaverse. Also, Epic is staking out real estate on its home turf—games.
In the courtroom battle between Apple and Epic, Epic's CEO Tim Sweeney has argued that the metaverse is an overarching concept that needs to be an open collaborative space. Instead, Apple's practice of charging developers for in-game purchases is equivocal to fencing off a chunk of the metaverse. Or, that's at least how I'm oversimplifying Sweeney's argument.
Sweeney says Fortnite is just such a space. Epic's lawyers argue that Epic has put all its effort and investment into building their young metaverse and that it's not fair that Apple should get a piece of the pie once gamers are in the environment.
So where do Fortnite and CAD's engineers and architects converge? Somewhere out there in the future, but they're all headed in the same direction.
If Nvidia can make Omniverse as easy to get into and get work done as Fortnite, they will have paved the way to a new world of digital twins. If Epic can offer CAD companies an easy, low-cost tool for visualization, analysis, and collaboration, they'll be solving problems companies have battled over for years.
Do Epic and Nvidia continue to collaborate? Why not, there's plenty of opportunities but, we also expect to see the arrival of more metaverses. Unity is working with everyone on similar projects. Nvidia is hungry for lots of connectors to enable lots of integration possibilities.