AMD continues its takeover of the notebook space.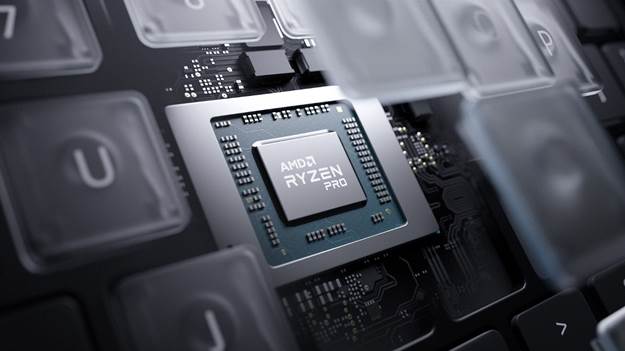 AMD introduced its Ryzen Pro 5000 Series Mobile Processors based on the Zen 3 core architecture. The new processors are designed for premium business laptops and include AMD's hardware-based Pro technologies for enterprise-class security features.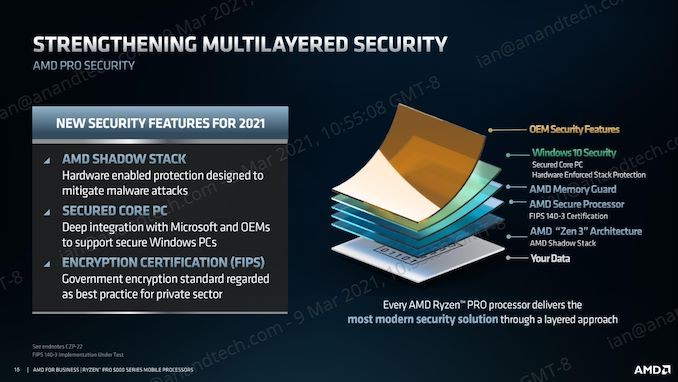 The chips were announced with two significant design wins, one from HP and one from Lenovo. Those OEMs expect to start shipping in Q2. AMD believes the number of AMD-powered enterprise notebooks will triple by the end of 2021.
The company offers three levels of the 7-nm Ryzen: 3, 5, and 7, and a total of 9 different models with clock rates from 2600 MHz to 4400 MHz, and all within a 15-W budget. Core counts vary from 4 to 8. All of AMD's mobile processors are APUs, and the GPUs within these processors range from 6 to 8 cores with a frequency range from 1500 MHz to 2000 MHz.
AMD compares the 15 W Ryzen 7 Pro to a 28 W Tiger Lake I7 and claims a performance gain from 18% to 50% depending on workload. AMD says the Ryzen 5000 will outperform the Tiger Lake by 91% in image processing for content creators.
On Zoom calls, AMD says they can support 49 participants and deliver up to 10% faster performance than Intel's I7.
The Zen3 has double the L3 cache of the Zen2, taking it up to 16MB.
The cache is available to all cores, and the cores themselves have a 19% IPC increase over the Zen2.
What do we think?
Notebook computers have always been attractive to the AEC and content creation crowd who may often work outside their home to visit clients, work onset, onsite, or report from the field. And although they'd prefer a large screen, and have one in their home, modern notebooks can drive, quite amply, a good 4k 17-inch notebook screen. But how much, how good do GPUs have to be for most graphic and CAD work? For CAD, other than rendering, it doesn't take much. CAD is still primarily CPU driven but GPUs come into play for panning, zoom, moving the model around. For content creation, like set design, or animation overlays, a bit more, but not much. In all cases, it's the coloring of those images that suck up the FLOPS. AMD's APUs with Radeon GPUs integrated within are quite well suited for those tasks.
AMD's forthcoming Zen 3 (Cezanne) APUs could have 5 to 8 GPU cores running at 1.6 MHz to 2.0 MHz (depending on the thermal design of the OEM). That's more than enough for everything except maybe full-scene ray tracing, and no one does that anyway.