Now, there's a lot more to do when there's nothing to do.
Apple has announced the 2020 winners of its annual design awards. The Apple Design highlight applications that excel in design and innovation in apps and games. This year eight companies have won with applications representing a wide range of capabilities and functions including games, art, photography, and CAD.
István Csanády, Shapr3DZRT
Shapr isn't exactly running under the radar, the 3D CAD tool was introduced in 2015, by István Csanády of Hungary. The product of a long line of architects, Csanády has been interested in creating a design tool that did not hide its functionality behind a cloud of features and commands. He developed Shapr 3D on the Parasolids geometry engine to work on tablets. It was introduced in 2016 and is compatible with all major CAD file formats including support for 3D printing. As reported in Cadalyst Magazine, their unofficial motto has been making CAD suck less.
Csanády says Shapr has been continuously refined by paying attention to what users had to tell him or to show him. "You just have to observe how your users actually want to interact with your design or with your software." He said the company created many prototypes and worked intensely on the interface. "It took us four and a half years to get to this level of polish."
Available on iPad, $20/month for Pro version; free trial version.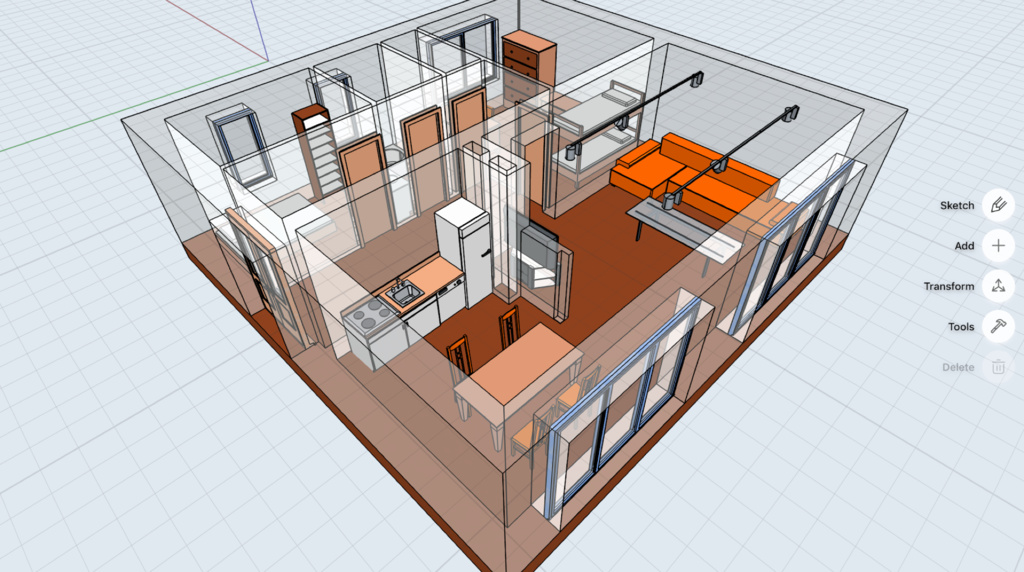 Looom
Looom was created by Eran Hilleli for the iPad to enable people to loosen up and play. Looom celebrates the shaky-line artwork most of the users produce using an iPad and provides simple tools to create animations. As usual with dead simple tools, Looom is at first mysterious with small, respectful dials and gears to provide navigations and enable users to understand where they are. You have to read the instructions. Luckily that will only take a few minutes and then you're off.
Using Looom users create layers, add shapes, and movement to create whimsical animation loops. The palette is simple and so are the tools, which gives artists a fun playscape.
Hilleli says he came to the idea while teaching animation in Tel Aviv. He said he was teaching animation loops—creating a series of frames that begin and end in the same place. He worked with students on creating more complex forms including weaving loops together, layering, etc. But, what often looks so simple can be technically challenging and Hilleli says he thought about how the complexity breaks up the creative flow. Hilleli says when he met Fin Ericso in Sweden the two began playing with idea and Iorama Studios was born.
Available on iPad, $9.99.
StaffPad
David William Hearn, StaffPad Ltd
StaffPad is a music notation tool designed for the iPad. It provides the staff and you supply the notes and articulation marks. It is able to create professional formatted sheet music and, for good measure, you can play it back with a play button. Yet another reason to regret your neglected piano lessons.
Developer and composer David William Hearn said as he struggled to write music he found he was spending too much time learning notation programs and not enough time writing music. He said he set out to create a tool that would allow him to write music quickly, share his work with other musicians, and be able to record and playback his work.
Available on iPad, $89.99.
Majd Taby, Bergen Co.
Darkroom, as the name suggests, is a challenger to Lightroom but it has been designed specifically for the iPad and it includes video editing as well as imaging, photo management, filters, and more. Apple calls out the apps easy interface and powerful Curves editor. It has support for multiple RAW films, enables the creation of filters, and has batch edit capabilities.
Founder Majd Taby worked at Instagram as a software engineer. As an avid photographer, he played with many photography tools but found himself frustrated with the many photography tools available because of overlapping/conflicting features that blocked his creative flow. Taby says he was hiking in Norway and began sketching out the kind of app he really wanted. He left Instagram and founded Bergen after the Norweigian city. He says his goal was to create an app that makes photo editing as easy as photo browsing. His goal was to create as simple and as powerful workflow as he could. He says his team watched users with other photo apps and tried to identify all the steps they could eliminate. The app was originally released in 2015. Taby admits that paring the interface down to the essential also means it can be opaque to users who first encounter it. The Darkroom team has worked to enable feature discovery, added hints, and at the same time, they're adding features. "We try not to over-design, and we try not to design for its own sake. Design for its own sake is wasteful," says Taby.
Available for iPhone and iPad, $9.99.
Simogo/Annapurna
A boy-band game on motorcycles. Sayonara Wild Hearts has a sweet premise; the broken heart of a girl causes a rift in the universe. She finds her power in her alter ego The Fool and racing her motorcycle across gorgeous, chrome colored, vision scapes with occasional battles she finds healing. It features a custom soundtrack with a guest appearance by Queen Latifah.
Simon Flesser and Gordon Gardebäck are the creative team of Simogo, which they founded in 2010 in Malmo Swedon. Simon Flessor says, "this is a game that is very much about the music." He said, their goal for Sayonara Wildhearts was to "take the ubiquity of the breakup album and make it interactive through the best tropes of 80s and 90s arcade games?"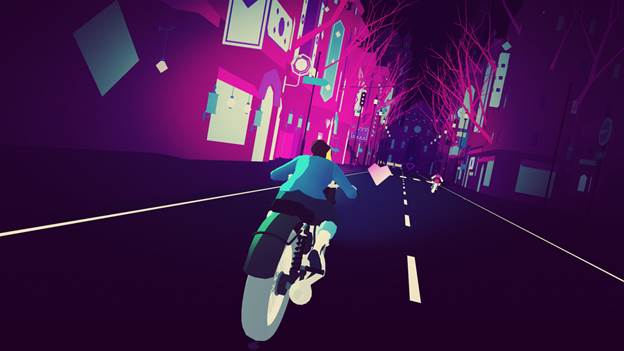 Available on iPhone, iPad, Mac, and Apple TV in Arcade.
Philipp Stollenmayer is a hero of nihilistic good times. He's beloved for his games that celebrate food flinging: Bacon, Pancake, and Burger and also cow flinging in Vertical Cow. Song of Bloom is something different in that it's reflective and abstract. It is a puzzle game that can be played out of order and some puzzles require creative thinking.
Stollenmayer says, "It's an abstract game [that develops] into something more understandable with time," says Stollenmayer. "The more you get in the story, the more you discover, and the more the interaction changes."
Available on iPhone and iPad for $1.99.
Another mysterious puzzle game, the pitch on Where Cards Fall is that steps through the game are built on fragments of memory that add up to a story. It's a game of cards, literally, where plays construct the houses of cards and leap from level to level rewarded by surreal scenery and clues to the story being built. The simple sentence description of the game in the app store says it's a game about change, but it promises a destination as well as change.
Author Sam Rosenthal came up with the game as a student at the University of Southern California (USC). He said he and the team he eventually formed around the project struggled to find a publisher but he said they wouldn't let it go. He says he came up with the idea while listening to Radiohead's "House of Cards." The design has been central to Rosenthal's thinking. He compares game development to architecture. He suggests that a well-designed game should function like a well-designed building. Both should be able to influence how you move through it.
Available on iPhone, iPad, Mac, and Apple TV through Apple Arcade.
Sky: Children of the Light is a new breed of game that rewards players for being good. In this case, it rewards generosity. Players work together to bring light to an open world. They can pair up to solve puzzles and unlock secrets. They can also just hold hands and sit together.
Like so many of the winners this year, the art is the thing in this game. Game developer Jenova Chen was a film student, but he was drawn to game development for the opportunity to tell interactive stories. He partnered with Kellee Santiago to form Thatgamecompany and they're not shy about saying they founded their company to improve the world. They're interested in enriching interpersonal relationships through the rich emotional experiences in their games.
Available on iPhone and iPad, free with in-app purchases.
What do we think?
Art and gaming come together in this year's winners. One of these titles, Shapr3D is one of the most expensive games available in the app store and there are a couple of freemium games. Almost all of them are beautiful.
We're struck by the inventiveness of games. The mobile world offers game developers the freedom to create any kind of crazy game idea they have. Unfortunately, that doesn't mean developers are rewarded financially for their creativeness. But, as these awards suggest, good design goes a long way towards recognition.